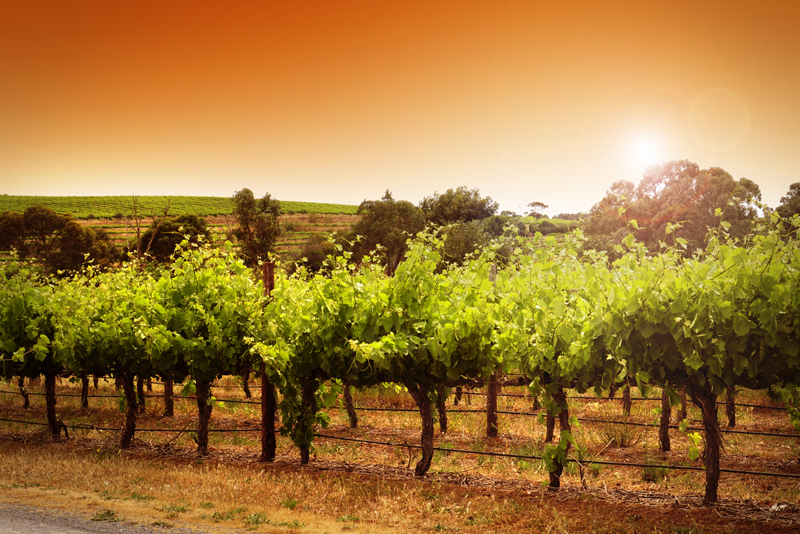 McDonald's first opened in the city of San Bernardino, on Route 66, in 1940. Six years later, in the same city, Taco Bell also opened, and the concept of 'fast food' was born. Soon, mass-produced food swept the nation. Due to the athletic lifestyles and health crazes, many California chain restaurants evolved the concept, marrying the idea of food served fast with the paradigm of healthier, fresher fare. Today, chains such as In 'n' Out, Tommy's, The Habit, Pieology, StoneFire Grill allow denizens of the state to grab a quick bite and still stay true to their personal nutritional visions.

In 'n' Out is, of course, the classic California burger chain, and the one that people dream of when they plan visits here. Originally opened in 1945, the first store offered drive-in service (which allowed people to order and eat while staying in their cars) in 1948. From the first franchise, the arrow sign has been part of the company's logo; the crossed palm trees joined the brand in the 1970's. Ten years later, fountain service allowed for greater drink choices, but the basic menu has stayed consistent: burgers, fries, and shakes, albeit cooked with purportedly 'fresh' ingredients. In 'n' Out is known for what the website calls the 'not-so-secret menu', referring to different variations on item preparation. Today, the chain also has locations in Arizona, Nevada, Oregon, Texas, and Utah, but for many California visitors, it remains a beloved vacation must-do.

Tommy's Burgers started business in 1946. Originally opened as a small burger stand, Tommy's stands out because of the chili served with their burgers, hot dogs, tamales, and French fries. The store began opening new locations in Southern California in the 1970's, and today has expanded into southern Nevada.

In 1969, two brothers opened a small burger stand in Goleta Beach, California called The Habit. Today, the restaurant boasts of franchises throughout California as well as in Arizona, Utah, New Jersey, Florida, Nevada, Idaho, Maryland, Virginia, and Washington. In an effort to differentiate their brand from other burger chains, The Habit is one of the pioneers of what is called 'fast casual' food. Their menu is larger, incorporating sandwiches, salads, frozen treats, and a kid's menu in addition to the burger offerings.

Pieology takes the 'casual fast' concept and integrates it with the ever-popular staple of pizza. Headquartered in Rancho Santa Margarita in Orange County, the chain offers visitors the chance to completely customize a personal-sized pizza, which is then flash-fired in the oven. Several crust variations are available, including a gluten-free version; toppings range from standards like pepperoni to innovations such as Spicy All-Natural Chicken, jalapenos, and spinach. After the pizza is baked, one can also choose to add a drizzle of pesto, barbecue sauce, red sauce, and fiery buffalo sauce. You can find Pieology locations all across Southern California.

Pink's Hot Dogs has been in business since 1939. One can order hamburgers as well as hot dogs, but why would you when you can enjoy specials like the Huell Hawser, the Three Dog Night, the Giada de Laurentiis Dog, the Rosie O'Donnell Dog, or the Patt Morrison Baja Vegan Dog? French fries, tortilla chips, and other side dishes round out the menu, and Dr Brown's soda is sold in addition to more standard fountain fare. Beyond the longstanding location on LaBrea Boulevard at the southern end of Hollywood, franchises can be found at the Los Angeles, Orange County, Ventura, and Southern California County Fairs, as well as at some truly unusual locations outside of the state such as the Shangri-La Motel in Manila, Philippines.

If you're not hungry after reading this, you must never eat fast food – but try one of these places and you just might change your mind! Bon appetite!



Related Articles
Editor's Picks Articles
Top Ten Articles
Previous Features
Site Map





Content copyright © 2022 by Korie Beth Brown, Ph.D. . All rights reserved.
This content was written by Korie Beth Brown, Ph.D. . If you wish to use this content in any manner, you need written permission. Contact Korie Beth Brown, Ph.D. for details.