Art 3D Tatting by Yuuko Terachi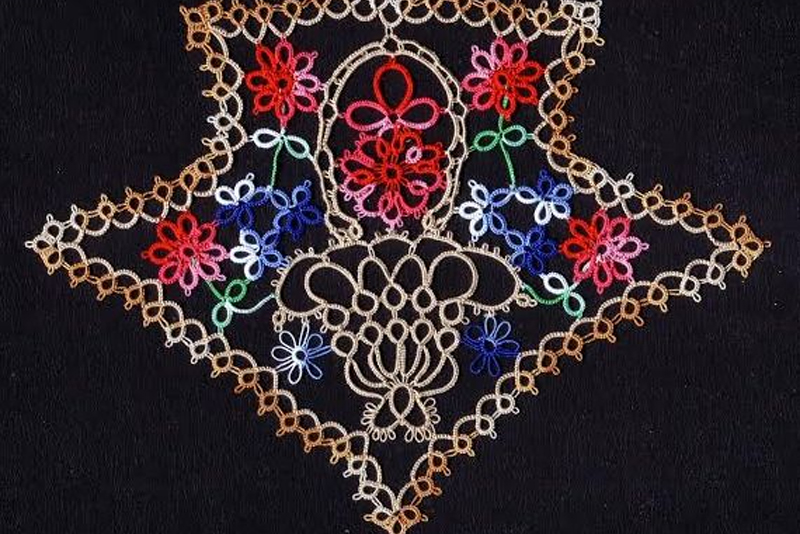 Art 3D Tatting by Yuuko Terachi
Cover of Art 3D Tatting
Yuuko's first book had only Japanese text, but vol. 4 as with vol. 2 and vol. 3 all have Japanese and English text. This is a petite booklet of 46 pages in size 6" x 8", paper back. The full color photography of these tatted pieces of jewelry and their clear diagrams are enhanced with excellent photo tutorials. The detailed photos are a real benefit. And I find Yuuko's method of overlapping flat pieces of tatting to create a three dimensional piece stunning. Her method is called "Yuuko's Push-out Trick" and it is easy to learn.
And Yuuko has turned one annoying part of tatting into a "good thing!" After we work with the thread a while it sometimes acquires a twist which inhibits the smooth glide of the half stitch into position. To deal with this annoyance, we drop the needle/shuttle and let the thread untwist. Depending on the thread used and the pattern in progress, this drop and dangle process must be repeated often.
Yuuko's construction of the stamens in the center of the blossom makes good use of the twisted thread and even encourages it.
One application of "Yuuko's Push-Out Trick" is featured prominently in the vol.4 cover design, the Weeping Plum Blossom. See the bottom left corner. There are 21 steps to master this flower. Each step is shown in extreme detail in the close-up photos and the matching diagrams.
Back Cover of Art 3D Tatting
Part of the tatting required is very traditional and with familiar forms. However, it is Yuuko's unique combination of these traditional type patterns into stunning jewelry which will inspire us.
Vol.1
Vol.2
Vol. 3
Yuuko's books are sold internationally by Japan & Asian Tatting lace Shop Aphyu Tatting. The website is https://aphyu-tatting.ocnk.net and it shows a lovely shop and many tatting supplies and books, too. There are also individual patterns available like the "Christmas Necklace," and a lame thread Christmas kit, too. Yuuko designed her own clear plastic tatting shuttle available through tatting supplies distributors. She also exhibited and taught tatting and the 2016 - 2017 year long exhibit "Tatting: From Concept to Conceptual Art" hosted by Lacis in Berkeley CA. In my humble opinion, Yuuko Terachi is a Master Tatter. Note: I gratefully received this book as a gift from Yuuko Terachi - G. Seitz
You Should Also Read:
3D Flower Tatting Yuuko Terachi


Related Articles
Editor's Picks Articles
Top Ten Articles
Previous Features
Site Map





Content copyright © 2019 by Georgia Seitz. All rights reserved.
This content was written by Georgia Seitz. If you wish to use this content in any manner, you need written permission. Contact Georgia Seitz for details.