Tatted Couvrette - Girl's Own Book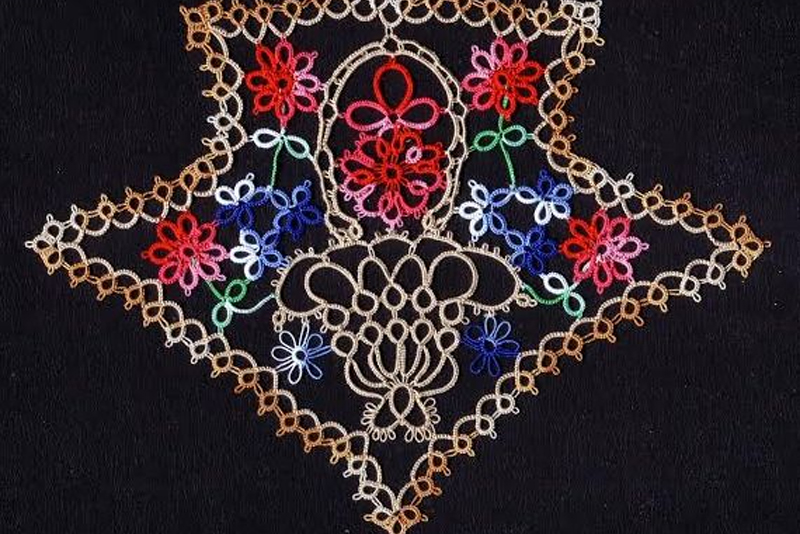 Another Vintage Pattern from "The Girl's Own Book"
Tatters may recall from the July 16, 2013 newsletter that (Lydia) Maria Child, was a progressive thinking woman who advocated both women's rights and Indian rights and was an activist, abolitionist, journalist and novelist. But her fame was from an 1828 manual for homemakers. And, of interest to tatters today, "The Girl's Own Book" in 1833. However, the first edition of "The Girl's Own Book" had no tatting. But by the time that the 1858 edition was issued, tatting had its own section.


The 1858 edition revised by Clara de Chatelain categorized this book as amusements for girls. It has a wealth of general information. The tatting section is on pages 330 through 348. The instructions are quite general but accurate as are the illustrations. Among the patterns was this butterfly motif "couvrette."


The directions to tat the necessary rings includes instructions for "pearl stitches." The "pearl" indicated a "picot" and to make a pearl stitch with picot at that time meant 1 ds picot 1 ds. This was in between any other ds count given for the ring/chain.



The original pattern for the butterfly begins with the lower right ring, followed by the lower left wing, upper left wing, upper right wing and ends with the head with all rings joining to the previous rings. Each butterfly was cut off and the ends secured. Each separate butterfly joined by the upper wing to the next. One each subsequent row, each head ring joined in between the two lower wings and the two lower rings of the previous row joined to the upper two wings on the next row.


However, using the modern tatting technique of the split ring, it can be tatted all in one pass without all the cutting and tying. The method would use 2 shuttles instead of the single shuttle mentioned. (Two shuttles are needed for the split ring. See: https://www.bellaonline.com/articles/art173899.asp) But it also allows the introduction of an additional color for the butterfly.


The line of progression for tatting this butterfly using the split ring method would begin with using shuttle one to tat the upper left wing and the head. The lower left and ring wings are tatted with shuttle 2. Both shuttles come together to tat the last ring, the upper right wing. The second butterfly would begin with a split ring. Shuttle one makes the head ring; shuttle two makes the two lower rings; both shuttles come together to make the last ring, the upper ring wing, a split ring again and to climb out into the next butterfly.




Pattern for the butterfly:



Upper left ring, SH1 R 4 (- 2) x10, 2 clr

Head ring, SH1 R1 + (join to the left wing) 2 - 2 - 2 - 1 clr

(If you reverse the work for ease in tatting, be sure to work the rings in reverse double stitch order (RODS) so that all the rings will have the front side up look to them.)

Lower left ring, SH2 4 + (join to upper left ring) (- 2) x10, 2 clr

Lower right ring, SH2 2 + (join to lower left ring) 2, (- 2) x10, 4 clr

Upper right ring, using SH1 and SH2 split ring,

SH1 2 + (join to last picot of head ring)2, (- 2) x5 / SH2 4 + (join to lower right ring) 2 (- 2) x4.
Climb into next butterfly.






Now we have a pattern of butterflies going for our couvrette. Couvrette? Just what is that exactly? I had to look it up. Unfortunately, I did not find the word in any dictionary, nor in my history of lace, and not in the history of costumes books. (I did find a nice definition of "plastron" in one of them. That article is coming soon.) I checked the spelling, so couvrette is correct as used in the Beeton's books of Needlework (https://www.bellaonline.com/articles/art13841.asp), in the Riego books, and in the Mee & Austin book. (see free tatting books online: https://www.bellaonline.com/subjects/3137.asp). I guessed at first it must mean a wheel of lace but, the couvrette term was also used for square and diamond shapes.




If any of you have info on it, please share. Enjoy!





Here's the latest article from the Tatting site at BellaOnline.com.



Girl's Own Book 1858 Edging
Recent study of "The Girl's Own Book" 1858 edition by (Lydia) Maria Child brought to my attention an illustration of 4 variations of a line of half-closed rings. Half-closed rings were often used in vintage patterns but seen less seldom today.



https://www.bellaonline.com/articles/art3135.asp/zzz



Please visit tatting.bellaonline.com for even more great content about Tatting.

To participate in free, fun online discussions, this site has a community forum all about Tatting located here -



https://forums.bellaonline.com/ubbthreads.php?ubb=postlist&Board=39



I hope to hear from you sometime soon, either in the forum or in response to this email message. I thrive on your feedback!

Have fun passing this message along to family and friends, because we all love free knowledge!


Georgia Seitz, Tatting Editor

https://tatting.bellaonline.com

One of hundreds of sites at BellaOnline.com




You Should Also Read:
Mrs Beeton's Book of Needlework
Free Tatting Books Online


Related Articles
Editor's Picks Articles
Top Ten Articles
Previous Features
Site Map





Content copyright © 2023 by Georgia Seitz. All rights reserved.
This content was written by Georgia Seitz. If you wish to use this content in any manner, you need written permission. Contact Georgia Seitz for details.