Tatted Edges and Insert Needleart Mag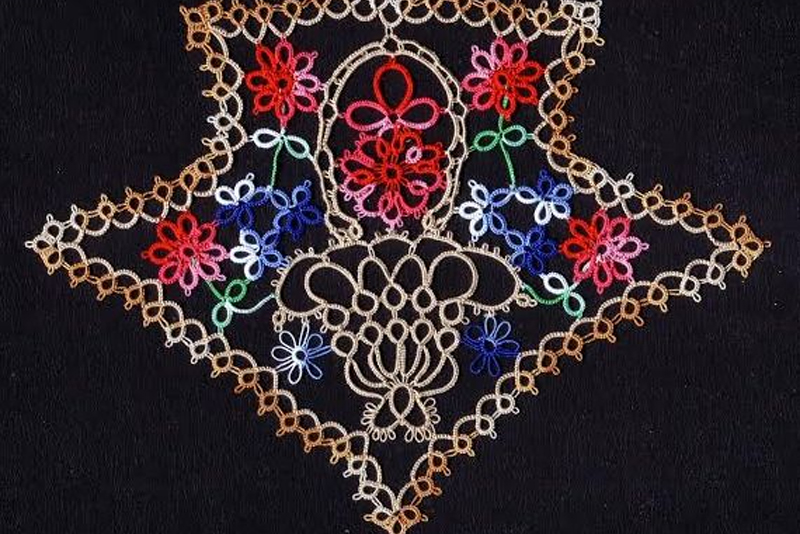 "Tatted Edges and Insertions for Underwear"
This publication, "Needleart" magazine Vol.8 #3 published in 1921, was previously unknown to me. I was given a copy of this one page, 17, and the page 68 where one pattern was continued. I would welcome any notes that other tatters may have to share.
There are seven patterns of varying degrees of difficulties. The designs are intended for underwear but today's fashions would lend itself to decorating outer wear as well. Some of the pattern are a bit "homely," but offer an opportunity to use your own creativity.
1. https://www.bellaonline.com/articles/art304216.asp
2. https://www.bellaonline.com/articles/art304221.asp
3. https://www.bellaonline.com/articles/art304224.asp
4. https://www.bellaonline.com/articles/art304207.asp
5. https://www.bellaonline.com/articles/art304229.asp
6. https://www.bellaonline.com/articles/art304203.asp
7. https://www.bellaonline.com/articles/art304228.asp
Seeking information about these publications:
Courtesy of Marianne, cover and partial page 6 only, Frivolité by Miss Johanna Rubli from Zug. (1920s)
File lost, do YOU have a copy?
We have only few pages, do YOU have a copy?
The American Needlewoman. I have a set of pages from the April 1926 issue which include the cover and the page of two tatting patterns. I would very much like to know if there are more tatting pages to be found in it.
Here is the wide border for camisole or edging by Mrs. Wm. May which I am studying now.
"The Ladies Book of the Month" by Madame Elise 1867 is another publication I would like to know if there are tatting patterns in any other issues. This Maltese Insertion has already been posted online.
Here are the covers of two Danish tatting books which may be vintage. One bears the name Lund and the other is Nielsen. I have no other details about them. Your help would be welcome.
You may recall from historical research on tatting thread posted in the History and Vintage Patterns files on BellaOnline.com, the M. Heminway & Sons Silk Thread Co. established in 1849 was one of many thread producers who sought advertise their wares by also producing pattern books. In Heminway's Series #9, a Treatise on Art Needlework, undated, there are included amongst the embroidery patterns (truly beautiful silk work) three tatting patterns. There is a cover intended for the cover of a pincushion, a cloverleaf edging with a Maltese tatted header, and a drawstring bag.
So, I am wondering if any of the other Hemingway Thread publications might have tatting, too. Any info most appreciated.
Also, the occasional general instruction book, such as the "Manual of Needlework, Teaching How To Do Kensington Applique, Cretonne, Roman, Cross-Stitch, Outline and Other Embroideries," J.L. Pattern, 1883 NY, may have at least a page of instructions for tatting. This one has the how-to, 5 primitive patterns, and a lovely piece of delicate one-shuttle work (for which they chose not to give the pattern.) Please check your old books. There may be a hidden treasure among them.
You Should Also Read:
Needleart 1921 edging #7


Related Articles
Editor's Picks Articles
Top Ten Articles
Previous Features
Site Map





Content copyright © 2023 by Georgia Seitz. All rights reserved.
This content was written by Georgia Seitz. If you wish to use this content in any manner, you need written permission. Contact Georgia Seitz for details.