Fruit and Veggie Smoothie Recipes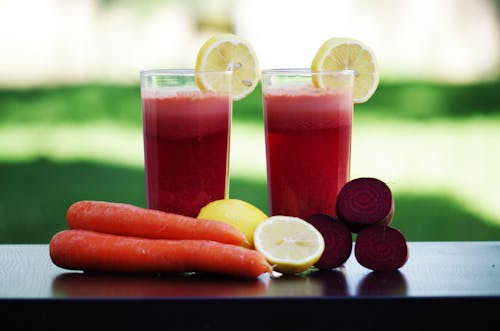 Fruit and veggie smoothies are a great way to get more fruits and vegetables in your diet. They make a wonderful addition to any sandwich meal. You can use any kitchen appliance that blends to make the smoothies. I am blessed to have a Vitamix. I just coarsely chunk my washed fruits and veggies up, then throw them in the blender bowl with liquid. It's a quick and easy way to blend my smoothies, and it gets them silken smooth every time. I adore my Vitamix.

Low Glycemic Delight Veggie Smoothie

Ingredients:

½ cup yellow summer squash
1 cup French beans
2 stalks celery
¼ cup cucumber
½ peeled and pitted avocado
2 Cutie tangerines (cut in half and leave the peel on)
1 apple, cored
20 red seedless grapes
2 cups filtered water (1 cups water + 1 cup ice cubes)

Method:

Unless otherwise noted, for each of the smoothies, add the veggies to your blender with the harder veggies at the bottom. Add the softer fruits and veggies on top, then add the water and ice cubes. You may add more water, do not add less. The more water that you add, the more dilute the vitamins and minerals will be. Process until smooth. Refrigerate and use within 48 hours.


Sweet Golden Treat Veggie Smoothie

Ingredients:

3 stalks celery
1 cup cucumber
1 cup frozen carrots
1 Cutie tangerine (cut in half and leave the peel on)
2/3 cup frozen strawberries
2/3 cup frozen pineapple chunks
½ peeled and pitted avocado
20 seedless red grapes
12 ounces coconut water
1 ½ cup water


Energy Plus Veggie Smoothie

Ingredients:

1 partially peeled lemon (Mine was half peeled. I used the leftover peels to flavor the tea.)
2 tablespoons olive oil
2 tablespoons agave nectar
2 cups cold green tea made with filtered water
1 cup zucchini
½ cup peeled carrots
1 cup French beans
½ c cup cucumber
½ cup frozen cherries
1 cup of ice cubes

Method:

Blend in the first 4 ingredients until smooth, then add the other ingredients and blend until smooth. Be sure to check the cherries for pits before blending them. Use a Vitamix, if possible.

This does not have avocado in it. The lemon juice and olive oil emulsifies the smoothie so that it does not separate quickly.


Treat yourself to a delicious sandwich meal, and enjoy having a smoothie as a part of the meal. A tasty sandwich, a salad, and a smoothie come together to make a very satisfying meal. Enjoy your sandwich meals!


When I mention stores or products by brand name, these are the ones that I use. I have not received free products from the manufacturers, nor have I been paid to mention the products or stores by name.


NEWSLETTER: I invite you to subscribe to our free weekly newsletter. This gives you all of the updates for the Sandwiches site. Sometimes, this newsletter has information and variations on sandwiches that are not in the articles. Fill in the blank below the article with your email address - which is never passed on beyond this site. We never sell or trade your personal information.

Related links: The Related Links below this article may be of interest to you.

There are times when I recommend an item related to my article and add an Amazon link, so that you can check it out. I am an Amazon Associate, and when you purchase an item after clicking on my link, I do make a commission for purchases made through that link.




You Should Also Read:
10 Sandwich Ideas for Meatless Mondays
15 Hot Sandwich Ideas
16 Wrap Sandwich Ideas


Related Articles
Editor's Picks Articles
Top Ten Articles
Previous Features
Site Map





Content copyright © 2022 by Connie Mistler Davidson. All rights reserved.
This content was written by Connie Mistler Davidson. If you wish to use this content in any manner, you need written permission. Contact Connie Mistler Davidson for details.