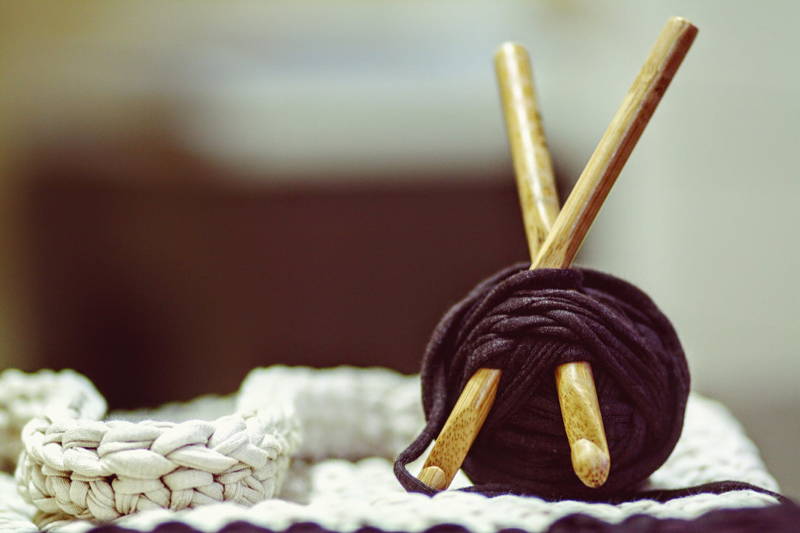 If you find yourself gathering up your afghan (I'll refer to the item being crocheted, as an afghan here and throughout, to keep things simple) neatly placing it on the sofa, in just the perfect way, so you'll be able to find where you left off and keep your hook from slipping through the loop and to the back of your sofa chair, after you set it down where you were sitting; all, just so you can go find a pair of scissors so you can cut off the excess of yarn after weaving in the ends of your last tie-in…

Well, I'm already tired, just from explaining it. But, I'm sure many of you understand what I'm talking about. Generally, for me, by the time I get back to my chair, one of my dogs has already jumped up on the sofa chair, claiming my unfinished afghan as their own, scratching out a neat little nest to lay in, not even bothering to be careful not to knock my crochet hook out of place, and I end up having to dig through the back of the chair anyway. AND, when he finally gets the idea that you want him down on the floor, his hind leg manages to get tangled in the yarn and there goes the last 20 stitches…if you manage to get him to stop before ripping out an entire row or more.

Well, if you have no children or house pets that run around loose, you could just lay your afghan wherever you wish and you'll know that your hook and afghan will be right where you left it when you return. Or will it? It seems that sometimes that hook has a mysterious way of maneuvering it's way loose of the last loop it was left it and manages to slip down through some lacy holes and disappears. Even so, I still will pull up a long loop and I either weave the hook through a wad of my afghan, or I will simply weave it through the skein of yarn I'm working with. For those who have a coffee table, or chair-side table, you have an advantage because you can place your hook on the table and it's still there when you get back.

For those of us who have children or four-legged furry friends, who have full run of the house, it's not as simple. We're not guaranteed that things won't just happen. In fact, we're pretty much guaranteed that they will.

One thing I like to do, beyond pulling up a super long loop is to latch a giant safety pin on one side of the loop. This will usually prevent the loop from being pulled through your last stitch and unraveling even that first stitch.

Another thing I do, is to turn the top several rows down and then roll the afghan up, rolling the skein up into the afghan before the last several wraps. Then, the crochet hook can be used to weave into the afghan, in and out of the skein of yarn and then back up out of the afghan. Usually, if puppy dog wants to next in the afghan, there's a bigger chance that everything will stay in place.


Related Articles
Editor's Picks Articles
Top Ten Articles
Previous Features
Site Map





Content copyright © 2022 by Beverly Elrod. All rights reserved.
This content was written by Beverly Elrod. If you wish to use this content in any manner, you need written permission. Contact Holly Messenger Aamot for details.