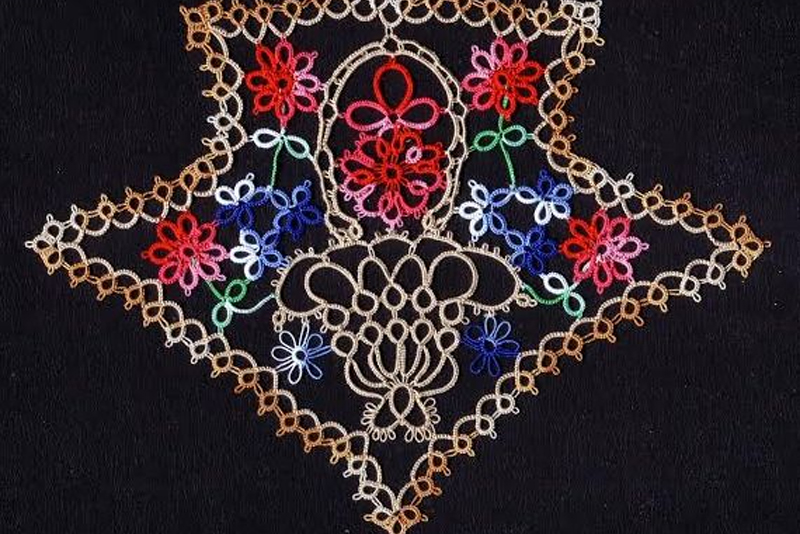 Strange Lace Bark Tree
During the wee hours of the night at conventions and tat days some tatters gather together to work on their class projects or learn new technique or just visit friends. The late night conversations cover a wide range of topics. One such topic was the question of what is the strangest material with which you have ever tatted?
For me, I used to wear shoes that tied with shoe laces and when asked about tatting in line at the grocery store or restaurant or laundry mat, I would pull out my laces and give impromptu lessons in the basics of the double stitch. I thought that was unusual until I heard a gentleman tatter had used licorice whips. Then there were stories of using dandelion stems, fly fishing thread, surveyors marking twine and glow in the dark filaments.
The best one of all is a true story. Randy and Gary Houtz, master tatters, actually tatted with rope, lariats, to demonstrate the double stitch and that was a show that no one can forget!
So lace may be created from many things using various types of tools.
I was idly turning pages while I waited on hold for "next available customer service representative." The book was a reprint of the old History of Lace by Fanny Bury-Palliser. I flipped to the appendix to check for tatting references and found none. Figure 161 on pg. 426 caught my eye. It is labeled The Lagetta, or Lace-bark Tree.
As this book is in the public domain, I quote here the full story.
"The inner bark of the Lagetta, or Lace-bark tree (Daphne Lagetta) of Jamaica may be separated into thin layers, and then into distinct meshes, bearing some resemblance to lace. (Fig.161.) Of this material, a cravat and ruffles, were presented to King Charles II* by the Governor of Jamaica; and at the Exhibition of 1851**, a dress of the same fibre [sic] was presented to the Queen, which her Majesty (Queen Victoria, Editor's note) was graciously pleased to accept."
*Editor's note: Returning from exile, King Charles II popularized the cravat calling it naught but a great long towel wrapped around the neck. Some mention has been made that the cravat was used to hide dirty shirt collars worn by men who bathed but infrequently.
**Editor's note: Mlle Riego created gold-medal award winning tatting which was featured at this same world exposition 1851.
I read on to learn:
"Caterpillars have been made to spin lace veils by the ingenious contrivance of a gentleman of Munich.*** These veils are not strong, but surprisingly light: one, a yard square, would scarcely weigh 5 grains, whilst a patent net veil of the same size would weigh 262."
"***He makes a paste of the plant which is the usual food of the caterpillars and spreads it thinly over a stone or other flat substance; then, with a camel's hair pencil, dipped in olive oil, he draws upon the coating of paste the pattern he wishes the insects to leave open. The stone being placed in an inclined position, the caterpillars (Phalaena pandilla) are laid at the bottom, and the animals eat and spin their way up to the top, carefully avoiding every part touched by the oil, but devouring the rest of the paste." Ency. Brit."
But then I was appalled to learn that the deadly carcinogen, arsenic, had been used to make lace also!
"Asbestos has also been woven into lace; and a specimen of this mineral lace is, we have been told, in the Cabinet of Natural History at the Garden of Plants, Paris."
So no tatting info in that book, but isn't it amazing to learn such odd details about lace-making? I can't wait for the next late night get-together to share these stories.
Here's the latest article from the Tatting site at BellaOnline.com.
Eleonore Endrucks-Leichtenstern doily 1922 An original doily by Eleonore Endrucks-Leichtenstern, (German) Leipzig, Germany, Beyers Handarbeitsbücher 9, 1922
https://www.bellaonline.com/articles/art304446.asp/zzz
Please visit tatting.bellaonline.com for even more great content about Tatting. To participate in free, fun online discussions, this site has a community forum all about Tatting located here -
https://forums.bellaonline.com/ubbthreads.php?ubb=postlist&Board=39
I hope to hear from you sometime soon, either in the forum or in response to this email message. I thrive on your feedback! Have fun passing this message along to family and friends, because we all love free knowledge!
Georgia Seitz, Tatting Editor https://tatting.bellaonline.com One of hundreds of sites at BellaOnline.com
You Should Also Read:
History
Novelties and Gift tatting
Building Tatting Library Riego


Related Articles
Editor's Picks Articles
Top Ten Articles
Previous Features
Site Map





Content copyright © 2023 by Georgia Seitz. All rights reserved.
This content was written by Georgia Seitz. If you wish to use this content in any manner, you need written permission. Contact Georgia Seitz for details.