Simple Cream of Vegetable Soup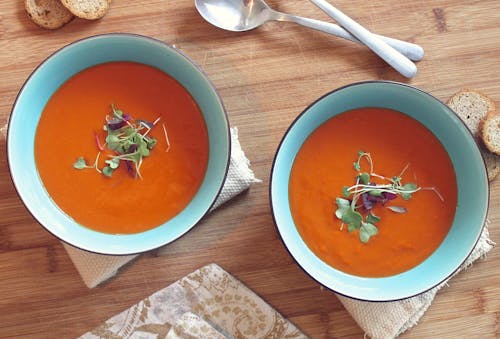 There are times that I want to make a big fuss over dinner. I'll spend hours in the kitchen getting things just right for a special occasion. Most of the time, I am too busy and too tired to do that. I want some food that is forgiving. By forgiving, I mean something that I can cobble together quickly and know that it will taste good. I also want something that will go with different types of sandwiches. This soup is perfect for making a sandwich into a meal.

This soup comes together in less than half an hour. While the veggies are cooking, I can throw some sandwiches together. Below the recipe, I have suggestions for quick and easy sandwiches to eat with this, including links to the recipes in the Related Links.

Simple Cream of Vegetable Soup

Ingredients:

1 cup roughly chopped onions
1 ½ cups roughly chopped celery
2 cups roughly chopped peeled carrots
3 cups water
1 tablespoon dried parsley flakes
1/8-1/4 teaspoon freshly grated ginger
¼ teaspoon seasoned salt
¼ teaspoon tarragon
¼ teaspoon white pepper
¼ teaspoon pear infused balsamic vinegar
1 can chicken noodle soup
4-6 ice cubes (depending on how thick you want your soup)
¼ cup evaporated milk
1 tablespoon butter (optional)
water to thin the soup, if needed

Method:

In a large saucepan, add the vegetables to the 3 cups of water. Cook, uncovered, on medium-high for 25 minutes. Turn the heat off and add 4 ice cubes to the veggies to cool them a bit. If you have a few extra minutes, you can let the veggies cool for up to 30 minutes.

Pour the veggies and cooking liquid into a blender bowl. I use a Vitamix. Be very cautious when blending hot liquids. Add the seasonings, chicken noodle soup, water, evaporated milk, and butter, if desired. Process the veggies and other ingredients until the soup is smooth. Serve immediately, or refrigerate and reheat.

Suggested Sandwiches with This Soup

Grilled Deli Meat and Cheese Sandwich Recipes
Use premium specialty deli meats and cheeses to make taste tempting Grilled Deli Meat and Cheese Sandwiches. These delicious offerings will make your taste buds smile!

Grilled Meat and Cheese Sandwich Recipes
What makes a great sandwich? Easy to make? Tasty ingredients? Here is a decadent, yet simple, grilled sandwich and a bold twist on a quesadilla! These sandwiches taste gourmet, but the sandwich assembly is child's play!

Grilled Salami and Provolone Sandwich Recipe
It's a simple sandwich, but one that can show different personalities with the change of a condiment. A Grilled Salami and Provolone Sandwich on sourdough bread can be the basis for a delicious sandwich meal.

You might notice that all of the suggested sandwiches are grilled. Maybe that's conditioning from all of the years of eating grilled cheese with cream of tomato soup. I love my grilled sandwiches with creamy soup! This soup is just full of creamy goodness, and it is so simple to make. Hope you try it soon!


When I mention stores or products by brand name, these are the ones that I use. I have not received free products from the manufacturers, nor have I been paid to mention the products or stores by name.

NEWSLETTER: I invite you to subscribe to our free weekly newsletter. This gives you all of the updates for the Sandwiches site. Sometimes, this newsletter has information and variations on sandwiches that are not in the articles. Fill in the blank below the article with your email address - which is never passed on beyond this site. We never sell or trade your personal information.

Related links: The Related Links below this article may be of interest to you.

There are times when I recommend an item related to my article and add an Amazon link, so that you can check it out. I am an Amazon Associate, and when you purchase an item after clicking on my link, I do make a commission for purchases made through that link.

You Should Also Read:
Grilled Deli Meat and Cheese Sandwich Recipes
Grilled Meat and Cheese Sandwich Recipe
Grilled Salami and Provolone Sandwich Recipe


Related Articles
Editor's Picks Articles
Top Ten Articles
Previous Features
Site Map





Content copyright © 2022 by Connie Mistler Davidson. All rights reserved.
This content was written by Connie Mistler Davidson. If you wish to use this content in any manner, you need written permission. Contact Connie Mistler Davidson for details.