Breast Cancer Awareness Ribbons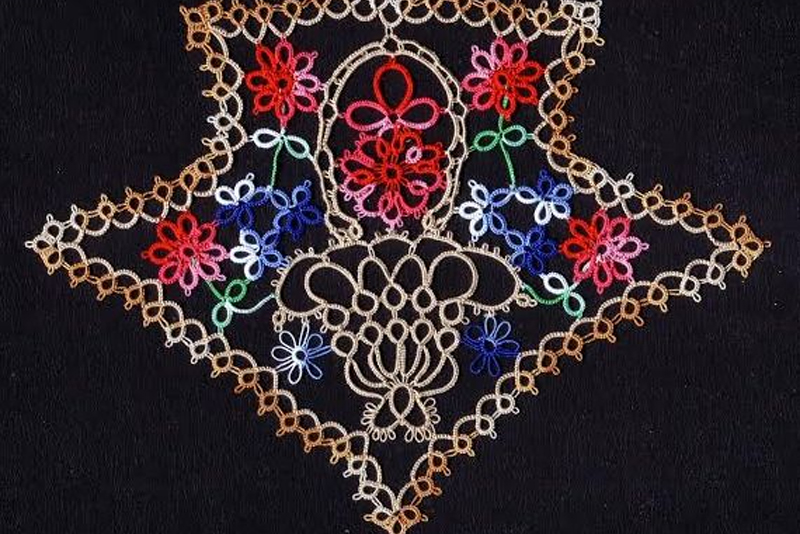 Pattern



2017
Georgia Seitz Ribbonwinners
Tatting Patterns & Shuttles
1227 CR 1760 E
Greenup Illinois USA
AKTATTER@aol.com www.georgiaseitz.com

OCTOBER IS BREAST CANCER AWARENESS MONTH
Over the past 18 years many tatters and their families have been touched by breast cancer. Awareness ribbons are available for many causes. The color for breast cancer awareness ribbons is pink. Here are a few patterns which we have used over the years. If breast cancer threatens someone close to you, please tat one up and send it to them today. Tat a bunch and share with all.
Breast Cancer Ribbon © Sylvia Maziarz 2007
This stylish ribbon uses the pearl tatting technique in which double stitches and picots are placed on both sides of the core thread. Featured in Mlle's Riego, "The Pearl Tatting book" 1867, the technique is different from today's method.
Originally, pearl tatting was tatted using the ball thread and two shuttles. A chain was begun by tatting the double stitch with the ball thread and shuttle one. Then the work is rolled in the fingers literally reversing the work. Shuttle one is now held in position as the core thread and shuttle two makes the double stitch. Each set of double stitches required flipping the work back and forth. This works fine, but there is now a simpler method. Modern pearl tatting is also completed with three threads. For Needle tatting, two ball threads for wrapping on each side of the needle and the third thread through the eye of the needle. For Shuttle tatting, one ball thread and two shuttles or three shuttles together may be used. Ball thread and shuttle one (core thread) are engaged to make the first set of double stitches. Next, the ball thread is allowed to dangle in back of the work, shuttle one is wrapped and held taut on a finger temporarily to form the double stitches while shuttle two is engaged to flip the ds onto the core thread. This maneuver is not tatting but wrapping (encapsulating.) It causes the double stitches to face the opposite direction, thus creating both double stitches and picots on both side of the core thread.
Ring & Chain Tatted Awareness Ribbon © Lenore English 2001
This petite pink ribbon was created by Lenore English nearly two decades ago. It has been seen in many places and in many colors. Changing the color for awareness for a different cause is fine. There are lists with the awareness color designation online, i.e., danaraejewelry.com/awareness-ribbons-colors.html.
Even a beginning tatter will be able to create this dainty ribbon. It uses the basic techniques, ring, chain, picot, join and reverse work. An alternating ring and chain pattern is tatted and along the way, some of the double stitch counts change to help create the curve. Those picots facing inward on the inside of the top curve are decorative and may be left off. The ribbon crosses over itself and may be glued into position. Join us in The Online Tatting Class for more patterns.
You Should Also Read:
Wearable Tatting


Related Articles
Editor's Picks Articles
Top Ten Articles
Previous Features
Site Map





Content copyright © 2018 by Georgia Seitz. All rights reserved.
This content was written by Georgia Seitz. If you wish to use this content in any manner, you need written permission. Contact Georgia Seitz for details.