2 Edgings - Cecilia Vanek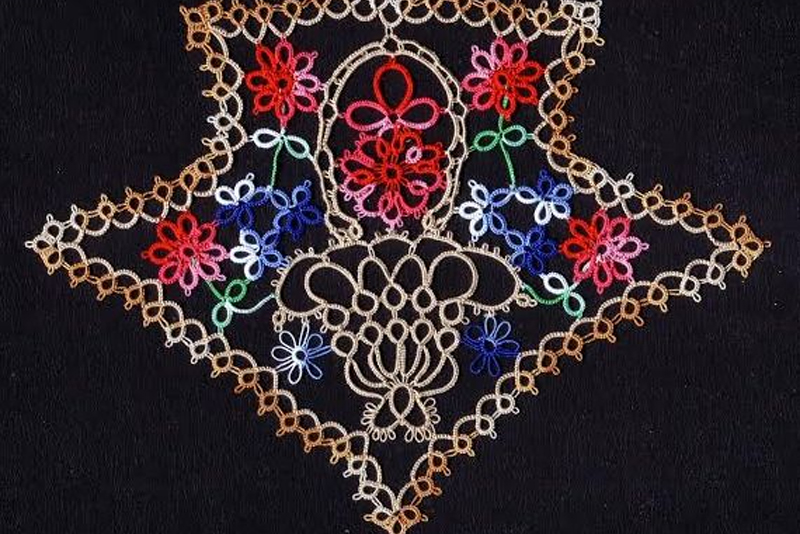 Two Tatted Edgings - Cecilia Vanek
This leaflet was produced by the American Thread Company as an advertisement for Star Thread. It was rescued from loss by Sharon Merrow (whom I met at Palmetto Tat Days 2016) and is now being shared with the Online Tatting Class and all the tatters on BellaOnline.com!
Here are two patterns to enjoy. Pattern #5 looks deceptively simple. But look closer. The header is a straight line of tatting to which the lower decorative row attaches. Care will be needed in making the lock joins to the rings below to avoid compressing the chains or creating a "dip" in the line.
Also note the thrown off ring from the set of three which faces downward. The vintage directions advise us to work the lower ring in between working the set of two upper rings. I believe this may be a precaution to avoid gapsosis between the two adjacent chains.
*R 5 - 5 clr rw
CH 3 - 3 - 3 - 3 rw
Clover:
R 7 - 7 clr rw
SH2 R 1 - 1 - 1 - 1 - 1 - 1 clr rw (Difficult to be certain of the picot count, leaflet says 5 but on this old photo it could be 7 picots separated by 1 ds.)
R 7 - 7 clr rw
CH 3 - 3 - 3 - 3 rw
Repeat from * for length desired.
Header chain added last; CH 6 - 6 etc.
Pattern #6 is mostly a traditional pattern with heavy use of floating rings. The floating ring is thrown off a chain without interrupting the movement of the chain. To do this the chain is tatted up to the point of the ring. Then, using shuttle 2 only, (or one of two methods for needle tatting) without reversing the work, tat ring and close it. Again, do not reverse work, but continue the chain as normal.
Note the first picot on the first ring needs to be just large enough to accommodate three joins later.
R 4 - 4 clr rw
CH 2 - 2 - 2 - 2 - 2 rw
R 4 + (join to previous ring) 4 clr rw
*CH 4 dnrw FR 4 - 4 - 4 - 4 clr dnrw Repeat from * joining the floating rings by the first picot
CH 4 rw
R 4 + (join to pair of small rings adjacent)4 clr rw
CH 2 - 2 - 2 - 2 - 2 rw
R 4 + (join to previous ring) 4 clr dnrw
CH 2 - 2 - 2 - 2 - 2 - 2 rw
The repeat adds a join using the second picots on the short chains. And the first and last floating rings join by the middle picot.


Related Articles
Editor's Picks Articles
Top Ten Articles
Previous Features
Site Map





Content copyright © 2019 by Georgia Seitz. All rights reserved.
This content was written by Georgia Seitz. If you wish to use this content in any manner, you need written permission. Contact Georgia Seitz for details.