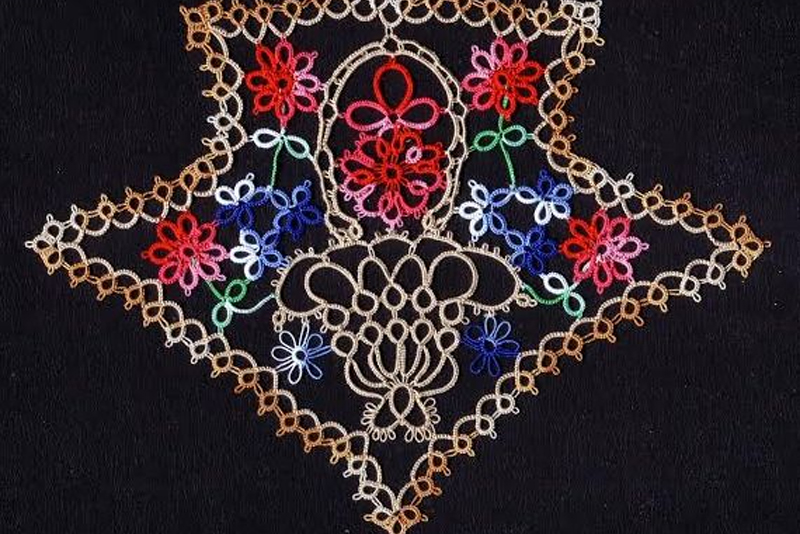 Hearts & Flowers
Tulip Pattern by Mary Joseph Donohue.
From the files of the Online Tatting Class, March 2007.
Two shuttles needed
Two colors of thread green for the stem and a variegated color for the tulip. Mary used size 40 thread by Olympus.
*R = 8 ds - 8 ds, clr
R = 8 ds + to previous picot of previous ring, 8 ds, clr
* Repeat once more.
Tie both ends together so the tulip petals come together like a closed tulip.
Leave a 10 inch piece of thread for encapsulation. Slip knot the green thread to your 10 inch thread in order to encapsulate your tails.
The flowers in Mary's Flower Garden are derived from this simple ring and join.
Ed.'s note: The garden pathway is tatted using block chain tatting method.
Block Tatted Heart by Sue Hanson
From the files of the Online Tatting Class, March 2008.
Use two shuttles wound CTM. Sue used Coats #20 deep purple shade 200. Commence with a ¡§dead end¡¨ start. Making a mock picot & then a half stitch unflipped. Some folks do this around a paper clip. Sue prefers to place a ¡§helping loop¡¨ of spare thread, over the shuttle thread to later post shuttle through to make join.
Study the diagram to find the start which is in the upper right side of the heart lobe. Decide now if you prefer traditional front/back side look or the all front all back side style. In the directions, the steps are coded: B = back side facing F = Front side facing.
Block 1 Sh#1 Start with right hand flower
B Ch1: MP lock stitch, 10 lock & turn (like a page)
F Ch2: vsp 10 + shuttle lock join (LJ) (starting p) lock & turn
B Ch3: vsp 10 +LJ (last Ch) lock & turn
F Ch4: vsp 10 +LJ (last Ch) lock & turn
B Ch5: vsp 10 +LJ (last Ch) lock & turn
F Ch6: vsp 10 +LJ (last Ch) lock & turn
B Ch7: 10 +LJ (last Ch) lock & turn SS note no vsp at start
Sh#2 R1: 15 vsp 15 clr SS keep block to left and RW
Sh#1 R2: 15 -- (large enough for two joins) 15 clr SS
Backside facing & block to left make shoe lace trick (SLT) & tension tightly to bring rings together DNRW
Sh#1 Ch: 12 tension into a curve & lock.
Start block two.
Ed.'s note: This pattern may be tatted with the traditional style block tatting instructions. However, it is possible today to create the block without the many turns. The first segment of the block chain is tatted as normal; the next segment is wrapped not tatted (unflipped ds.)
Consider enlarging the diagram to better see the direction of the work, order of the work and the double stitch count of the elements.
You Should Also Read:
Block Tatting
Front/Back side exercise


Related Articles
Editor's Picks Articles
Top Ten Articles
Previous Features
Site Map





Content copyright © 2023 by Georgia Seitz. All rights reserved.
This content was written by Georgia Seitz. If you wish to use this content in any manner, you need written permission. Contact Georgia Seitz for details.