Anne Orr Book 2 Medallion #3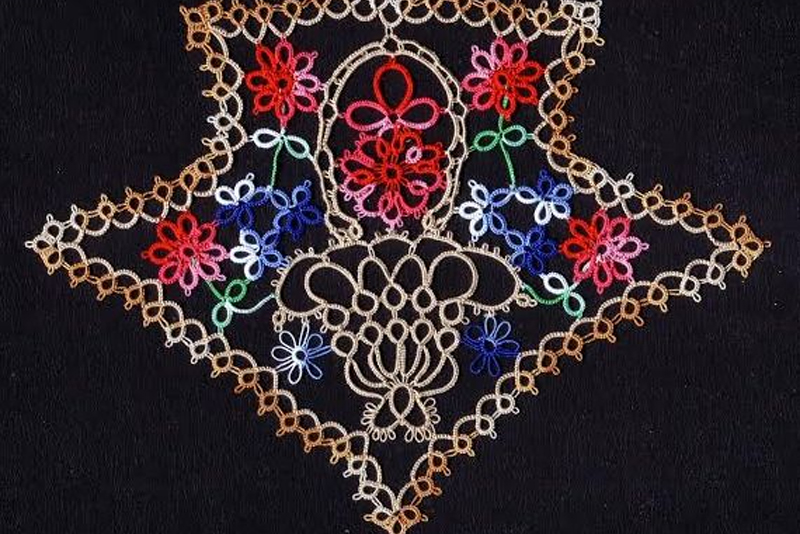 Anne Orr Book 2 Medallion #3
New model prepared by Wally Sosa @2018
The Star Book of Tatting Designs No. 2, published by American Thread Company in 1935 indicates on the cover and by the copyright that the designs are Anne Orr's. It has 23 pages and includes 29 medallions; 2 baby caps; large centerpiece; 3 doily sets; yoke; 5 collar edgings; edging & medallion luncheon set; rectangular doily, 21 edgings.
Diagram by Wally Sosa for Medallion #3 Anne Orr Book 2
Cover of Anne Orr Star Book 2
Original model.
The tatting designs of Anne Orr and needlework articles published in many magazines such as Southern Woman's Magazine, Good Housekeeping and Better Homes and Gardens made tatting patterns available to all. Anne Champe Orr (1875-1946) was endlessly fascinated with needlework and designed and sold hundreds of thousands of patterns for cross stitch, quilting, crochet, filet crochet, and tatting. She also provided employment for women in the Appalachians making appliqued quilts and delicate tablecloths for sale. Anne is thought to have developed the split ring and daisy picot techniques. The tatting community is grateful for her many tatting patterns.
Other Tatting Books published at the Anne Orr Studios.
Tatting Book No. 13 - self-published at Anne Orr's Nashville TN studio It has 12 unnumbered pages of patterns and an unknown publishing date. Included are linen luncheon set edging; 29 edgings, insertions & edgings; 12 medallions including a butterfly; - missing 2 pages - baby socks & booties; includes luncheon cloth corner; 2 linen doilies with edgings; collar; yoke; 3 handkerchief edgings & medallions.
Tatting Book No. 35 - has 31 numbered pages of patterns and is copyrighted 1935. Includes 26 medallions; rectangular bonbon set; oval 2 doily set; round 2 doily set; 3 baby caps; yoke; large round doily; 3 doily set; 55 edgings & insertions. Good Housekeeping Insert included Star #2 centerpiece & 3 doilies.
Tatting Book No. 35 Revised - 1940 - is a completely different book than No. 35 and includes only a few of the same patterns. Dover's "Anne Orr's Classic Tatting Patterns" is a reprint of this edition. Includes 2 reverse stitch patterns—the Large Round Doily incorporates one row and Edging No. 34.
Here's the latest article from the Tatting site at BellaOnline.com.
Tatted Flag Earring These earrings designed by Sonya Loyd are from the files of the Online Tatting Class. The colors are red, white and blue from our own flag but those tatters in other nations can easily substitute the colors of their national flags.
https://www.bellaonline.com/articles/art305325.asp/zzz
Please visit tatting.bellaonline.com for even more great content about Tatting. To participate in free, fun online discussions, this site has a community forum all about Tatting located here -
https://forums.bellaonline.com/ubbthreads.php?ubb=postlist&Board=39
I hope to hear from you sometime soon, either in the forum or in response to this email message. I thrive on your feedback! Have fun passing this message along to family and friends, because we all love free knowledge!
Georgia Seitz, Tatting Editor https://tatting.bellaonline.com One of the hundreds of sites at BellaOnline.com


Related Articles
Editor's Picks Articles
Top Ten Articles
Previous Features
Site Map





Content copyright © 2023 by Georgia Seitz. All rights reserved.
This content was written by Georgia Seitz. If you wish to use this content in any manner, you need written permission. Contact Georgia Seitz for details.