Spanish Preterite. Irregular Verbs (I)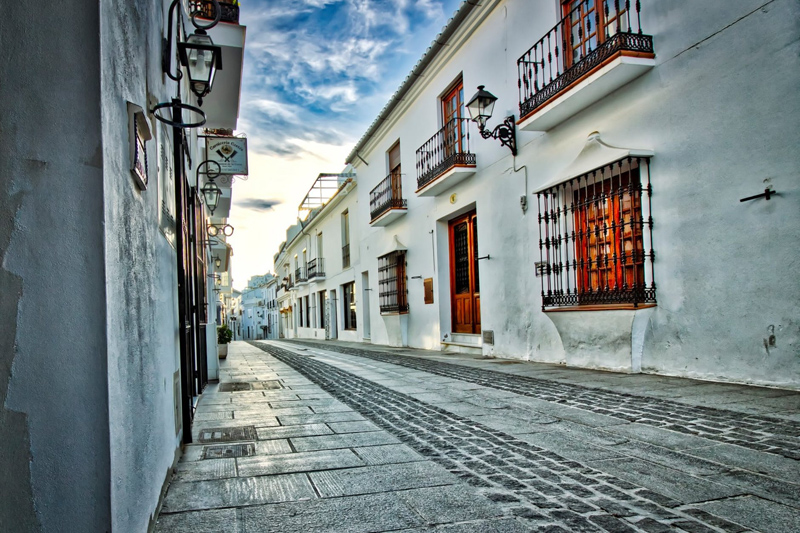 After having reviewed the conjugation of the Preterite Tense for Regular Verbs (See
Preterite Tense Conjugation - Regular Verbs.
), now it is time to learn how irregular Spanish verbs are conjugated in the Preterite.
There are four Spanish verbs that you should memorize; they are irregular in the preterite tense: (Click and listen)
DAR
(TO GIVE)
HACER
(TO MAKE, TO DO)
SER
(TO BE)
IR
(TO GO)
Yo
di
(I gave)
hice
(I made, I did)

fui
(I was)
fui
(I went)
Tu
diste
(You gave)
hiciste
(You made, you did)

fuiste
(you was)
fuiste
(you went)
El / Ella
dio
(he/she gave)
hizo
(he/she made, did)

fue
(he/she was)
fue
(he/she went)
Nosotros / Nosotras
dimos
(we gave)
hicimos
(we made, did)

fuimos
(we were)
fuimos
(we went)
Vosotros / Vosotras
disteis
(you gave)
hicisteis
(you made, did)

fuisteis
(you were)
fuisteis
(you went)
Ellos / Ellas
dieron
(they gave)
hicieron
(they made, did)

fueron
(they were)
fueron
(they went)
DAR conjugation
HACER conjugation
SER conjugation
IR conjugation
Note
: Verbs SER and IR have the same conjugation in the Preterite!
Some Examples:
Mis padres nos dieron dos manzanas
(My parents gave us two apples)
Les hice venir
(I made them come)
Yo fui un buen estudiante
(I was a good student)
Ayer fui al mercado
(Yesterday I went to the market)
A group of verbs, irregular in the preterite, change their stems when conjugated in this tense, but all of them adopt the same endings:

(yo) -e
(tu) -iste
(el) -o
(nosotros) -imos
(vosotros) -isteis
(ellos / ustedes) -ieron

For example, the verbestar belongs to this group, as it changes its stem when conjugated in Preterite tense: Infinitive: estar - Preterite Stem Change --> estuv-

So, its Preterite conjugations is:

>(yo) estuve
(tu) estuviste
(él) estuvo
(nosotros) estuvimos
(vosotros) estuvisteis
(ellos / ustedes) estuvieron

All the verbs included in this classification and their corresponding Preterite conjugations are:


Andar
(To walk)
Caber
(To fit in)
Estar
(To be)
Haber
(To have)
Preterite
stem change:
anduv-
cup-
estuv-
hub-
Yo
Tu
El / Ella
Nosotros
Vosotros
Ellos / Ustedes
anduve
anduviste
anduvo
anduvimos
anduvisteis
anduvieron

cupe
cupiste
cupo
cupimos
cupisteis
cupieron

estuve
estuviste
estuvo
estuvimos
estuvisteis
estuvieron

hube
hubiste
hubo
hubimos
hubisteis
hubieron

Hacer
(To make, to do)
Poder
(To be able)
Poner
(To put)
Querer
(To want, to love)
Preterite
stem change:
hic-
pud-
pus-
quis-
Yo
Tu
El / Ella
Nosotros
Vosotros
Ellos / Ustedes
hice
hiciste
hizo
hicimos
hicisteis
hicieron

pude
pudiste
pudo
pudimos
pudisteis
pudieron

puse
pusiste
puso
pusimos
pusisteis
pusieron

quise
quisiste
quiso
quisimos
quisisteis
quisieron

Saber
(To know)
Tener
(To have)
Venir
(To come)
Preterite
stem change:
sup-
tuv-
vin-
Yo
Tu
El / Ella
Nosotros
Vosotros
Ellos / Ustedes
supe
supiste
supo
supimos
supisteis
supieron

tuve
tuviste
tuvo
tuvimos
tuvisteis
tuvieron

vine
viniste
vino
vinimos
vinisteis
vinieron

There are more grammar points about Irregular verbs and they Preterite conjugation that we'll study soon. Meanwhile, as always, for any question or comment, feel free to e-mail me.

¡Hasta pronto!

Angeles F.

---
'Click and listen' glossary: (alphabetical order):


andar = to walk

ayer = yesterday

buen = good

caber = to fit in

<dos = two

estar = to be

estudiante = student

haber = to have

hacer= to make, to do

les = them

manzana = apple

mercado = market

mis = my

nos = us

padres = parents

poder = (v) to be able / (n) power

poner = to put

querer = to want, to love

saber = (v) to know

tener = to have

venir = to come

---
Recommended material:
| | |
| --- | --- |
| | I write monthly articles for "Think Spanish" ("Piensa en español") since 2002. All "Think Spanish" articles are written in Spanish, and they include a Spanish/English glossary. You'll also have the option to buy this magazine including a CD. Nice way to learn about Spanish language and customs! |


Related Articles
Editor's Picks Articles
Top Ten Articles
Previous Features
Site Map





Content copyright © 2022 by Angeles Fernández. All rights reserved.
This content was written by Angeles Fernández. If you wish to use this content in any manner, you need written permission. Contact Angeles Fernandez for details.