Recipe For A Celtic Feast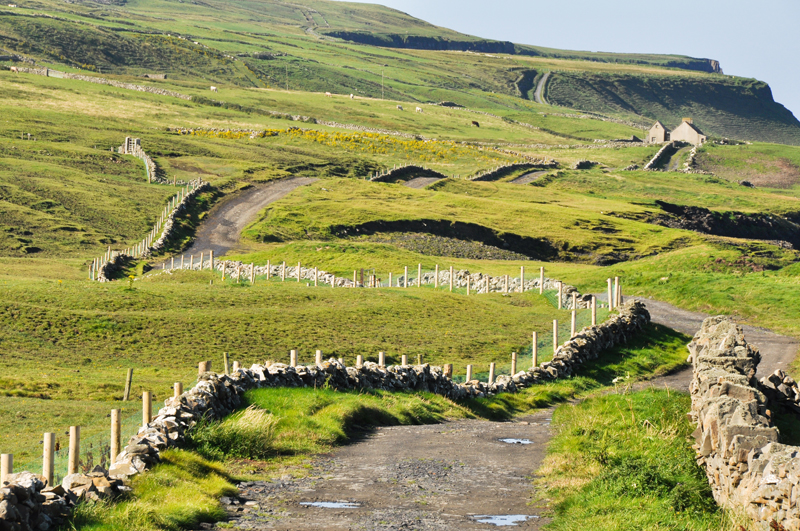 I was recently a guest at a renewal of wedding vows here in West Cavan. The event was held in a hand built garden roundhouse. The American couple renewing their wedding vows wanted a Celtic theme with traditional Irish foods, a traditional venue and traditional Irish music. What transpired over transatlantic emails was a traditional Celtic feast that included a modern twist.

First, Find Your Venue

The event was held in a hand built garden roundhouse. Michelle, the bride, had seen the start of the construction of the roundhouse in a friend's garden on a previous trip to Ireland. She decided there and then that she wanted her Celtic Wedding Vow Blessing to take place in this magical woodland garden.
Celtic roundhouses are circular structures of mortared timber posts and were typical domestic structures from the Neolithic age. This modern roundhouse offers a sheltered space in a garden and includes a wood burning stove to ward off chilly, rainy days. Given the variability of the Irish weather the roundhouse is both outdoorsy and snug.

The Celtic Blessing day dawned rainy and windy so the roundhouse venue was well chosen. It offered the beauty of the outdoors, viewed from the door, but we were out of wind and rain showers. There was no need for the wood stove to be stoked. The 'live' roof of moss provided plenty of insulation.

Next, Write Your Own Celtic Themed Blessing

The celebration included a pagan style hand fasting, with the couple's wrists being bound by a handmade lace tie, which I am sure will become a family heirloom. It also included toasts to the couple's ancestors, who had emigrated from Ireland. The simple ceremony concluded with the couples own words to one another and songs and poetry offered by guests.

The bride felt a kinship to Brigit, who is both a Celtic goddess and an Irish saint. The couple spoke their vows under a woven hazel wreath decorated with the traditional St. Brigit's Cross, woven from rushes. There was also water from St. Brigit's and St. Patrick's holy wells included in the blessing ceremony. A poem "Brigit's Mantle" about the abundant blessings of the saint and goddess tied into the day's Celtic theme.

Finally, Food for the Feast

Then the feasting began! The first course was seafood chowder that used smoked fish, salmon and shellfish in the stew. It was served with the whole meal variety of soda bread known as 'wheaten.' The main course was ham, or gammon as it is called in Ireland, succulent, not too salty and fragrant with cloves. It was accompanied by colcannon, a mashed potato, chopped kale and spring onion combination often served at Halloween gatherings. But it is so nice that it should be on the menu more often! There were salads, too: leafy greens from the garden garnished with edible nasturtium flowers and leaves, coleslaw and tomatoes.

Irish hospitality shines with the desserts on offer. Baking has not died out as a household art here in Ireland. These two desserts on the feast's menu are home favorites, well- known to most families in Ireland. Fruit Pavlova is a confection of whipped cream and raspberries on a meringue base. Apple tart is the Irish favorite.

There were many cups of tea drunk and coffee for the Americans provided. There was also homemade meadowsweet lemonade and beer.

This Celtic Blessing in the Garden Roundhouse combined the four key elements of Celtic Christian traditions: a reverence for the sanctity of nature, the power of soul friendship, the uplifting of spirit through creative craft and art and hospitality. With these in mind, you can create a thoroughly authentic Celtic blessing for any occasion.

This Celtic feast married not just the couple a second time but also exemplified how the traditional can be updated - the ancient and modern meeting in perfect harmony.







Related Articles
Editor's Picks Articles
Top Ten Articles
Previous Features
Site Map





Content copyright © 2022 by Bee Smith. All rights reserved.
This content was written by Bee Smith. If you wish to use this content in any manner, you need written permission. Contact Bee Smith for details.