Guest Author - Vannie Ryanes
Finding employment that is meaningful can be difficult. Finding employment that is meaningful and family-friendly is nearly impossible, but not quite.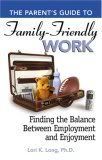 Author Lori K. Long, Ph.D., is a mother and the president of LK Consulting, a human resource management consulting firm. Ms. Long has a long history in human resource management. In
The Parent's Guide to Family-Friendly Work: Finding the Balance Between Employment and Enjoyment
, she shares her knowledge, wisdom and expertise with parents who are seeking guidance and advice in the search for a family-friendly job.
Long has included answers and advice for most of the questions a parent may have, but her succinctly written "chapter wrap-ups" are very helpful. They help you to understand the bottom line of the issue in a few words. When she talks about
Reduced-Schedule Work Options
, a schedule that many parent's are opting for these days, her "wrap-up" reminds you,
Reduced hour schedules provide working parents more precious time each week to spend with their families…However, reducing your work hours also reduces your income….
Of course, you know this, but seeing it in black and white may make you think twice, as Long suggests, before making this crucial decision.
If you are already working outside of your home and need to make the job you already have more family-friendly, see Chapter 11 to understand
Why the Boss Matters
. Thinking of asking for a more flexible schedule? You can find guidance on how to make this request it in Chapter 15 of
The Parent's Guide to Family-Friendly Work: Finding the Balance Between Employment and Enjoyment
. All in all, I found Long's guide very parent-friendly.
A guide like this is only as good as its resources, and the resource information here is plentiful. The websites presented are easy to navigate and user-friendly. Some sites have forums; some have targeted articles and newsletters that speak to your personal situation.
I love the author's advice,
Be confident in your career. Pursuing anything other than a traditional path can be challenging. You must feel strongly that you can succeed.
That is good counsel for anyone.
Recommended.
Lori K. Long's
The Parent's Guide to Family-Friendly Work: Finding the Balance Between Employment and Enjoyment
is available from Amazon.com