Mauritius - African Tropical Island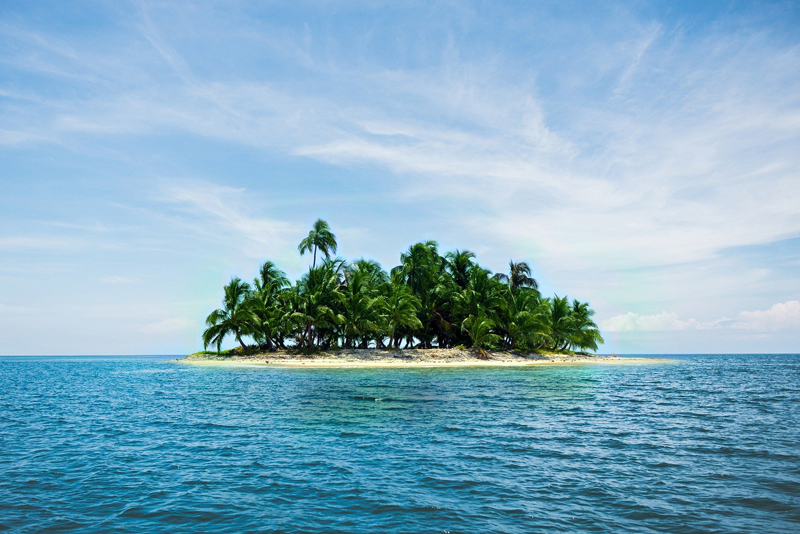 Have you actually heard of Mauritius? Many Americans haven't, though most Europeans are familiar with it as an enticing tropical destination. Located in the southwest Indian Ocean this idyllic island nation is 560 miles east of Madagascar, which itself is an island nation about 250 miles off the eastern coast of Mozambique in southern Africa.
What does that mean in terms of weather? A warm, dry winter from May to November (remember it's in the southern hemisphere!) with daily temperatures averaging in the low 70's and a hotter, wetter summer from December to April with the average temperatures warming up to the low to mid 80's. Be careful about going for the warmer temperatures though – January and February are peak cyclone months in that part of the world. Although Mauritius has very seldom been hit directly by a cyclone, the cyclone activity out at sea often creates days of squalls that interfere with water and beach activities. So it's safer to skip those months and be able to count on dryer weather.
And Mauritius has all you would want in a tropical island vacation – spectacular cobalt-blue seas, long stretches of white sandy beaches, a wide variety of lodging options, and extensive coral reefs to explore. But it also has a lot more to offer.
Mauritius is somewhat unique in that there were no indigenous people inhabiting the island when Europeans "discovered" it, though Swahili, Arab and Malay sailors had visited it as early as the 10th century. So the culture of the island has developed as a mix of the various countries who have occupied it over the centuries combined with the cultures of the African slaves brought to develop the sugar plantations. The most commonly spoken language is Mauritian Creole (a mix of French and various African tongues), though most newspapers and television programs are in French, and English is often used in government and professional settings.
The mixed cultural backgrounds of the current population of Mauritius have also created an interesting culinary environment – a blend of Creole, African, Indian, Chinese and European (especially French) influences. In the most common meals, curries and "rougaille" sauces are accented with spices like saffron, cinnamon, cardamom, and cloves, then served with rice or local vegetables. But the cuisine offers an extensive array of tasty options to keep tourists' palates interested.
When you're not relaxing on the beach, Mauritius also offers an extensive variety of other activities to enjoy and explore. Birders (and just hiking enthusiasts) can enjoy a walk through the Macchabee Forest in the Black River Gorges National Park where they might hope to spot one of the endemic bird species such as the endangered Mauritius Kestrel or the Mauritius Cuckoo-Shrike. Or maybe take a trip to the Ile aux Aigrettes nature reserve to look for the rare Pink Pigeon. There is one bird that Mauritius is famous for that was long ago driven extinct by mankind – the unfortunate Dodo. Hopefully the nature reserves and national parks now established in the country will help to keep other species from following the same fate.
If you want something of a more cultural nature, you can visit the large open air market in the village of Flacq. Or maybe take a trip to the Eureka Colonial House, one of the best preserved plantation houses from the colonial era. Or perhaps go to Vieux Grand Fort, where you can see ruins of the original Dutch fortifications on the island and learn a bit of the history.
Another interesting side trip in Mauritius is to the village of Chamarel in the southwest. Here you can enjoy two different natural phenomenon. First is the Chamarel Waterfalls plunging over 300 feet through forested mountain scenery. The second and more unique attraction is what is referred to as "the seven colored earths". Apparently ancient volcanic rock cooled at different temperatures and formed into seven unique distinctly colored layers. And these layers are clearly visible in the rock hills that resemble sand dunes. It's truly an incredible sight!
Alternatively you might want to visit the Sir Seewoosagur Ramgoolam Botanical Gardens. Yes, that's a mouthful! So you'll usually see it shortened to the SSR Botanical Gardens, or hear it referred to by its more common local name - the Pamplemousses Botanical Gardens. Originally constructed back in 1770 it is known as the oldest botanical garden in the southern hemisphere and contains over 500 species of both indigenous plants and exotic plants from multiple continents. Here you can see the very picturesque giant Victoria Amazonica water lilies (native to the Amazon River basin) or the Talipot pines which flower only once every 30 to 80 years and die after fruiting (native to Southeast Asia).
Note: no promotional consideration was provided or paid for this article.


Related Articles
Editor's Picks Articles
Top Ten Articles
Previous Features
Site Map





Content copyright © 2022 by Laura Hartney. All rights reserved.
This content was written by Laura Hartney. If you wish to use this content in any manner, you need written permission. Contact Malika Bowling for details.