Wrong Way on the Round 'About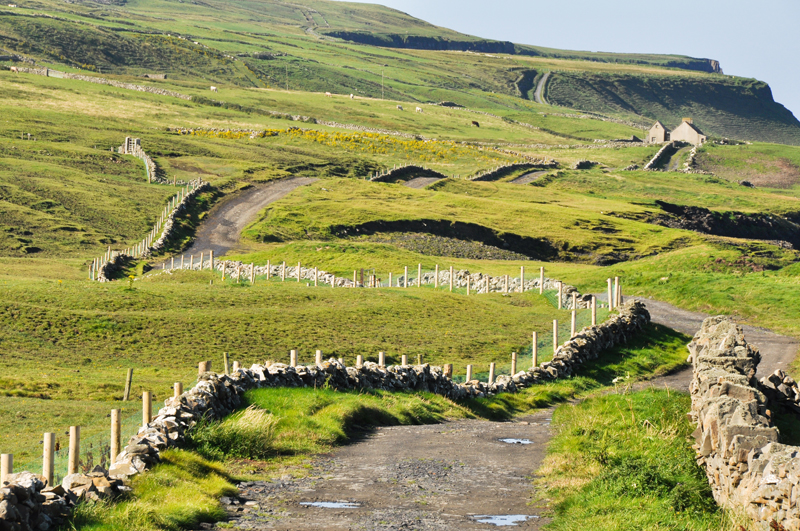 I confess that I don't like to drive. I used to. My first car was a '67 Mustang convertible, blue with a white top, so in distant memory, I really did like to drive once...really well and fast too. Doing a 360 in the middle of the icy highway didn't even cause me to bat an eyelash. Then I drove from Wicklow to Carlow on an American license in my brother-in-law's priceless Mercedes with my infant son in the back seat. That put some sense on me! The vagaries of my immortal youth became a distant memory. I became conservative. I drive like my mother now, not like my father, who was a demon behind the wheel.

I had lunch today with a British gentleman and we started to talk about driving...I'm such an inspiring conversationalist...but he had learned to maneuver on ice in the Arctic, about 900 miles from the North Pole, so I figured I should listen, because one never knows when there'll be a patch of black ice. That intriguing bit of information exhausted, he said, "How do you like the round 'abouts in Ireland?" My husband snorted his tea out his nose. I said, "I do all right as long as there aren't any other cars." Then I confessed that I had gone the wrong way around a really busy one down in Carlow. Noooo...I don't like driving much, especially in Ireland. I do all right around home, but staying on the opposite side of the road that I'm used to and negotiating circles that are the opposite of my norm, that's way too much. So when in Ireland, I find my ways to get around.

My husband is still adept at reverting to the opposite side of the road from this new country. But he had driven there for years as an adult. (For the first few years, we used to laugh when I was to drive and he'd go to the left side of the car.) It took a very long time before he was comfortable with the U.S. right-sided driving. He still stays to the outside lane, which in Ireland is called the inside lane, though I warn him that on super-highways, he's a target for those entering the roadway. He doesn't care. He likes the slow lane. But when he gets behind the wheel in Ireland, he drives as fast as anyone. Funny that. I never learned to drive in Ireland, so I was always the dozy passenger who was sitting in the middle of the back seat in a Mini waiting to be carsick.

I always got a kick out of the "map phenomenon" in Ireland. There'd be a town mentioned on the map, and even a sign on the road marking the way, say, Ballyduff - 10 miles - but you'd go 10 miles and there wouldn't be anything there but more green fields. What happened to Ballyduff? I must've blinked. No pub?

Now there's another problem with driving in Ireland. For some incomprehensible reason, the people in charge of the road signs have decided to make them all in Gaelic. Until now, the road signs have been charmingly marked with both the original Gaelic name of the place and the English version of the place name. Now, I'm a supporter of keeping the Gaelic language alive as much as anybody, and more than most, (especially more than all the school-children who are studying it on beautiful May afternoons) but if the Failte Ireland, formerly Bord Failte, the Irish Tourist Board, wants to keep the tourist economy fruitful, they'd better have a word with the folks down at Road Signs.

Lost tourists driving rental cars on the "wrong" side of the road. God help us all! And would you ever mind the sheep...



Related Articles
Editor's Picks Articles
Top Ten Articles
Previous Features
Site Map





Content copyright © 2022 by Mary Ellen Sweeney. All rights reserved.
This content was written by Mary Ellen Sweeney. If you wish to use this content in any manner, you need written permission. Contact Bee Smith for details.