Trendsetting Totes-Book Review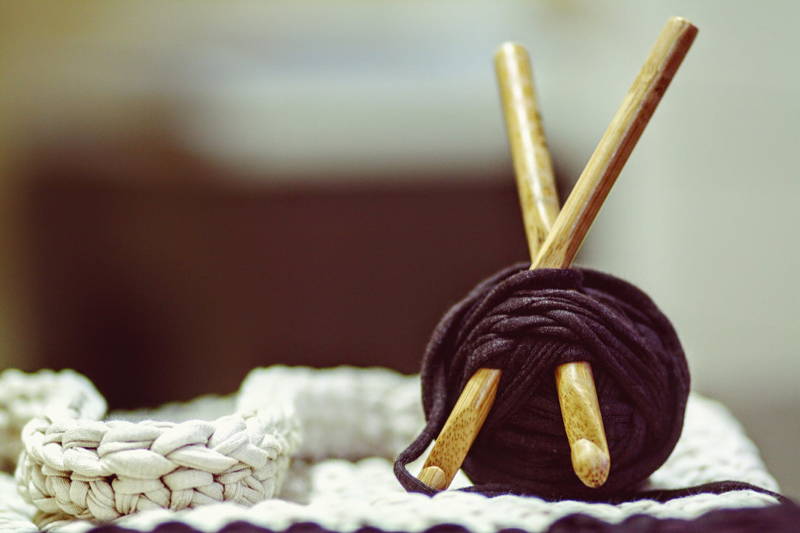 What woman doesn't love an exciting, flirty, attention-catching purse/tote? For that matter, there are several men who like to have a tote to carry gym gear, a change of clothes, camera equipment and various other items in. Retailed at only $6.95 US and $8.95 Canadian, this booklet is a treasure. There are patterns for eight totes; which are sure to please women, men and children.

The cover of the booklet states there are 8 designs in cotton yarn. And, indeed, there are 8 separate patterns given. While all the totes are shown as shoulder one is a drawstring-pulled shoulder (called a mini-duffle); which is designed to be flung over the shoulder and the bulk of the weight carried on the back. One tote has two rows of Irish crochet rose granny squares around the base with a top that tapers up from front and back to a nice wide crochet strap (named In Bloom). Another has shell stitching (thus rightly named Jaunty Shells) with a nice high top and a wide center strap. Yet another is a drawstring tote worked up in another type of shell (and thus named Stylish Shells). An interesting tote, done in a simple stitch; yet is flattered with a nice "V" on each side and a wide strap from front to back. This Casual Chic tote would be a great pattern choice for a beginner crocheter who would like to learn to work something in 3D that will be fun and functional. The last tote is also one that I feel would draw interest from a beginner crocheter who has started to grow tired of working only items on a flat plane. It's a cute tote, In Vogue, with a flap and button top closure.

The cons that I've found are to be some small grammatical errors; which makes me wonder about how difficult the patterns might turn out to be because of that fact alone. While the booklet states there are eight cotton designs, and lists patterns for eight designs, I'm confused by the pictures. To discover which pattern matches which tote, one has to look through the booklet and at more than one picture. The first colored picture within the needlework booklet has four totes pictured on it. Each one is clearly labeled with the proper name. Looking at the next picture page, there are five totes. Again, each is labeled with their given name. Two of these are also in the previous photo, but since they crocheted with different yarns or stripes, instead of solids, it can be difficult to pick these two out. With seven photos found, we have to search for the last one. Beginning to feel like I'm trying to find items cleverly hidden within a picture in a puzzle book, I turn to the next picture page. It has five totes in this picture. So far, no photos are a duplicate of either the front or back cover.

By this time, I've forgotten which one tote I haven't found the name of. Thus I find myself, starting from top to bottom and left to right, comparing all the pages to see which one hasn't been found. Casual Chic: No, it's already been pictured. In Bloom: No, it's already there also. Jaunty Shells: Ditto. Stylish Shells: Same with that one. And, last but not least is In Vogue. Although I enjoy seeing photos of a few different ways that a project might look by using another yarn (or yarn combinations) it might have been less confusing had all totes made with the same pattern might have been clustered together in one photo.

On the inside cover is an introduction pronouncing these patterns to be not only up-to-the-minute, but also easy-to-follow. While there are no skill level gauges on any of the patterns, I find that only a couple are a beginner/easy skill level and the others are an easy/intermediate skill level because of the pattern stitches.

On the same page is a directory. Although some may feel this would have helped me from the start, I have to beg to differ. The average person will, when faced with photos of all the patterns on the front cover, will glance at the cover and decide which pattern they'd like to do without glancing through the booklet for more photos. But, with the way this works, the fiber artist would have to leaf through the color pictures just to find a similar photo to obtain the name of the desired tote. Then, they could turn to the directory to find the listed name and discover where the pattern is listed.

I found the abbreviations and symbols to be very good at explaining how to read the patterns; even explaining that the patterns are written in word-usage terms and phrases familiar to the US and offers a comparison chart for the English crocheters. I was impressed with the note that was given, supplying crocheters a little added information about yarns and gauges, I found the stitch guide and a metric conversion chart to be a very thoughtful addition; as was the crochet hook conversion chart between the US, English and the Continental-mm standards.

One more thing I discovered about these patterns is how the designer trimmed the purses and handles with a single crochet. I find no fault in edging the purse itself in single crochet, but I've found that purse/tote straps edged with single crochet are prone to stretch. Therefore, no matter what a pattern might call for, I always trim straps (and anything else which might need to hold a bit of weight) with a slip stitch. This stretches very little and once the stretching is done, it doesn't stretch any more. Washing and tumble drying a 'machine dryable' item will cause the fibers to return to a 'very near' original shape.

While I did not pay for this booklet, it was not given to me nor lent to me. It was up for sale at my sister's yarn store and it was one that I chose to do a review on; with no pressure from anyone. Had this booklet been given to me as a gift or had I purchased it myself, my review would have been the same. My final thoughts is that I would still purchase this booklet even if for just one of the patterns.


Related Articles
Editor's Picks Articles
Top Ten Articles
Previous Features
Site Map





Content copyright © 2023 by Beverly Elrod. All rights reserved.
This content was written by Beverly Elrod. If you wish to use this content in any manner, you need written permission. Contact Holly Messenger Aamot for details.