I hope you have a list of people, both young and young at heart, who would like to receive a bunny doll this Spring. They make great additions to a child's Easter basket or are a lovely gift all on their own. This is also a nice idea for anyone who would like a new friend. Mine is very cute sitting on my computer monitor and reminds me that Spring is coming, even though there is almost 12 inches of snow outside.This bunny doll is also a great project for charities and as gifts at children's hospitals and homeless shelters. Scary places are much easier to cope with when a child has a nice soft friend to hold on to.
The bunny measures 12 1/2 inches from the tips of the ears to the bottom of the feet.It requires about a quarter of a yard of fabric and a small amount of stuffing. I made it using fabric that is printed with Easter eggs all over it and kept all the eggs right side up, so be aware of the design of your fabric and make sure you have enough to cut all the pieces in the direction you want.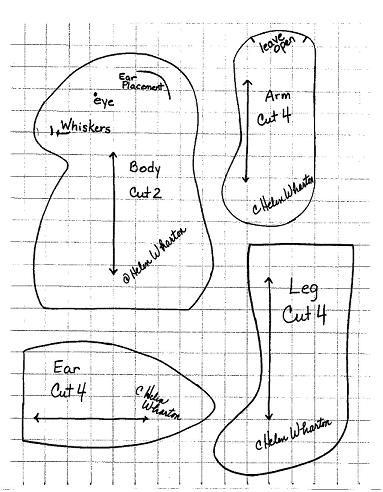 The pattern is shown on a 1/2 inch grid and all pattern pieces include a 1/4 inch seam allowance. To make 1/2 inch graph draw horizontal lines 1/2 inch apart all the way down the paper and then repeat with vertical lines all the way across the paper
Materials
- 1/4 yard fabric, or more as needed.
- polyester stuffing, I recommend
Polyfill
.
- 2 1/8 or 1/4 inch beads for eyes.
- carpet thread, or any stiff thread for the whiskers, you could use quilting thread that you have soaked in starch and allowed to dry flat.
- matching thread
To see a photo of the bunny doll
Look Here
.
Making and Dressing Cloth Dolls
Ebook with patterns and instructions to make 5 cloth dolls as well as chapters on general doll making techniques.The book includes 21 inch Lalena Doll, 21 inch David Doll, Bear Dolls, 9 inch Destiny Doll and 15 inch Annie Doll, all together in one handy book. 53 pages.
Making and Dressing Cloth Dolls
.