SkunkHaven You've got to see it to believe it!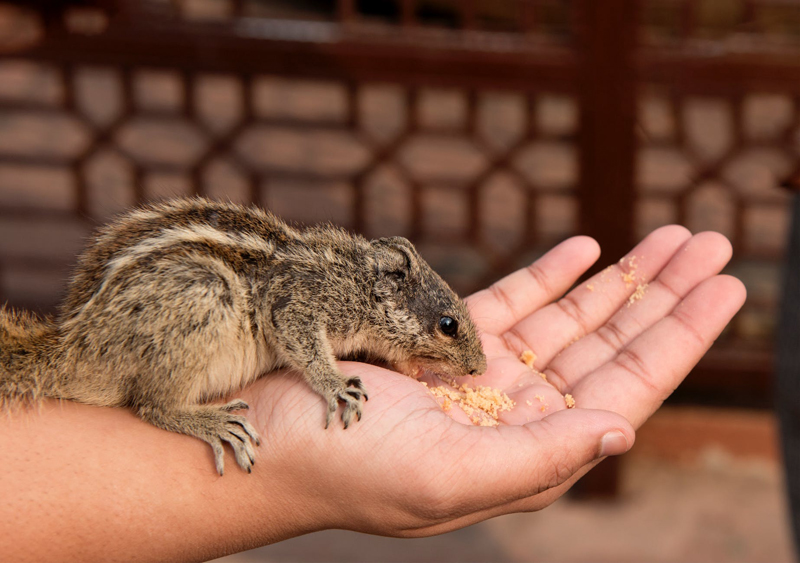 Congratulations to Deborah Cipriani of Skunk Haven this month's
winner of the BellaOnline Site of the Month Award!
I have awarded
this just three times in a couple years meaning this site and the
incredible content is truly amazing.
Skunk Haven!
There is another someone finally willing to take the time to
research and update information on diet, parasites, and other important
issues to move forward in skunk health care. It has been quite some
time since research in skunk care has advanced Her research is backed
up by data including blood tests, x-rays, documentation, with
veterinarian back up and support.
When Cipriani was asked how she became interested in the domestic
skunk, she had an interesting answer.
"In the 1980's I went camping in Colorado and while trying to sleep in
the tent, I heard pitter-patter behind the tent. I got out of my tent
to observe what it was and there was a whole family of skunks running
around, about six or eight of them. I sat there talking to them on the
picnic table. I did not know it then but now I do, they must have
planted something in my mind to help them in the future."
During 1989, she moved to Ohio because her job took her there, "I saw a
skunk in a pet store - I wanted one of them but was not ready."
In January 2000, her mother died and Cipriani decided she needed
something to help her through the pain. "My mother had died
unexpectedly at her home. That day I felt uneasy and cold. My mother
lived by herself in CT. I kept trying to call with no answer, I finally
got a hold of a neighbor and in a snowstorm went up to see if my mother
was all right but she had died in her sleep. When I bought Daisy, she
helped me fill a void in my life. I needed some thing to help me
through the pain and depression I was going through because of my
mother death. My Mother was my best friend and my supporter in life. I
carried Daisy around as if she was a little baby. I took her camping
and many places with me, we bonded - Deb. and her Skunk, Daisy - she
would sleep with me, I would sing to her and she would kiss me. She was
a lifesaver!"
In December of 2000, Cipriani's skunk Daisy started sneezing
uncontrollably. "She would stop breathing stiffen up, and fall over. I
got her back to life by blowing into her nose; we rushed her to an all
night Vet Clinic and he said she was the healthiest skunk he has seen.
For the next four months, I battled her condition. In and out of the
Avon Lake Animal Clinic, in Oxygen tanks (I even bought her an oxygen
bottle). There were many tests but no answers. She started having
seizures that would last for five hours at a time. Dr. Frank Krupka
talked to other vets to come up with anything to save her. I started
reading many books to save her my self. We changed many things
including moving to another home. All I was thinking was I could NOT
let her die; she has helped me and was my friend. She is still living
today, we never found the problem, and I walk on eggshells every time
she sneezes. We do suspect now many years later low calcium could have
caused this."
January of 2001 was what was known as the Ohio rescues, the same time
Daisy was going through all of her problems. "There were nine skunks in
a pet store and they were getting too old and needed attention. They
were not getting the proper diet and they needed to be neutered. I
started to buy them. Many skunk people sent money to help. Two of the
skunks were sent to Oregon, we did a skunk relay so they could fly out
of Cincinnati. I bought six, five of the skunks I took home, and one
went to a foster home. One sold before I was able to claimed it."
As time went on, Cipriani became more involved. "I realized there were
not many people willing to rescue these skunks and take them in to give
medical treatment and care and all the love they need. I have 30, plus,
in my home right now, all with a story. I go to Michigan, anywhere in
Ohio, Indiana and other states to pick up unwanted pet skunks. I now
have a rescue/shelter in my home. I am both Federal (USDA/APHIS since
2002) and state licensed. We also maintain other state licenses for our
skunks."
Cipriani has taken skunk education to new heights; "I give educational
talks/weekend set-ups on skunks for schools, fairs, Native American
gatherings, senior citizens, to any one that wants to know about
skunks. (Along with the skunks) We have four ply board displays along
with jars of body parts of skunks. Our talk consists of both wild and
domestic skunks. Skunk awareness and how people can live with the wild
skunk, the number of years the domestic skunk has been bred thereby
producing many colors of skunks. We do not have those colors in the
wild. We have traveled to many states with my skunks."
A sampling of skunk colors
Cipriani assists people with their skunks, "I give 24 hour support to
anyone that needs help with their skunk with medical problems,
temperament, litter training, house proofing (like child proofing),
anything. Anyone that decides they do not want their pet skunk anymore
can call us. Instead of leaving, them caged up and not getting any
attention. We will give them a good home and a good diet. We also talk
to people before they buy a skunk to see if a skunk is the right pet
for them. I wanted to give back what Daisy gave to me, a lot of love."
They soon discovered the lack of set standards and procedures to follow
for skunk care. "Vets would go by a feline. We decided to start funding
my Vet Dr. Frank Krupka at the Avon Lake Animal Clinic to do different
research on the skunks. He was more than happy to help. This has cost
more than several thousands of dollars and we try to sell any skunk
items or find ways to raise money for this. The majority of the money
for skunk research has come out of my boyfriend's pocket and my pocket
instead of coming out of the Club fund. We do not have that much money
in the club fund. We have set blood normal's for skunks
Blood
Normals
and have on going case studies documents by Dr. Krupka. We
have also proved skunks temperatures are not 102 as once thought the
norm being 95-97
Skunk First Aid
.
We have ongoing projects funded by us and rely on donations.
Vet Care
From this experience and research, a great website was conceived
SkunkHaven
the website maintained by Kevin Wilson. "All the medical
information we have gathered through the years substantiated with
pictures is on our web site. My vet even hired a photographer
to come in and take systematic pictures of how to spay
and neuter a skunk. That is on our website as well.
Pictures
of How to Spay and Neuter a Skunk
Through research and observation, Cipriani discovered that because of
poor diet many skunks had developed poor bone density. "Through
research by one skunk that came into the shelter TY we developed a
remedy to help these skunks that can not walk. In addition, regenerate
the bones. Granted this may not work for all skunks but this has helped
many to walk. No one believed in me years ago when we started this. We
do have the documented date on the bone part of our web site.
Arthritis
Many vets refer to our web site as well as people wanting to know about
skunk care. We believe in document data and can be backed up by blood
work, x-rays, and a veterinarian."
By Deborah Cipriani from her Skunk Biography
We provide a 20-page skunk care brochure we give to breeders, pet
stores, brokers, any one that sells skunks so they can give a free
skunk care guide with each skunk purchase.
The year of September 2001, we started our SkunkFest. We wanted to do
something different from a regular skunk show. We have an annual
SkunkFest at our home in North Ridgeville. Our Skunk Fest is held
outside and we have a skunk show, fun skunk contests like Skunk Run,
Best detective, best costume, most talented. People from all over USA
come to join us with fun and learn more about skunks.
SkunkFest
I have been on PAX TV on Miracle Pets (filmed here in 2002) Now airing
on Animal Planet, Oxygen Channel on a game show "Can You Tell?". Been
in newspapers through out the country from the east coast to the
mid-west states, and local TV stations. We are referred as a client
resource in DVM Exotic Vet. Magazine vol 5.1.
We have grown as a Nation Wide Rescue getting skunks from as far away
as Japan, California, Wyoming and more. We are the one of four people
legally licensed to do Skunk Rescue and adoptions in US. We have many
representatives in other states. Our Vice President lives in Indiana.
The year of January 2004, we obtained our Ohio Wild Life permit
transforming our outside into a Wild Skunk Rehabilitation Center. We
take in orphan babies as well as injured adult skunks. The first year
we took in 46 wild skunks. It was just my boyfriend and me that
maintained all the wild skunks outside and our NO Kill domestic skunk
shelter inside. Again all this comes out of our pocket.
The year of January 2005 we obtained our Non-Profit of 501(c)3.
We also work with many state wild life officers and states trying to legalize pet skunk ownership.
I do not have any kids and the skunks and my one cat are my kids. They
are treated like human babies and spoiled! My boyfriend has taken to
the skunks also. He helps with the feedings, cleaning all the kitty
pans and gives them a lot of love. He is a big supporter of what I am
doing. The skunks run loose through the house. We do have a few
barricades dividing each room since not all skunks get along with each
other. We have a ramp so they can climb up onto our bed for when they
want to sleep with us. Our realtor built us a wood ramp leading to the
upstairs so Daisy and the other skunks do not have to climb the stairs.
Each individual has their little feed bowls. We prepare their food
daily. (See diet and nutrition)
Diet and Nutrition
We do not have hardly any furniture for humans to sit on,
just a lot of toys, beds and well this is an animal originated
house. That's the way we want it.
Cipriani stresses the subject of using any suggested skunk diet,
"People that do use ANY diet should do blood work on their skunk to see
if the diet is working for them. We always do our first bloodwork
around spay time. that sets the baseline then every year to two years
they should do blood work."
Skunks are like two-legged kids dressed up in a skunk costumes! They
want to see, do, check things out, play when they want to play. We take
them out on leashes and for rides. They are VERY smart. We had to put
baby latches on all the kitchen and bathroom cupboard doors. Some even
learns how to open refrigerator doors.
They come from the fur farms/and breeders de-scented at 2/4 weeks of
age before they sell them to pet stores/or public. There is a fur farm
in Iowa that has been breeding skunks for 70 years. Skunks have been
pets for 200 years. There are many colors to choose from Traditional
Black and White, Brown, Albino, White (black eyes), Gray, Champagne,
Apricot, even Lilac. Then you have Chips, Swirls, and other special
classes.
Once you become a skunk parent, you cannot stop at just one!!!
After 25 years of service to the company, moving out here to Ohio, they
moved back east and I lost my job March 2002. Skunks are not legal in
all states and the state they were moving to does not allow pet
skunks'. My choice was to stay here and help the domestic skunks.
Skunks have become my life and I try to do anything to help them.
Through the years Daisy has had seizures, thyroid problems, High liver
enzymes of over 2000, a in the butt that caused the flesh-eating
bacteria,
Veterinary Care
She was almost dead many times.
She started limping 2005 and we brought her to the vet for x-rays,
blood work and thyroid tests. All were normal! The limping was probably
a sprain. Daisy is my teacher she is the one who pushed me to do all of
this.
In closing, I have been in the skunk world since the year of 2000. I
did not want anyone to feel like what I did, so helpless when something
was wrong with my furred kid. That was the start of my research on
skunks. I wanted to save my Daisy. I also wanted help future skunk
owners and skunks. In another five years, we will know even more with
all this new technology and my vet Dr. Krupka helping us. We welcome
any vet willing to help us or with any data to put on our website on
skunks.
Kevin Wilson is an imperative part of SkunkHaven bringing his abundant
skills to SkunkHaven.net both his web skills and his enthusiasm and
devotion for the skunks.
All this takes money to help the skunks, why not help us with our
cause? Even one $1.00 will help the skunks . Go to
Donations
and donate. Please help the skunks.
Through all the obstacles of others, I will continue to help all
skunks.
Thank You,
Deborah Cipriani
Skunk Haven Skunk Rescue, Shelter, and Education, Inc.
Deborah Cipriani may be reached by e-mail at daisyphew@comcast.net, or
by telephone (440)-327-4349. Public Seminars with skunks are available
(USDA and State permit)
SkunkHaven
One of my domestic skunk's as baby. This is a brown and white.
This site needs an editor - click to learn more!

You Should Also Read:
Skunk as a Pet
Striped Skunk
Preparing Pets for a Winter Emergency




Related Articles
Editor's Picks Articles
Top Ten Articles
Previous Features
Site Map





Content copyright © 2023 by Diana Geiger. All rights reserved.
This content was written by Diana Geiger. If you wish to use this content in any manner, you need written permission. Contact BellaOnline Administration for details.