BrainsBarn - Handcrafted Crochet Hooks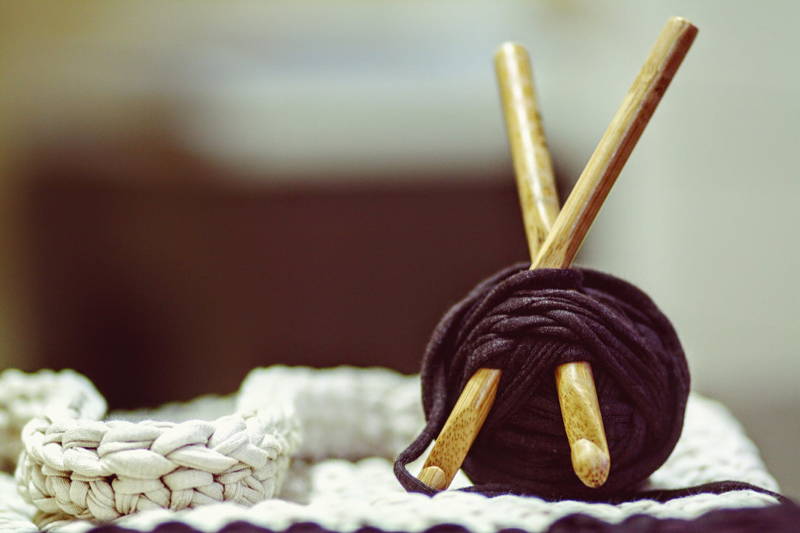 Selection of BrainsBarn hooks
BrainsBarn is a husband and wife team making and selling hand crafted crochet hooks. Each hook is made from start to finish by Brian using a range of materials including different woods from around the world. Some hooks are adorned with different materials including silver, swarovoski crystal and even diamonds!
KP: Who are BrainsBarn and what do you do?
BB:Brian is the hookmaker- designer and creates each crochet hook and other needlework items. I am also the only hook 'employee' making each hook one at a time with no templates; no outsourcing.

Only when I'm satisfied that I've done my best will my maker's mark be placed on the item.

Anne takes care of the business end; pictures, website, emails, packing and shipping. Her own online signature and her blog title says it all: I Crochet / He Makes Hooks.
KP: How did you start making handmade crochet hooks?
BB: Anne asked me to make her a wooden crochet hook. It really was as simple as that-- and how it all started! What an adventure the both of us have been on since that day, it seems that the resurgence of the art of crochet has created a 'niche specialty' for wooden crochet hooks.

I am a machinist and still work a fulltime job at this trade. Woodworking was and still is a relaxing hobby for me even though it has grown into a small business quickly and I now create hooks in the evenings and on weekends.

Anne is and has been an avid crocheter for years. She's also a member of the CGOA besides being a member of other crochet boards/lists on the net.
KP: How long does it take to make a wooden crochet hook from start to finish?
BB: I average anywhere from 3 to 5 hours for a regular crochet hook. Up to half of that time includes a lengthy finishing process. I hand rub a special mixture into the wood to bring out the natural beauty and then buff. I may do this more than once depending on the wood.

Some of the specialty hooks have taken up to 15 to 20 hours from planning the design to the finishing of the hook. There are many pieces to them. This is where I may use a silver tube, an ivory item, bone - and add a captive ring, a tassel, an insert hook end--- whatever the design calls for.
KP: What is the process in making hooks?
BB: I buy my wood in board feet, turning squares and large 'chunks'. I also have domestic applewood and cherry wood seasoning in the backyard cut right from the tree. I then mill my own wood from the lumber and logs meaning that I cut it down to the size needed for crochet hooks and other items. This creates the 'blanks' that I then turn on a lathe using chisels and other tools (some that I have machined myself) to create the turned design. All this before a hook is started!

Every hook end is handcarved; millimeter size requested is checked by a micrometer.

Decorations are inserted. The hook is checked for crispness of detail. Then the finishing process of sanding (with 3 different grits of sandpaper), sealing and buffing.
KP: Which are your most popular hooks?
BB: The decorated ones. Even though we have a variety of different beads, lampwork, bone, etc - the Swarovski Crystal birthstone crochet hooks with sterling silver accents are the most popular.

Since there is a Swarovski for every month and impossible for me to make a hook in every wood we have with every color of Swarovski crystal, we take special orders for these crochet hooks: pick your wood; pick your crystal; pick your hook size; pick your shaft style (pencil thin to ergonomic).

We show 4 pages of crochet hooks ranging from a cost of $25; and up over $100. for unique specialty work. Our buyers also like to know that if they see a particular turning style that they like but want it in a different wood or size I will turn a similar hook for them.
Do different woods have different qualities?
BB: Yes they do. Our woods are not only chosen for their beauty but also for grain design and hardness. Each wood has it's own characteristics.

The density is important as this relates to the 'pores of the wood'. Tighter pores = more density or more weight to the item. Some woods are just heavier than others. Snakewood and Ebony are heavier woods; African Cherry feels as if it could float out of your hand. That's why I give gram weight with every hook. Figure that 28 grams = one ounce; only the specialty hooks may come close to that; most of the other hooks are half of that or lighter.

Some woods are so hard I have to sharpen my tools during the process of making that one hook.
Do you have personal favorites?
BB: I like to think that the hook I am working on is my favorite.

We have in stock at this time 27 different kinds of domestic and exotic hardwoods - from light to dark woods. There are so many more! Applewood, Ebony and Snakewood come to mind quickly - they finish 'like glass' and are a pleasure to turn.
Continued - click HERE
to learn more about diamonds and puppy teeth hooks!
You Should Also Read:
Interview with BrainsBarn Part 2
BellaOnline Crochet Interviews


Related Articles
Editor's Picks Articles
Top Ten Articles
Previous Features
Site Map





Content copyright © 2018 by Kate Pullen. All rights reserved.
This content was written by Kate Pullen. If you wish to use this content in any manner, you need written permission. Contact Holly Messenger Aamot for details.