Paddy the Cope was from Dungloe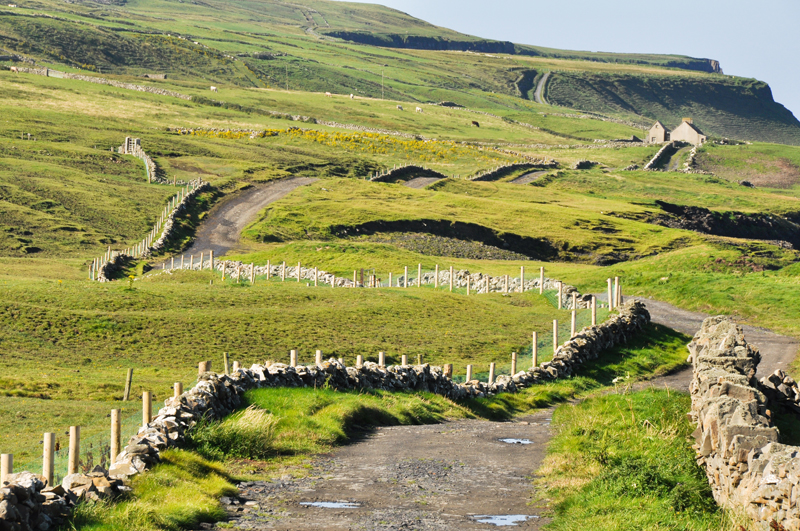 Pat "the Cope" Gallagher is a politician in Donegal and very successful by all measures. He is well-known by one and all.
Better known, perhaps, was his grandfather, the "original" Paddy the Cope. Now why would it be that this fellow was called "the Cope?"
A close friend of the patriot and first Prime Minister of the Irish Free State, Eamonn de Valera, Paddy Gallagher entertained visions of prosperity and modernization for rural Donegal. He helped create employment with knitting and a mill, general stores (The Co-ops), fishing and electricity...and he started it all because the price of tea (something that might resonate with Americans) was too expensive. He took himself and the tea budget of his neighbors off to the central tea distribution headquarters and negotiated a bulk sale.
When he returned home with his haul of tea, the die was cast. Paddy the Cope was in business. 'Cope' is a diminutive of 'Co-operative,' which was how the general stores he founded were run for the most part.
Money may have been scarce in those hard days after 1922, but Paddy's Cope took in (only absolutely perfect!) hand-knitted Aran sweaters, socks, farm products (eggs, milk and the like), etc. Just about anything that was locally produced found a market at the Cope.
If Paddy the Cope came back now to see the changes that have come over Donegal, he'd be impressed. Projects he started have blossomed. Every house has electricity, water, plumbing. There is employment. Few people are emigrating except by choice.
In days gone by, people had very big families. The oldest children had to emigrate in their tender years to send money home to help raise the rest of their brothers and sisters.
This may help explain Ireland's thriving tourist industry. The sons and daughters of those eldest children sent off to earn and post back dollars or pounds are like salmon. They are all convinced they are really Irish---despite the protests of many native-born Irish---because they were so often raised by homesick Irish parents in the same manner and with the same mores as their parents were themselves raised, no matter what the year in the rest of the world. May the Irish-born find it in their hearts to be kind to their naive cousins when they visit, and do not laugh at them too much. For heaven's sake, please don't tell them they're not Irish. Some of them may be very fast to tell you different. Jus sanguinus.
Though very bright and creative, Paddy the Cope was not an educated man. Despite this---or perhaps because of this---he was sent to the U.S. by an Irish newspaper to record his impressions. While on board ship, he wanted to make a note about the cold. He asked Seamus O'Boyle, a fellow Donegalman on the boat how to spell the word 'pneumonia.' Seamus started, "P, N"...and Paddy stopped him and said, "Ah, Seamus, if you didn't know how to spell the word, couldn't you just have said it?"
Click here to view Unique Irish Gifts from Cashs of Ireland


Editor's Picks Articles
Top Ten Articles
Previous Features
Site Map





Content copyright © 2022 by Mary Ellen Sweeney. All rights reserved.
This content was written by Mary Ellen Sweeney. If you wish to use this content in any manner, you need written permission. Contact Bee Smith for details.