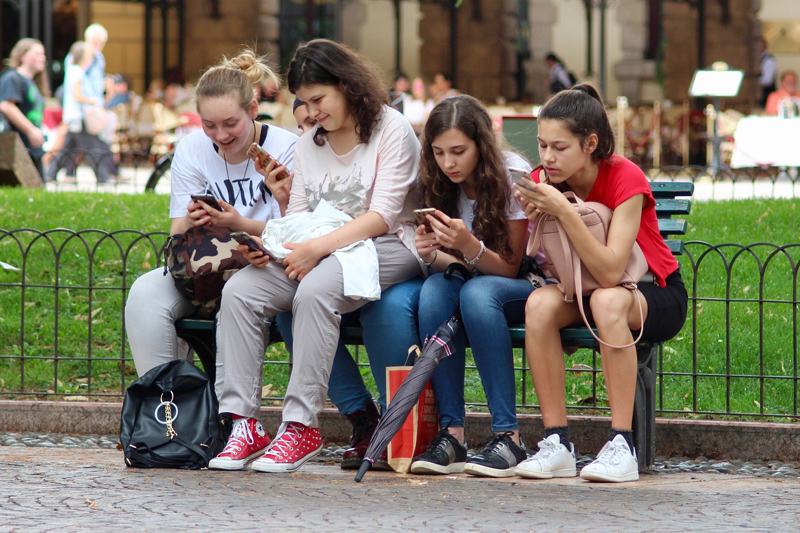 Guitar Hero On Tour brings the fun of Guitar Hero strumming to the Nintendo DS. I am really amazed at what they packed into this small handheld unit, even with its few quirks.
The game comes with a four-button attachment that lets you push the buttons, much as on the guitar controller for the larger consoles. The unit is made for the DS Lite, and tells you to unscrew parts if you have a regular DS. To test this, we tracked down a small screwdriver (a normal one won't fit) and unscrewed the screws. Then one of the screws wouldn't screw back in on the regular connector. After some fiddling I finally had to tape that screw down in place to get it to work. Not a great sign.

On to gameplay. It's a little awkward to hold your hand around the DS unit and get your fingers onto the buttons. One of the very first screens that appears is a warning about hand cramps - to only play for short periods of time! Hah, how many gamers do that? I see a LOT of cramped hands in the future for this game. If your hand isn't JUST the right size, it will be too long, too short, too fat, too thin for this setup. They could have included various foam inserts or something to help out.

On to gameplay. There are five venues with five songs apiece, and four difficulty levels. I whipped through easy in a few hours, no problems. I then popped into the free-play mode to test out songs on the harder levels. I only started running into any trouble once I hit expert. Now, I've been playing all the other games for quite some time, so I'm well versed with button pushing. I imagine newbies will find the easy levels challenging. Those of you who are Guitar Hero fans, though, know that you'll have to wade through a fair amount of non-challenging gameplay to get up to the more fun levels.

The songs? Here you go: Do what you want, All the small things, Spiderwebs, Are you gonna be my girl, We're not gonna take it, All star, Breed, Jesse's Girl, Hit me with your bst shot, This love, Heaven, Helicopter, China grove, Rock and roll all nite, What I want, Jet airliner, Black magic woman, Stray cat strut, La grange, Youth gone wild, I don't wanna stop, Anna molly, Knock me down, Pride and joy, I know a little.

What's funny about these games is how different people love and hate different songs. Some people might say "I really hate playing XXX and YYY!!" while someone else would say "The only reason I play is to sing along with XXX and YYY!" So they have to do their best to balance the songs out. For example, I really love La Grange, Stray Cat Strut, Pride and Joy and This Love. That's just me. I'm sure other people hate those songs :) Something for everyone!

Ironically in most guitar hero games it's the fingering I have to work on in the hard songs - but here the strumming was killing me. I never have problems strumming!! Getting the little pick to "strum" on the screen would always either miss the right screen area or hit the main screen when I was trying to tag the star power area. I didn't feel like screaming at the mic to activate the star power (which is muffled under your hand).

Also, the DS unit is moving wildly while you're strumming unless you hold it down against something - in my case I held it against my stomach. Anything solid will do.

The DS speakers are a bit tinny, but it sounds much better through headphones. Invest in a good pair to enjoy the music. Not Bose stereo quality sound, but it's still quite fun.

It's also quite intuitive. I sprang the Kiss song on my boyfriend who is a guitar player and had played the console games, but had never seen this DS version before. I didn't give him any instructions at all. He didn't blink an eye and played right through the song with almost a perfect score, figuring out immediately how to play and strum. The only thing he didn't get was activating the star power - he was shaking the DS unit :)

Highly recommended for pretty much anyone. The gameplay is easy to figure out, the songs are fun, and you can take it anywhere. Yes, the console versions are better with the full guitar, and the larger song lists, and better sound quality - but remember, this is specifically portable. For a portable version I don't know that they really could have gotten much better. Better grip options is pretty much all I can come up with as a suggestion for next time.

Buy Guitar Hero On Tour from Amazon.com

This sweepstakes ended on December 18, 2008.

Please check our Winners Listing for details on winners of our sweepstakes. Our winners are always announced in the BellaOnline Sweepstakes Newsletter.

Current Sweepstakes Listings








Related Articles
Editor's Picks Articles
Top Ten Articles
Previous Features
Site Map



Follow @lisavideogames
Tweet





Content copyright © 2023 by Lisa Shea. All rights reserved.
This content was written by Lisa Shea. If you wish to use this content in any manner, you need written permission. Contact Lisa Shea for details.