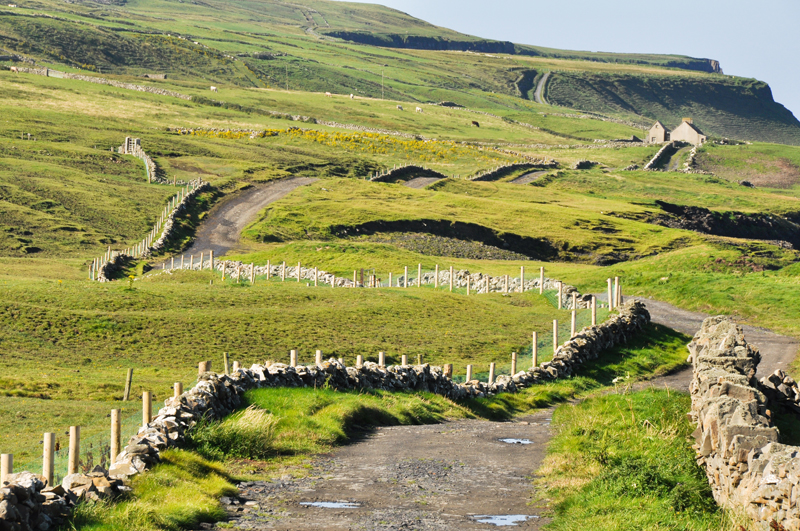 I am feeling philosophical these days, which may be a byproduct of the damp and chilly summer in Ireland. A novel title by an Scottish author, Ali Smith, "On Being Both" has prompted cogitations and observations about Irish identity.

A few years back in my tour guide training geologist Kirsten Lemon pointed out that Ireland has always been two countries. Or rather, more correctly, it is the amalgamation of two land masses that drifted into each other and welded together. The more northerly section of the country is a bit of breakaway North America. The more southerly half was a bit of Africa. There is a suture line where the two met not far from Killeshandra in Co. Cavan.

So it would seem that Ireland has had a dual identity from its very inception as a land mass.

Ireland is bi-lingual, although English is really the main language. There is another hyphenated version of English, Hiberno-English, which incorporates dialect words and mirrors some of Irish grammar and sentence structure. This is a favorite 'Irish joke' shared by an eight year old. It's also a good example of how Hiberno-English operates.

"Have you a hammer, Paddy?"

"I have." replies Paddy.

"Where d'you have it, Paddy?"

" I have it lost."

Even the local pubs seem to have a dual identity. In rural areas they seem to be known by the official name over the door and the name locals call it. For instance, in a tiny village near Lough Allen the pub/grocery is officially Rynn's. But the locals call it Skerries. Which was the landlord's nickname, the origins of which are cloaked in mutterings about cross-border smuggling during World War II (also known as 'The Emergency' in the Republic) and potato sacks with 'Skerries' emblazoned on them.

You begin to see my point. There isn't even one name to refer to an historical event!

Ireland is one island with two governments as set out by Partition at the end of the Civil War in 1923. To this day, if you are born in Northern Ireland you are eligible for dual citizenship and passports from Great Britain and the Republic of Ireland. Indeed, Belfast-born Brian Keenan, who was held hostage in Lebanon for many years in the 1980s had his eventual release negotiated because he traveled on British and Irish passports. While Britain and the USA had a staunch no-negotiation policy, the Republic of Ireland liaised for Keenan's release.

In Ireland's border counties with Northern Ireland (Donegal, Leitrim, Cavan, Monaghan and Louth) that international boundary has almost always been permeable. The exception was during The Troubles of the late 20th century when all but a few crossborder roads were 'cratered up' or blocked with rubble to control the flow of traffic between Northern Ireland and the Republic. The Good Friday Agreement of 1998 changed that. Now the only indication of which side of the border you are on is indicated by signs in miles (Northern Ireland) or kilometers (the Republic.)

However, many landowners had agricultural land on both sides of the border. The cattle could graze internationally. This gave rise to the term 'doing the double'. This means that the herd would be counted twice, getting a farming subsidy in both Northern Ireland and the Republic.

This 'doing the double', bi-linguality and dual naming and passport juggling, seems to be well ingrained into Irish culture. Perhaps this is why the Irish diaspora were able to tenaciously hang on to a dual identity once they had emigrated. Perhaps this why 'being both' resonates so strongly.


Related Articles
Editor's Picks Articles
Top Ten Articles
Previous Features
Site Map





Content copyright © 2022 by Bee Smith. All rights reserved.
This content was written by Bee Smith. If you wish to use this content in any manner, you need written permission. Contact Bee Smith for details.