Guest Author - Lisa Linnell-Olsen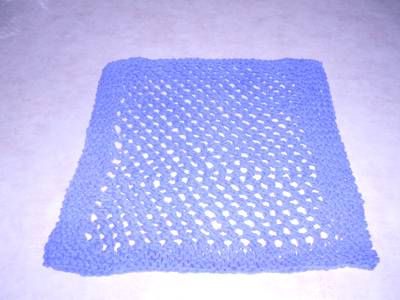 This quick to knit dishcloth features a diagonal eyelet lace design. The pattern is created by making a yarn over, and then knitting two stitches together. Staggering the yarn overs and decreases makes the diagonal pattern. The eyelet pattern gives the washcloth a great texture that lends to cleaning . The 100% cotton yarn will keep from damaging your non-stick cookware, and will not be too rough on your skin.
This is a very simple lace pattern. If you are new to knitting lace, this is a good starter project. More experienced knitters may find this to be a simple project to work on that doesn't require too much concentration.
The garter stitch border is knit right along with the main pattern. The diagonal lace could have a bit of bias, but the border will counteract that and make a flat fabric. This pattern is reversible, and looks nice from both sides.
Worsted weight cotton yarn is available at most large craft retailers and also at many smaller local yarn stores. Several colors and prints are available to help you coordinate to décor or personal taste.
Size:
10 inches square,
Materials:
2 ozs or more of 100% cotton worsted weight yarn . a 2 ozs ball of Sugar-n-Cream yarn was used for the example.
Recommended Needles:
Size 5, or the size you need for the proper gauge.
Recommended Gauge:
4 stitches and 6 rows per inch
Abbreviations:
CO – the number of stitches to cast on and begin with.
K – Knit
K2tog – knit 2 stitches together
YO – yarn over
BO – bind off
If you need to learn or refresh on any of these, please check the related links below.
Pattern Instructions
CO 40 stitches.
Rows 1- 4 K all stitches. This makes 4 rows of garter stitch
Row 5 K5, *YO, K2tog* repeat * until last 5 stitches of row, K5 last stitches, turn
Row 6 Knit
Row 7 K6 *YO, K2tog* repeat * until last 6 stitches of row, K6 last stitches, turn
Row 8 Knit
Repeat Rows 5-8 until piece measures 9 ¾ inches long.
Knit 4 rows of garter stitch
BO, weave in ends.
You can block the washcloth if you wish.