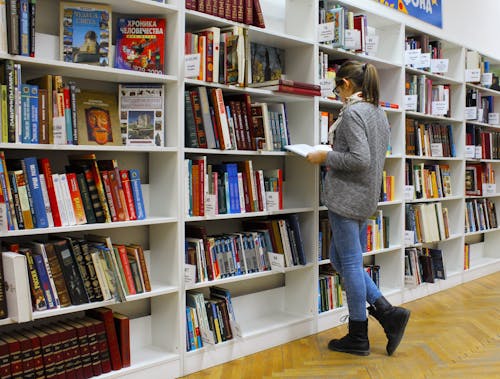 The library of my youth was quiet place with shelves of books and tables to sit and read or study. The card catalog offered the road map to the library's offerings. There were a few vinyl records to check out. An area to read magazines was always full of patrons. Then, as now, programs for kids were part of a library's services. The modern library has far more to offer, but the card catalog is now easily accessed on a computer.

The heart of the library is still those areas filled with books and magazines. The online catalog can tell you where to find the fiction and non-fiction. It can let you know where the library's holding are stored. An online catalog can tell you what art work a library has to share with patrons.

Some libraries have separate areas for the videos. They are shelved in the same way as books, with fiction separated from non-fiction. The non-fiction videos follow the same numbering system, by topic, as the books. Audio books, either full-length or abridged, follow the same system. Other libraries shelve the videos with the books. This works especially well for non-fiction. It is easy to find a video illustration of the topic that you want to explore.

One frequently overlooked service is the interlibrary loan. No local library is large enough to house all of the holdings that it is possible to have. Instead of trying, libraries belong to networks. Within those networks, they can request that the desired holdings from another library be sent to one of their local patrons. Of course, this takes some time. Especially, if you are doing research, you can order journal articles through interlibrary loan. A nice bonus is finding out how far your request went! I've had items from libraries that are over 1,000 miles away from my home.

Some people do not have computers at home, so they come to the library to use the public computers. When you do this, remember to get the rules and understand them. Also it is imperative that you remember that a public computer is not secure and there is no expectation of privacy. Don't do any online monetary transactions on a public computer.

In some areas libraries have even installed their own Makerspace. The Makerspace is a product of the Maker movement. People in the Maker movement enjoy designing and making products of their choice. By temperament, these people are inventors and artisans, as are many library patrons of the community. A Makerspace is where they can work their Maker magic and tinker to their hearts' content. Their products can utilize 3-D digital technology or old-fashioned tools. A community decides what the individuals want and need in their Makerspace. It opens up the possibilities of the design and fabrication of inventions to individuals who do not have the personal tools and individual resources to complete complex projects.

A library is a government service that you pay for as a part of your tax dollars. It should be responsive to the needs of its patrons. Many libraries are governed by a library board. If you have an idea for a library improvement, find out who governs your library. Then, make a request. Have your documentation in order. If you know of other people who feel that this idea would be a good thing, take them along. Create the changes that you want to see in your community.


NEWSLETTER: I invite you to subscribe to our free weekly newsletter. This gives you all of the updates for the Reading Site. Sometimes, this newsletter has information and variations on the reading subject that are not in the articles. Fill in the blank below the article with your email address - which is never passed on beyond this site. We never sell or trade your personal information.



Related Articles
Editor's Picks Articles
Top Ten Articles
Previous Features
Site Map





Content copyright © 2022 by Connie Mistler Davidson. All rights reserved.
This content was written by Connie Mistler Davidson. If you wish to use this content in any manner, you need written permission. Contact Connie Mistler Davidson for details.