Flitting Fingers by Virginia Mescher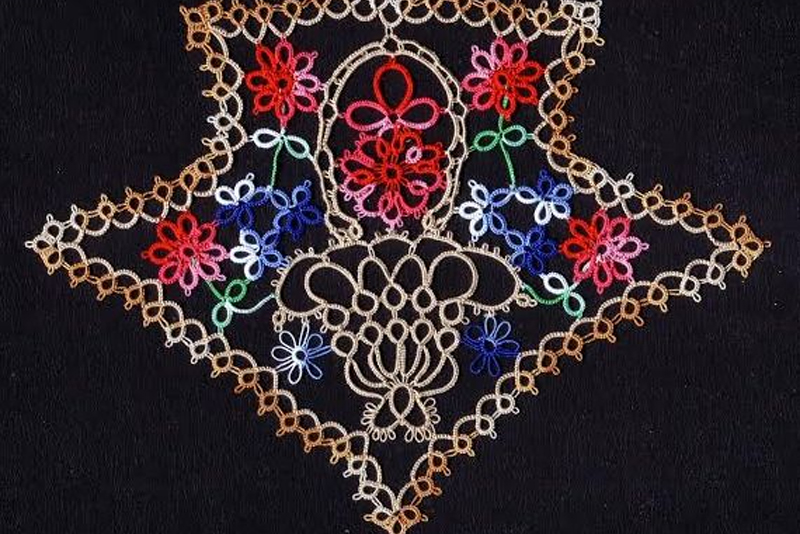 "Flitting Fingers: Tatting in the 19
th
Century by Virgina Mescher
Virgina Mescher is familiar to many tatters especially the members of the online tatting class from her article on Civil War Tatting. It is immensely helpful for tatters who participate in historical reenactments and period demonstrations. Her book is a real gem for all tatters and tatting historians alike. Petite in size (8.5" x 5.5" or 21 x 14 cm), it is wide in the scope of information contained. It has 120 pages and contains an 8-page bibliography.




This fascinating look at tatting offers many 19th century instructions and patterns similar to the Metternich Cravat by Mlle. Riego (1842 - 1889) below. Each pattern is fully documented with source and date. Many historical references to tatting and its origins are included.





The many types of tatting tools, needles, and shuttles are discussed and a list of tatting patents appears in the bibliography. The section on the mechanics of tatting as presented in antique publications is equally as intriguing as the discussion of the "English" and the "French" stitches! See: https://www.bellaonline.com/articles/art39203.asp










Long needed, this book fills a niche in the history of tatting. It is a great read and should be in every library!


The pattern for the cravat is available.








The Metternich edging:
R 2 - 1 - 1 - 1 - 1 - 2 clr rw
Leave 1/8" bare thread space
R 2 --- (very long picot) 2 --- (very long picot) 2 clr rw

Repeat:
R 2 + (join to first ring) 1 - 1 - 1 - 1 - 2 clr rw
Leave 1/8" bare thread space
R 2 --- (very long picot) 2 --- (very long picot) 2 clr rw
(note the small rings do not join to each other.)

The instructions indicate the long picots were joined in groups of two by a crocheted header. To keep the pattern period correct for reenactments do not use a tatted chain. More period correct patterns may be found at BellaOnline.com in the free tatting books online pages.
You Should Also Read:
Riego 2 Tatting First Edition 1850


Related Articles
Editor's Picks Articles
Top Ten Articles
Previous Features
Site Map





Content copyright © 2019 by Georgia Seitz. All rights reserved.
This content was written by Georgia Seitz. If you wish to use this content in any manner, you need written permission. Contact Georgia Seitz for details.