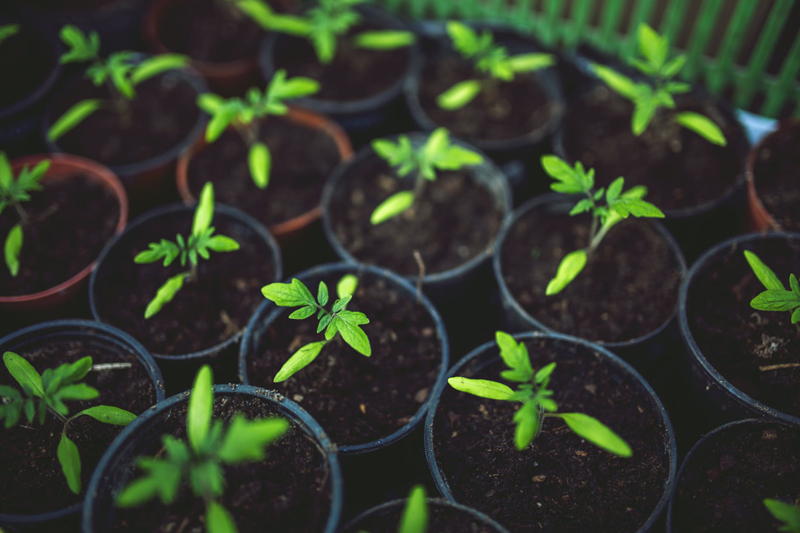 The winter doldrums are here, but don't let that keep you from getting a gardening fix. To add a splash of color to a drab windowsill and a little sparkle to your meals, trying growing herbs indoors! There are many that do quite well in a sunny window.

To start, select your containers. Any mid size container with good drainage will do. If you choose terracotta, soak them for an hour or so in warm water before using-and keep in mind that your plants will need to be watered more frequently due to its porous nature.

Next, plant your seeds. Follow the directions on the packet and make sure the soil is moistened before adding the seeds. Any good commercial potting soil will do, but avoid the generic types and don't ever use garden soil as both promote poor drainage and garden soil can introduce pests and disease. Once they've germinated place in a bright south or west-facing window or under fluorescent lighting. Feed about once a month with an appropriate liquid fertilizer. Avoid sticks or pills as they can burn delicate roots. Allow the soil to dry out slightly between waterings but never let the plants wilt as this damages flavor.

Here are some of the best herbs for indoor growing:

Dill- This fragrant herb has attractive, feathery foliage and does well in a sunny window. Look for the compact "Fernleaf" variety. Dill is delicious when used in egg, fish or chicken dishes, dips, and of course, pickles. Both the leaves and the seeds can be used.

Oregano-This is another fragrant and popular herb. Choose the Greek variety, which forms an 8 to 12 inch mound. Oregano is fantastic in a wide variety of Italian and Mexican dishes.

Lavender-This herb is treasured for its beautiful and relaxing scent. The leaves can be dried and used in sachets and potpourri. Look for compact varieties such as Spanish Lavender.

Chives- This herb's grass like foliage adds a mild onion flavor to many dishes. It's especially good with potatoes, baked or mashed.

Parsley-This herb is the world's most popular garnish and is also good for freshening breath after a spicy meal. Try varieties, the common "Curly Leaf" and the Italian version, known as "Flat Leaf" or Cilantro. Cilantro is a key ingredient in salsas and other Mexican dishes.

Chamomile-This herb makes a wonderful tea and is also good for sachets and potpourri. It's known for its soothing, relaxing fragrance. It looks like grass until the small daisy like flowers appear.

Mints- Peppermint and Spearmint both make great windowsill plants. In fact, if grown in the ground they will quickly take over the garden! They make great teas and are a popular flavoring for all kinds of beverages, baked goods, and even meats like lamb.

Basil- This herb is a staple in Italian cooking. Look for the "Spicy Globe" variety as it stays nice and compact.

Try an indoor herb garden today!



Related Articles
Editor's Picks Articles
Top Ten Articles
Previous Features
Site Map





Content copyright © 2019 by Sue Walsh. All rights reserved.
This content was written by Sue Walsh. If you wish to use this content in any manner, you need written permission. Contact Gail Delaney for details.