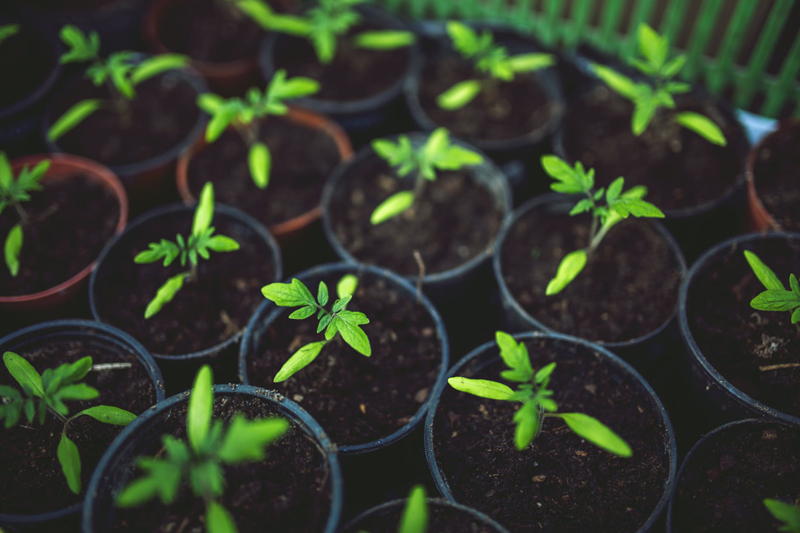 It is getting close to thinking about tomato plants. Maybe many of you have started yours from seed. If so, that is excellent. Others may be waiting for the greenhouses or nurseries to open. This weeks article is about some of the tomato plants that I remember selling when I worked at the local greenhouse. Their names have become embedded in my mind and yes, I can still see thousands of tomato plants all waiting to be transplanted into the cell packs for selling. A frightening yet exhilarating thought and memory.

Burpee

The Burpee tomato plant is a F1 Hybrid and there are many different varieties of this tomato plant. F1 Hybrid means that you cannot save the seed and to plant again next year because the seeds will not bear true to the parent. This tomato produces big yields of bright red fruit. The tomatoes weigh in at one pound or more. The Burpee tomato is also crack resistant. If you like flavorful, meaty tomatoes then this is a great tomato plant to include in your garden. The Burpee tomato plant is an indeterminate. This means that you will have to stake the plant or put a wire cage around it to help support the stems.

Celebrity

The Celebrity tomato plant is a disease-resistant favorite that resists cracking. If you are growing a garden, then the celebrity tomato is perfect. The Celebrity consistently produces tomatoes through the season that are a deep red color and globe shaped. The Celebrity tomato is delicious and full of flavor. You can use them for cooking, canning, slicing or eating. The plants are determinate which means you will not have to stake or cage them. The Celebrity takes 70 days to maturity.

Roma

The Roma tomato is another multi-variety type of tomato but they are a great tomato plant to have in your garden, especially if you are into canning your own juice, ketchup and sauces. The skins are smooth and they peel easily. They are a meaty tomato with very little juice and hardly any seeds. They are full of flavor and have a wonderful aroma to them. The plants are determinate and do not need staking or caging. The fruit take on a pear or oblong shape. The plant grows to a height of 2 to 4 feet and spread 2 to 3 feet. They take 75 days to maturity and are disease resistant.

Beefmaster

This tomato not only produces large tomatoes, it produces many tomatoes. The thick, sweet and meaty fruit weighs up to 2 pounds. Even though the Beefmaster is a big producer, it is an easy tomato plant to grow. The vines are strong and the plant is disease resistant. The Beefmaster takes 80 days to maturity.
This tomato is perfect for slicing and adding to your favorite food dishes.

Brandywine

Brandywine is an heirloom tomato. You can save the seeds from this tomato and when planted, they will bear the same fruit as the parent. Developed by the Amish in the 19th century, this tomato is a wonderful producing plant. The fruit is sweet, rich and slightly spicy in flavor and weighs one pound or more. In areas where the air is not as humid, Brandywine is more resistant to disease. Brandywine is an indeterminate so it will need to be staked or propped up with a wire cage. The fruit is pink with some green on the shoulders of the tomato and they are oblong in shape. As the fruits grow, they may have some cracking. The leaves resemble those of a potato plant. The Brandywine matures in 69 days.

Floramerica

Floramerica Hybrid tomato is a great tomato plant to grow in your garden. This tomato is disease resistant and grows well even when the weather is cold, hot or humid. Because this is a mid-season producer and is disease-resistant, there is plenty of time to harvest the 7-ounce fruits if you live in an area where the season is short. This tomato is excellent for canning, freezing, making juice or eating. It is a determinate plant and that means you do not have to stake or cage it. If you do put a cage around the plant it will increase the tomato yields. Floramerica tomato plants mature in 70 days.


Related Articles
Editor's Picks Articles
Top Ten Articles
Previous Features
Site Map





Content copyright © 2021 by Gail Delaney. All rights reserved.
This content was written by Gail Delaney. If you wish to use this content in any manner, you need written permission. Contact Gail Delaney for details.