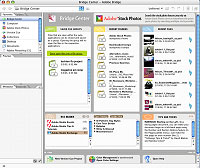 One of the most convenient new features included in the AdobeR Bridge is the built-in RSS Reader. RSS stands for Really Simple Syndication and it is one of the newest and easiest ways to keep up to date with your favorite websites. The RSS Reader inside Adobe Bridge works like most readers. You can add to and remove sites from your list of favorite sites and you can also program how frequently the reader checks for updates to the site feeds.

Step 1. Open the Adobe Bridge program. If the Bridge Center is not open, use the drop-down menu at the top to select Favorites > Bridge Center.

Step 2. You will see two panels on the RSS Reader window. On the left, you will see a list of your favorite websites. When you click on a site, the featured topics for that site are listed in the right panel.

Step 3. In the right panel, click on the title of a topic and the list will expand to display the description for that topic. Click on the More link to go to the website and read the complete article.

Step 4. To add a new site to your list, you must first copy the URL for that website's RSS feed (see below for how to do this). After you have the URL, click on the plus button in the RSS Reader to open the dialog box. Paste the URL into the input field and click OK.

Step 5. To remove a site from the RSS Reader, click on the site's name to select it from the list in the left panel and then click on the minus button.

Step 6. You can set how often the reader checks for updates to the sites on the list. Click the Open Settings button. Then enter the number of hours between updates in the dialog box. You can also check for updates manually at any time by clicking the Update Now button.


This is an RSS button for my Craters and Artists Online Weblog. Besides the Digital Art and Design section, I also write the HTML and PHP sections here at BellaOnline. Many of my readers have requested that I start a blog to announce when I post a new article to one of my sections. To subscribe just RIGHT click on the RSS button and choose Copy Link Location or Copy Shortcut from the pop-up menu. Then paste this URL into the Adobe RSS Reader.



AdobeR product screen shot(s) reprinted with permission from Adobe Systems Incorporated. AdobeR, PhotoshopR and PhotoshopR AlbumTM are either registered trademarks or trademarks of Adobe Systems Incorporated in the United States and/or other countries.