You may have noticed that BellaOnline now offers compilations of our articles in ebook format. I have received so many requests for ebooks on several different aspects of Digital Art, HTML and PHP that I decided to create a series of several ebooks.


My first step was to decide on a comprehensive design and layout that I could use throughout the series. I chose a whimsical design based on the moon and stars in my logo image. I then created the actual cover design for the ebooks. I also decided that I wanted certain elements of that cover design to be repeated on the pages of the ebook. You can see this type of brand awareness used by many publishers. For example, the familiar yellow and black design of the DummiesR series by Wiley Publishing, Inc.

Next I had to decide what software to use to create the ebook. After all, I would be using this software for a fairly large project and it would set me back quite a lot if I needed to change software programs halfway through the project. So I tested both MicrosoftR Word 2002 and AdobeR InDesignR CS2. I use Word when writing my articles for BellaOnline, so I first tested Word to convert my articles into an ebook. But it didn't take very long before I knew that Word didn't have the advanced features that I needed to achieve my goal. So I turned to Adobe InDesign because it gave me more control over the page design and has some great features to help maintain consistency throughout the book.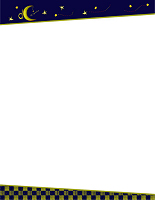 InDesign Master Pages
My first task was to assemble those elements that I wanted to appear on every page of the ebook and create a Master Page. InDesign Master Pages are an easy way to maintain consistency of design elements such as the header, footer, page numbers or background images. To repeat these elements on every page, you only need to create a Master Page and InDesign does the rest. I decided to use the moon and stars in the header image and the blue and gold checkered border as the footer image for each page. I also put the chapter title on top of the header image and the page number at the bottom. InDesign will automatically increment the page numbers for me when I compile the pages into the final ebook. If this sounds like a lot of work, just think how much more work it would be if you needed to do this for the 100+ pages of your book. And what if you needed to make changes to those 100+ pages? The magic of Master Pages is that when you change the Master Page, that change is reflected globally on all 100+ pages which will save you hours and hours of tedious work.

Next →