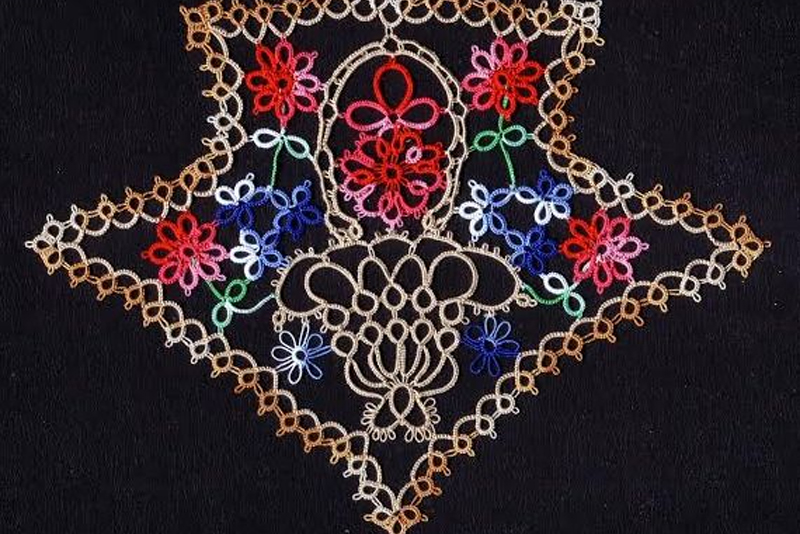 A tatting article for Sept. 11, 2011 discussed one shuttle work and the variety of patterns which could be made with just one. Even with all this variety there does come a moment when the tatter wants to stretch their creativity. The next step then is to add a second thread, either as the ball thread or as a second shuttle. This "Van Dyke Edging" by Mrs. Ollie Romesha has been preserved online by the Antique Pattern Library, https://www.antiquepatternlibrary.org/.
https://www.georgiaseitz.com/bella/ncmag1916aprilvandykeedging.jpg
"Van Dyke"? Lace with points such as this one is often referred to as "Van Dyke" style. This comes from the lace ruffs with deep V-shaped points which can be seen on both male and female collars in many 17th-century portraits by Anthony Van Dyck (1599 - 1641). See his portrait of King Charles 1, https://en.wikipedia.org/wiki/File:King_Charles_I_by_Antoon_van_Dyck.jpg. The famous "Blue Boy" painting by Thomas Gainsborough(1727 – 1788) also shows the lace points. https://en.wikipedia.org/wiki/File:Thomas_Gainsborough_008.jpg
Mrs. Romesha's pattern shows a piece of classic tatting, one shuttle work with a ring only double header which could be used individually as an edging, joined mirror image style as an insertion, and as shown here as a foundation for a wider edging.
The points of the edging are triangles. The center of the triangle is filled with a rings only wheel of 8 rings around a center ring. The point of the triangle is created by a straight tatted edging which introduces the second thread, here a ball thread. It is a plain alternating ring and chain pattern. Note the point ring is somewhat larger to accent the point.
The pattern begins with the chain at the point, then the wheel in the center. The all ring insertion pattern is given last on the page.
A "Van Dyke" edging need not be comprised of separate tatted elements joined together. As in the edging decorating this Christmas stocking, the points and be worked laterally from side to side as well as individual points.


Related Articles
Editor's Picks Articles
Top Ten Articles
Previous Features
Site Map





Content copyright © 2023 by Georgia Seitz. All rights reserved.
This content was written by Georgia Seitz. If you wish to use this content in any manner, you need written permission. Contact Georgia Seitz for details.