DMC, de Dillmont & Tatting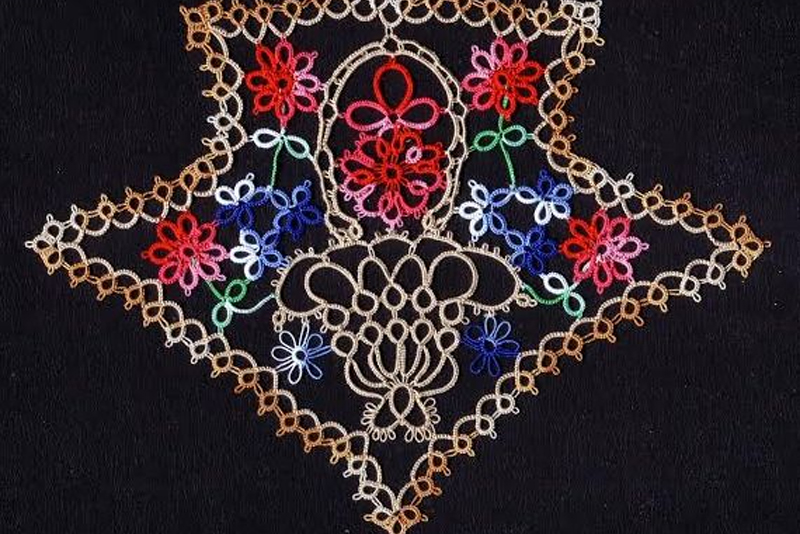 DMC thread has a very long history. The "D" stand for "Dollfus", the surname of the 2 brothers whose fabric painting business began in 1746. Their nephew, Daniel Dollfus married Anne-Marie Mieg in 1800 and combined both their names into one surname, Dollfus-Mieg. The "M" stands for Mieg. And the "C" represents the French word for company, Cie, thus Dollfus-Mieg & Cie or DMC.

Their son became aware of the new mercerization process, invented by John Mercer. The treatment of fibers with sodium hydroxide swells the fibers and increases their luster and their ability to be dyed. That process is followed by an alkaline bath which strengthens the fibers and "pre-shrinks" them. DMC thread is available today in all the colors of the rainbow.

At the same time, the company began a long relationship with a famous needle artist, Thérèse de Dillmont (1846-1890 born in Austria.) After she moved in 1886 to Alsace ( France), she started a school of embroidery and needlework with the help of Jean Dolfus ( one of four grandchilden of the founding brothers.) She wrote many books published by Bibliotheque DMC.

She was the author of The Encyclopedia of Needlework (1884), a volume known to tatters. This book has been translated in many languages. It continues to be reprinted over and over again today. It contains one chapter on tatting, including instructions and some patterns. This entire book is available online for free download at: https://encyclopediaofneedlework.com/
The chapter on tatting is:
https://encyclopediaofneedlework.com/chapter_10.html

She also published a book on tatting. This DMC publication has 56 pages with extensive instructions, and patterns for edgings, fields, motifs, all in tatting. And here is the full DMC book on Tatting by Thérèse de Dillmont: https://antiquepatterns.dreamhosters.com/DMCTat.pdf

Thérèse de Dillmont's life ended too soon in 1890, just one years after her marriage. She was succeeded by a niece of the same name at DMC. Mlle de Dillmont went beyond edgings and insertions to create projects such as bedspreads and she added on the use of two shuttles and two colors and is credited with inventing the Josephine "knot."





Related Articles
Editor's Picks Articles
Top Ten Articles
Previous Features
Site Map





Content copyright © 2023 by Georgia Seitz. All rights reserved.
This content was written by Georgia Seitz. If you wish to use this content in any manner, you need written permission. Contact Georgia Seitz for details.