Spotting Get-Rich-Quick Scams
I'm sure you have heard stories of how someone with a low-paying job (or none at all), little education, and no money found a great business and became rich in the first month by doing almost no work. If you haven't, then you haven't watched late-night infomercials or been invited to a party with lousy snacks and endless glorification of the latest pyramid scheme.
It always seems so easy and so painless. Anybody can do it! Even you! Join in and you too will
"get rich quick"
. All you have to do is write a check or give them your credit card for anywhere from $149 and up to thousands and they will unlock the secret money-making vault and let you have access to the golden goose. Most of the time, the golden goose is laying rotten eggs that tell you to do the same thing that was just done to you—find other people to write you a check for this valuable knowledge. Or, they give you a bunch of impossible to decipher business-babble that if you could understand it, still wouldn't make sense.
Other times, the scheme varies a little. Many
multi-level-marketing companies
(MLM) sell products and find other people to sell the same products. So, you make money for selling products and more money for recruiting more people to sell products and recruit more people. There are thousands of people out there who swear by these companies and will try desperately to convince you that it's right for you, too. That's how they make money. I call it "suckers finding other suckers". P.T. Barnum was right—there's one born every minute and that's how these companies stay in business.
There are no secrets out there
. A successful business requires work, passion, financing, marketing, good customer service, and more work! From my experience the old advice is still the best advice:
Find a need and fill it.
Do work you love and the money will follow.
If it sounds too good to be true, it is.
Nobody needs more pyramid schemes. And, only those at the top of the pyramid actually "love" it (and they just love the money and perhaps "reeling in the suckers".) You cannot get rich overnight or in a month from these schemes.
You can be successful at running your own business
. And, there are good programs out there—I've sold both cosmetics and home decor. I made good part-time money doing both when my children were small. Nobody at either company ever inflated income potential – they were upfront about how much I could make. I knew if I wanted to make more money, I'd have to work more and sell more products. They weren't trying to scam me or trick me. There are others out there—reputable, honest, companies that will pay you for selling their products. They will give you training and assistance. But, you have to do the work.
Do your homework before you sign up with any company
. Call the Better Business Bureau in the state they are registered, check for online reports and postings, research the company's background (how long have they been in business, what do they sell, are their customers happy), talk to reps you find independently, not just the ones on the lists they give you. Listen to family and friends, and most important, listen to your gut.
You can also come up with your own business. There are plenty of
legitimate business ideas
out there. You can find a business that fits your lifestyle, your personality, and your talents. If you take the time to learn the skills you need to make it profitable, then you can determine your financial future, on your own terms.
The following articles contain more information on ideas for starting a business:
25 Easy-to-Start Home Businesses
Finding Your Great Small Business Idea
Choosing the Right Small Business, Part 1 of 3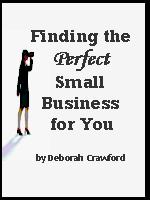 Finding the Perfect Small Business for you
ebook will guide you through choosing a business that fits your life and is based on
your
interests. Includes how to avoid scams, essentials for your home office, and 25 easy-to-start small business ideas.
For more information on how to protect yourself, your loved ones and your money,read
Scam-Proof your Life
at Amazon.com.
Learn about various schemes and scams--pyramids, chain letters, phone scams and more in
Crimes of Persuasion by Les Henderson
This site needs an editor - click to learn more!

You Should Also Read:
25 Easy-to-Start Home Businesses
Finding Your Great Small Business Idea
Choosing the Right Small Business, Part 1 of 3




Related Articles
Editor's Picks Articles
Top Ten Articles
Previous Features
Site Map





Content copyright © 2023 by Deborah Crawford. All rights reserved.
This content was written by Deborah Crawford. If you wish to use this content in any manner, you need written permission. Contact BellaOnline Administration for details.