How to Eat the NEW New York City Street Food
Everyone knows that you can get a hot dog on almost any busy intersection in midtown Manhattan, but did you know that there is a growing New York City cuisine of original and "artisanal" street food based on traditional snacks from all over the world?
And you can get them on street corners in almost every borough in New York City. In this article I'll list five of the most popular offerings, and follow up next week with the rest.
In no particular order, these are filling, mostly healthy meals on the go. I sampled then all, so my opinions are based solely on my palate and the raves of a few friends. So, here's part one of the ten most popular street food offerings, a quick overview of what the dish is and what it is and most importantly, how to eat it!
1. The Classic New York Hot Dog
These classic hot dog vendors are known the world over! Just a hot dog on a bun, with or without sauerkraut, or onions in a tomato base. Sometimes there's even chili to top them. Now there are new hot dog offerings in outdoor food markets that prepare pork, beef or vegetarian franks. Asia Dog, a popular vendor at Smorgasburg in Williamsburg, Brooklyn, serves all kinds of toppings like kimchi, barbequed pork and crunchy onions on top. Order like a regular hot dog!
2. Lobster Rolls in Two Styles
These trucks show up around Lincoln Center and serve lobster and shrimp rolls in two styles: Maine style, with a touch of homemade mayo and celery or Connecticut-style, just lobster and melted butter. Red Hook Lobster Pound trucks are the best. You can find the truck in Brooklyn and rolling around Madison Avenue in NYC. When you find them, you will also find some really tasty clam chowder too. That will help on a cold day in Manhattan.
3. Forever Falafel
Falafel is as common here as the hot dog. For newbies, falafel is ground chickpeas (sommetimes fava beans) made into perfect balls and then deep fried. And it's wonderful. It's Middle Eastern in origin and the "mythistory" is that is was created to eat instead of meat during Christiandom's Lenten season. You can find falafel stands all over the city, although they seem to be easiest to find near financial centers, so head downtown to Wall Street! Here you can order a simple falafel in a pita with a little hot sauce, or you can order he works: a falafel platter. At Sam's Falafel stand outside of Zucotti Park - of Occupy Wall Street fame -a combo platter has two fresh pita pockets, a generous serving of fresh and crispy falafel, two stuffed grape leaves, a big dollop of hummus, and some babaganoush. He also piles on sauteed onions, fresh green salad and a few other goodies. You can make a minimum of two sandwiches out of all of this if you choose wrap everything up in the pitas. I tend to just scoop and dip. find a place to sit and enjoy!
4. A Real Desert Cart
Okay, here is where I have to name names again. People's Pops are really delicious. Listen to the flavors: Red Plum Basil, Blueberry Jasmine, Bartlett Pear, Ginger, and a few more exotic flavors. They are made from fresh fruit, (they say locally-grown) and shaved ice. You can only find them outside from April to about November at The Brooklyn Flea and Chelsea's High Line (another great place to explore) and a few other spots, but they do catering and parties and take orders all year long!
5. Greek Fries
Once you have these, you'll never want any other kind of fries. First off, there are a few trucks that serve these. Make sure that you get fries that are handcut and not from the frozen food section of the supermarket! There's a vendor called Souvlaki GR on 21st Street and 6th Avenue whose fries are the best. Hand cut thin fries, deep-fried with sea salt, pepper and oregano, then topped with a handful of flavorful feta cheese. OMG. These guys won the Vendy Awards in 2010 as Rookie Vendor of the Year and then won for something else in 2011. The Vendy Awards are a massive "Vend-Off" of New York City's food vendors annually, and everyone is welcome to the food fest and competition. It is usually held in September.
Email me and let me know if you've tried any of these wonderful treats! If I get enough interest, I'll even do a photo spread of the 2012 Vendy Awards Competition.
Stay tuned for the next five scrumptious street meals! Are you hungry yet?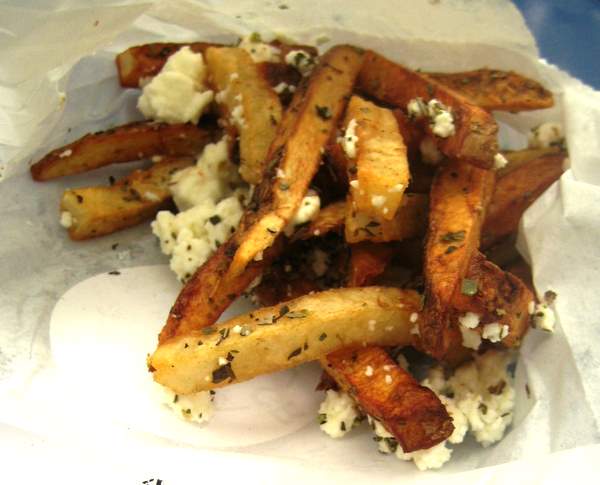 Photo credit: Lauren Lelli
This site needs an editor - click to learn more!


Related Articles
Editor's Picks Articles
Top Ten Articles
Previous Features
Site Map





Content copyright © 2023 by Karen Joyce Williams. All rights reserved.
This content was written by Karen Joyce Williams. If you wish to use this content in any manner, you need written permission. Contact BellaOnline Administration for details.