Buddha's Search for Enlightenment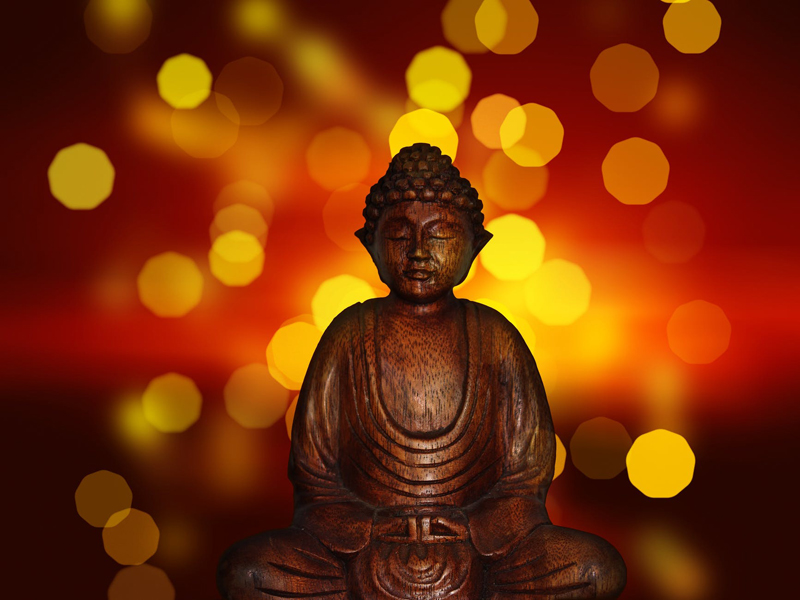 After leaving behind all of his worldly things, Siddhartha started practicing a severe form of meditation called asceticism.

This form of meditation is done by eating little or no food, drinking only rainwater and never bathing.

Siddartha practiced this way for six years. At the end of six years he was so weak he could not meditate.

A young girl from the nearby village saw Siddartha and offered him a bowl of rice and milk.

After Siddartha accepted the bowl of milk and rice, he realized that going without food would not help him find enlightenment.

When Siddartha finished eating he placed his bowl on the river and said, "If I am to reach enlightenment, let this bowl float up stream." As his words commanded, the bowl floated up stream.

Taking that to be a sign of good fortune, Siddartha took a bowl of food and sat down under a Bodhi tree.

Siddartha vowed not get up until he had reached enlightenment.

And so, Siddartha meditated. As he did Mara appeared to him in order to make him quit his search for enlightenment.

Mara is in charge of tempting everyone with desire; those that give in to desires are surrounded by misfortune.

They will become farther and farther from the goal of obtaining enlightenment.

Mara knew that Siddartha was very close to reaching his goal.

So Mara sent his three daughters to try and tempt Siddartha. They danced and sang, but Siddartha knew that if he stopped meditating he would never become enlightened.

Mara became angry and decided that he would have to frighten Siddartha so badly that he would give up.

Mara then made Siddartha see an army of archers riding on elephants and charging straight towards him.

Siddartha, on seeing the army charging towards him knew that Mara was trying to trick him into giving up his search for enlightenment.

Siddartha showed no fear as the army charged towards him. Instead he called upon the earth as his witness in all that he had done and accomplished over many lifetimes

It was then that Siddartha realized the truth of sickness, old age, and death. He also realized that this would be his last birth, for he had reached enlightenment.

From that point onward Siddartha was known as the Buddha, or the Awakened One.

For the rest of his life, the Buddha went on to teach people how to over come suffering. His teaching became known as the Dharma or truth.


Related Articles
Editor's Picks Articles
Top Ten Articles
Previous Features
Site Map



Follow @mommymystic
Tweet



Content copyright © 2022 by Jeanette Stingley. All rights reserved.
This content was written by Jeanette Stingley. If you wish to use this content in any manner, you need written permission. Contact Lisa Erickson for details.