Project Information-- • Skill level-Intermediate • AdobeR PhotoshopR CS2

A few days ago, one of my readers sent me the URL of a special animation he saw on a website. He wanted to create an animation similar to it in Photoshop CS2. So I decided to make that the topic of this weeks tutorial. Thanks, Bill, for the inspiration. The animation Bill liked was what he called a "light over" effect and that's a good name for it. You start with an image containing some text and create the illusion that light is passing over the text much like a spotlight passes over the sky.

For the example, I started with the text of my logo Wizzy The Web WizardTM. Then I used Photoshop's Layers and Animation palettes to create a Tween animation. Before we begin, you may wish to read some of my previous tutorials about creating warped text, using the Animation palette and the Photoshop's Save For Web feature. Then the only thing you need before you start is an image containing some text that you wish to apply the light over effect to.

Step 1. Open the image. Open your text image into Photoshop. In the example, you can see that I have already applied the warped text effect to my image. The text should be on it's own layer in the Layers palette and there should also be a background layer beneath the text layer. You can use the background and text colors of your choice.




Step 2. Add A New Layer. We will now add a new layer in the Layers palette and on this layer we will draw the colored shape that will move across the text in the animation. From the Menu bar, click Layer > New > Layer and name this new layer AniShape (AniStar in the example) to indicate it is the layer that will contain the animated shape.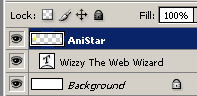 Custom Shape Tool Icon
Step 3. Draw The Shape. This shape that you will draw will be the "light source" that passes over the text. I used a star shape to continue the theme of my logo but you can use any shape you like. Click on the Custom Shape Tool icon in the Toolbox and choose a Shape from the pop-up list in the Options Bar.




Next, click on the Foreground Color Box and choose a color for the shape from the Color Picker dialog box. Now click and drag to draw your shape at the far left of the line of text. This is the beginning location for the light source.

Next →



AdobeR product screen shot(s) reprinted with permission from Adobe Systems Incorporated. AdobeR, BridgeR, IllustratorR, PhotoshopR and PhotoshopR AlbumTM are either registered trademarks or trademarks of Adobe Systems Incorporated in the United States and/or other countries.