I decided to list all of the announcements I receive about upcoming events in one article. So check here often for updates on what is new and I will try to keep you informed.
An Evening With Tina Campbell
Tina Campbell of the Gospel duo Mary Mary is going solo and will debut her music Saturday, November 22, 2014 at 7:00 PM (PST) In His Presence Church, 21300 Califi St. Woodland Hills, CA.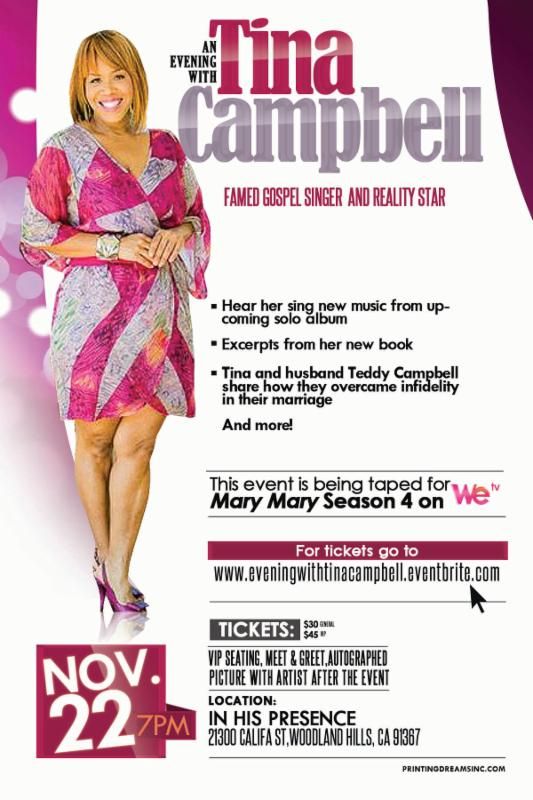 The Anomaly Tour ft. Lecrae with Special Guests
Lecrae will be bringing his Anomaly Tour at a location near you. Make sure you get your tickets early and if you are trying to go to the Atlanta show..too late it is already sold out.
Check out the other show locations and try to check him out. I have seen him live several times and he is a great worship leader and performer. He is worth every penny.
Artists on this tour include;
Lecrae
Andy Mineo
DJ Promote
Line up subject to change city to city.
Events
When Where
November 15, 2014 8:00PM House of Blues Orlando, FL Sold Out!
November 16, 2014 7:00PM Memorial Auditorium Raleigh, NC
November 19, 2014 7:00PM Mobile Civic Center Theater Mobile, AL
November 20, 2014 7:00PM Greensboro Coliseum Special Events Center
Greensboro, NC
November 21, 2014 7:00PM The Tabernacle Atlanta, GA- SOLD OUT