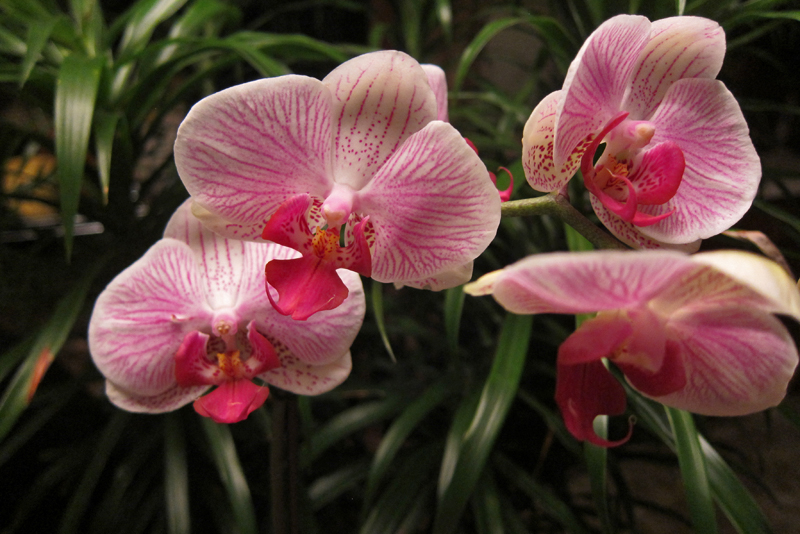 Orchids will grow in almost any kind of open medium – it all depends on the rest of your culture regimen. If you get 100 orchid growers together and you ask them what medium they use you will probably get 100 different answers and they may all work very well for that particular grower. It is what else the grower does that makes the difference.
Coconut husk chips (CHC) are one of the newer mediums being used for a variety of reasons. Fir bark, which has been a staple for many years, is becoming more expensive. In addition, there is a serious fungal disease in the western United States and elsewhere in the world,
Phytophthora ramorum
which has attacked Douglas Fir trees – a major source of fir bark for orchid growers. There is no evidence at this time that the fungus attacks our plants, but concerns about spreading the disease further will no doubt make fir bark more expensive and harder to get in the future.
There are essentially three different types of coconut husk products on the market the majority of which are manufactured in Sri Lanka.
Coconut Husk Chips
which are chunks cut into fairly uniform size and are available in three sizes for different orchid applications. These may be purchased in bale form (generally will expand to 3 cubic feet of chips); in bricks (will expand to approximately 7 litres of product); and and many different sized smaller bags.
Coconut Coir
which is ground up coconut husk and is generally only used as an additive to increase water retention, usually for seedlings. Coir is available in bricks only.
Coconut Husk Fibers
are used primarily in place of peat moss in agricultural applications.
One of the most important things to remember about using any of these products is that you must first
hydrate
them (soak them in water, preferably one or two days), drain them and soak again several times. Most growers recommend that this be done a minimum of three times before using for any kind of orchid growing. Coconut husks are usually harvested from ocean areas and may contain large amounts of salts. Most of the suppliers do wash their products, but you want to make sure that you do so as well so that you don't take the chance of harming your plants.
Using CHC as a potting medium should decrease the amount of watering necessary to keep your orchids happy. It also has the great property of absorbing water extremely rapidly, even from a dry state, somewhat like a sponge, so if your plants get completely dry it's easy to get the medium damp again. As with any change from a medium you have been using, CHC simply changes the way you culture your orchids. It's important to check down in the medium since the top may dry out completely while there is still adequate water retention below the surface.
For an excellent indepth view of the use of CHC with Paphiopedilums and Phragmipediums visit
Use Of Coconut Husk Chips for Potting Medium at Antec Laboratory
.
You Should Also Read:
Review -- The Potting Workshop
Semi-Hydroponic Orchid Growing
Paphiopedilum or Slipper Orchids


Editor's Picks Articles
Top Ten Articles
Previous Features
Site Map





Content copyright © 2022 by Susan Taylor. All rights reserved.
This content was written by Susan Taylor. If you wish to use this content in any manner, you need written permission. Contact Anu Dharmani for details.