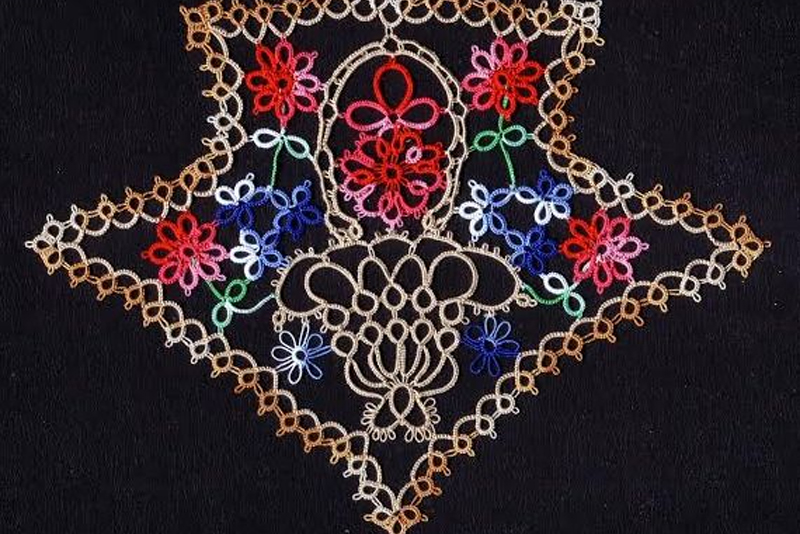 Reprinted from the New York Times, Feb. 2, 1913. Public Domain article.

TATTING REST CURE FOR BRITISH BRAINS

Englishmen from a Club After One Learns the Art During the Wet Christmas.

BEATS PLAYING SOLITAIRE

Kills Time Just as Well, and the Tatter Has Something to Show, Says the Promoter.

London, Jan. 20 (1913) -

A well-known English peer created something of a sensation a year ago by announcing at a public meeting that he knitted his own socks. His friends and relatives had long known that he amused himself in this way, but they hardly thought he would take the public into his confidence, and expressed a good deal of annoyance when he did so.

Needlework for men, however, is now becoming increasingly fashionable, so fashionable that a club for men "tatters: is about to be established at Ealing. Tatting, which was a favorite form a needlework practised by our grandmothers, is a kind of knitting [sic] done with cotton and a shuttle made of wood, bone or ivory.

The word comes from the French, "tâter," to touch, and the work is composed of single and double stitched, the feel of which guides the tatter's work. The club was started by Gerald Fitzgibbon, who said yesterday:

"It all started down at Surbiton during the rain of Christmas. It was so wet and miserable that we grew tired of eating turkey, tired of talking, and tired of playing cards. But while all the men looked bored, two ladies sat in a corner with a complacent smile on their faces - tatting. Hour after hour passed and still they went on.

"At last I took up the shuttle one of them had dropped, and, in thanking me, the lady said: "Why don't you tat?" Jokingly I started to learn, joining loop to loop, until I had mastered the elements of what I now find a very difficult art.

"Then, after chaffing me unmercifully, the other men started to learn, and we caught the fever. Now I spend hours tatting at home. I have tatted in the underground coming from Acton, greatly to the amusement of passengers, and I even took my shuttle to an evening party the other night, and after supper said to an incredulous hostess: "Do you mind if I tat?"

"I find nothing funny in the idea. Men play solitaire for hours when they are bored, or move marbles about on a solitaire board. And at the end of the time they have nothing to show for it, whereas a tatter has a d'oyley or a toilet mat. Men play because it rests the brain - so does tatting; indeed, it is the most restful thing I know."

Then Mr. Fitzgibbon described how the other men of Surbiton are as keen on the work as he is - so keen, in fact that they are forming a club of Ealing, where, at weekly meetings, there will be tatting and talk."

This is a public domain article.

I hope you have enjoyed this article which was shared with me by Karen Parent.


Related Articles
Editor's Picks Articles
Top Ten Articles
Previous Features
Site Map





Content copyright © 2023 by Georgia Seitz. All rights reserved.
This content was written by Georgia Seitz. If you wish to use this content in any manner, you need written permission. Contact Georgia Seitz for details.