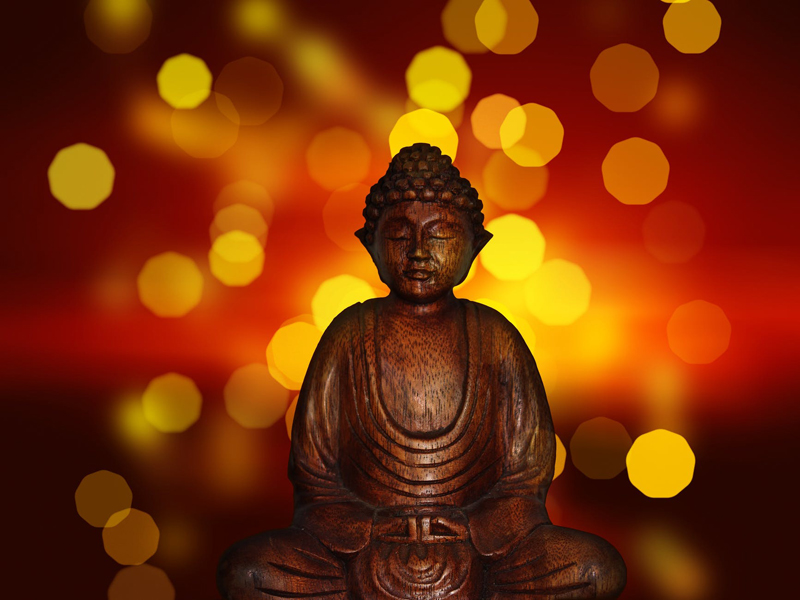 Haiku is one of the most popular and highly regarded forms of Japanese poetry. Although the form of haiku evolved over time, in it's current form it is composed of a 17-syllable verse, broken into units of 5, 7, and 5 syllables. Most haiku describe a single image or moment, often from nature.

Haiku traditionally contain a kigo, or season word, that indicates which season the haiku is set in. So for example, a blooming flower or cherry blossom would indicate Spring, snow or ice Winter, buzzing mosquitos Summer, or brown leaves Fall. In general, haiku does not use metaphor or simile. A frog is a frog, and a bird is a bird. But there are exceptions, especially among modern haiku poets.

Because of the strict form, haiku can be difficult to translate. Translators must choose whether to stay true to the syllabic structure or the image and meaning of the poem. (The translations I've chosen below do the latter.)

While haiku is not strictly speaking a Zen Buddhist art form, several prominent historical haiku poets, particularly Matsuo Basho (1644 - 1694) and Kobayashi Issa (1763 - 1828), were Zen trained. Their haiku, and others of the Edo period of Japan, often centered on Buddhist themes, and under their influence this increasingly became true of Japanese haiku in general.

One of these Buddhist themes is transience or impermanence (annica), one of Buddhism's three marks of existence, as in these two examples:

Clouds appear
and bring to men a chance to rest
from looking at the moon.
Basho

A giant firefly:
that way, this way, that way, this -
and it passes by.
Issa

Another theme is stillness or silence, and especially stillness within activity or movement, as in these haiku:

On a rock in the rapids
sits
a fallen camellia.
Miura Yuzuru

Deep within the stream
the huge fish lie motionless
facing the current.
J.W. Hackett

A particularly Zen theme is that of sudden awakening, of which there are two types often referred to in Zen literature - satori and kensho. Satori is typically associated with years of practice, occurring after many smaller kenshos, or moments of awakening or epiphany. Kensho moments are often represented by a surprise or sudden movement within the haiku, as in this famous example:

Old pond,
frog jumps in
- splash.
Basho

Kensho is also sometimes evoked through an explicit reference to becoming 'awake', as in this example:

A pattering of rain
on the new eaves
brings me awake.
Koji

For more information on Zen Haiku, check out:




You Should Also Read:
Japanese Buddhism
Zen Koans
Three Marks of Existence in Buddhism


Related Articles
Editor's Picks Articles
Top Ten Articles
Previous Features
Site Map



Follow @mommymystic
Tweet



Content copyright © 2023 by Lisa Erickson. All rights reserved.
This content was written by Lisa Erickson. If you wish to use this content in any manner, you need written permission. Contact Lisa Erickson for details.