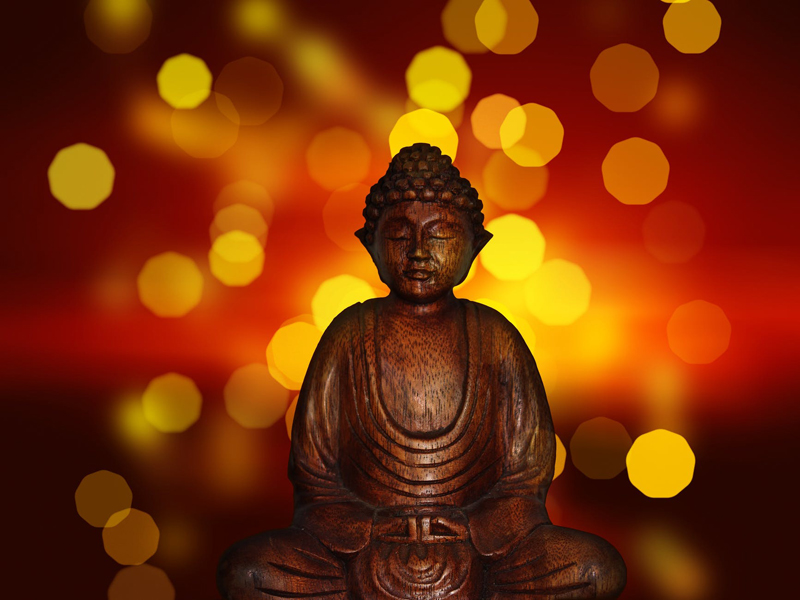 The image of Buddha is everywhere. Seriously. At Wal-Mart a few weeks ago, my husband and I were walking in the home décor area and there sat a statue of Buddha in a meditative position with an incense holder placed upon his lap. I found a shower curtain and floor mat. There are T-shirts with clever sayings, coasters to keep ring marks off of your coffee table from your coffee mug with a Buddha on it, even mouse pads for an enlightening session of Internet surfing.
Many people wanting to learn about Buddhism are intimidated by the plethora of "ritual" items pushed upon practicing Buddhists. I say "ritual" because these items aren't really needed to successfully be a Buddhist. You can practice Buddhism with out ever spending a dime or only spending a few dimes. Here are my suggestions.
To me, some of the most important tools when learning about and practicing Buddhism is books. You can never read to many books on any Buddhist subject. I am fortunate enough to live in a county that has a huge library system! I visit the library so much that the librarians know me by name, know my birthday, and when something new comes in about the topics I check out the most, they will let me know. If you live in an area that is small, it never hurts to ask if they have access to books from other surrounding counties.
If you want to have books that you can keep, there are many sites that offer eBooks for free or cheap. You can print these off at home or at the library. Some great sites that I have found for free information and free books are:
-
BuddhaNet
is one of the first websites I explored when I decided to learn more about Buddhism
-
The Buddhism section
of SacredTexts.com is a great reference area
-
JustBeGood.com
will send you books for FREE. I received some of their titles. They are easy to read and understand.
-
Think Buddhism
offers a free 7 day course about the basics of Buddhism.
There are also other types of materials that you will often see for sale. One very popular item is prayer beads. While these are a nice item to have during meditation, they aren't necessary. Meditation mats and pillows will aid in comfort but you can use pillows and cushions you already have around the house. CDs or DVDs that teach meditation can be checked out at a library. I have even found great deals on books, prayer flags, and other items on eBay!
Again I am fortunate to live in a city that has several monasteries, meditation centers, and teaching centers. All of these are free and open to the general public. Do a quick Google search on your city name and Buddha or Buddhist to see what you come up with!
Reaching enlightenment doesn't have to cost you a small fortune or break your budget! Namaste'!


Related Articles
Editor's Picks Articles
Top Ten Articles
Previous Features
Site Map



Follow @mommymystic
Tweet



Content copyright © 2022 by Jeanette Stingley. All rights reserved.
This content was written by Jeanette Stingley. If you wish to use this content in any manner, you need written permission. Contact Lisa Erickson for details.