Building a Tatting Library - Karey Solomon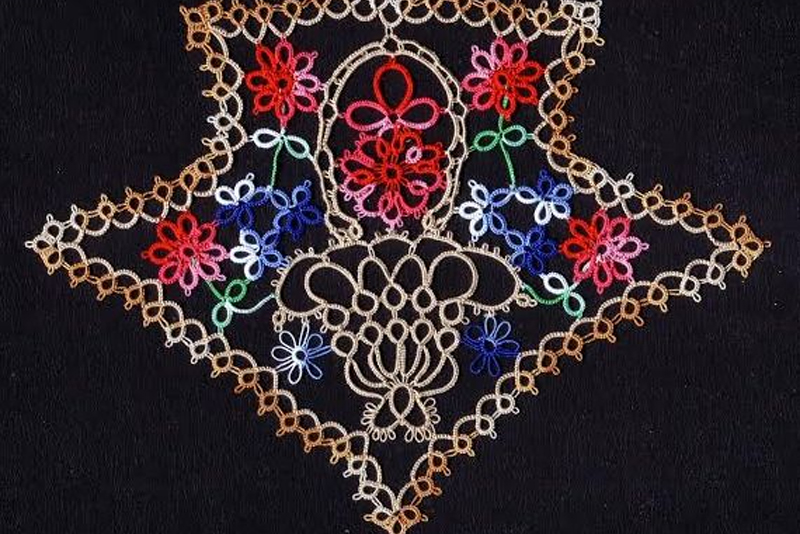 Congratulations to Karey Solomon on 20 years of "Tatting Times" Despite early frustration and setbacks, Karey Solomon learned to tat in 1972. As many tatters do, she carried her shuttles with her everywhere sharing tatting as she went. In 1992 she " began a quarterly tatting newsletter, dubbed "Tatting Times" because time for tatting was very cherished in those hectic years, and "Tatting Times" sounded a little like the "New York Times" - which was not the newspaper she was working at..." as freelance writer and editor.
During the past 24 years both tatting and Tatting Times evolved. Karey has featured in her petite booklet many talented tatters, fascinating patterns using both vintage and modern tatting techniques, new products and threads and the occasional poem and recipe. With 5-6 new patterns in each issue and book reviews, "Tatting Times" became an invaluable resource for tatters over the years.
Karey also founded and hosts the Finger Lakes Tatting Guild annual seminars larger venue a few miles from Hector, NY, the wine-producing region of the Finger Lakes area. Held every spring, the event is an international gathering of tatters, instructors, new patterns, vendors, great food - and a whole lot of fun, a sort of family reunion where everyone's invited to be part of the family. For more information about "Tatting Times" quarterly or the Tatting Seminars in the Finger Lakes, contact Karey at threads@empacc.net.
The Tatting Books by Karey Solomon: Top row from left:
1. Tatting Times Edgings - 22 patterns
2. Sheep May Safely Graze - Two doily patterns with sheep on the edge
3. Let it Snow! - 16 snowflake patterns
4. Tatting for the Tree - 25 ornaments for the holiday tree
5. Sweet Knottings - 12 doilies
6. Shuttleworth Cottage - wall hanging using Josephine rings and chains and many other techniques to create cottage
Middle row from the left:
7. Basketats - 11 basket patterns
8. Tatting with Buttons 2 - 17 patterns using button including amulet bag
9. Tatting with Buttons - 17 patterns using buttons
10. Hearts Belong to Tatting - 14 heart patterns
11. Tatting Times Two - Butterflies, bracelets and beaded tatting
12. Tatting Elegant Edgings - a collection of handkerchief edgings
13. Tat Marks the Spot - 19 bookmarks Bottom row from left:
14. Wandering Wheels - Flower cart, flora and fauna featuring a new technique by Karey Solomon
15. Baubles, Bangles and Beads - 14 patterns of bracelets, earring and paper weights
16. Here Be Dragons - Four fantastical dragon patterns
17. Tatting by the Book - 16 bookmarks
18. Circle of Children - Split ring, cluny and more advanced tatting techniques are used to create this merry circle of children
19. Tatting Turns over a New Leaf - 14 different leaf patterns including silver maple and geranium leaves
20. Tree of Life - Free form tree in four seasons
Not shown:
21. Make Many Merrily - Bears, bugs, butterflies and 27 more patterns
22. Flutter Home - 26 dragon flies, butterflies and bugs
23. Tat Mats - small coasters and doilies
24. Flower Garden Doily
25. Dragonfly Pin
26. A Bouquet of Bookmarks
27. Button Abecedarius
28. Doily Delights
29. Twinkle, Twinkle
All of Karey's books would be a welcome additional to any tatting library.
You Should Also Read:
Building a Tatting Library - Standards
Building a Tatting Library - Techniques


Related Articles
Editor's Picks Articles
Top Ten Articles
Previous Features
Site Map





Content copyright © 2019 by Georgia Seitz. All rights reserved.
This content was written by Georgia Seitz. If you wish to use this content in any manner, you need written permission. Contact Georgia Seitz for details.