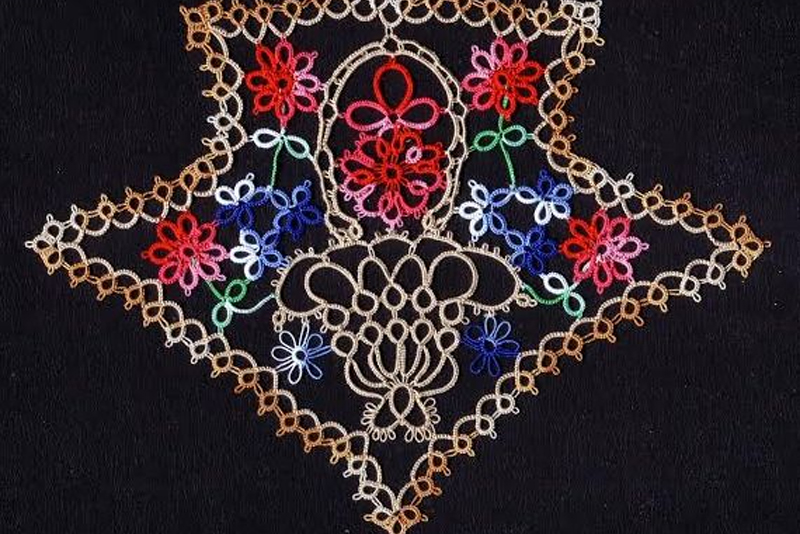 The simplest method of padded tatting is to use a very large or heavy thread for the shuttle thread and a lighter finer thread for the outside. With just these two threads a thick tatted chain is easy to accomplish.
Another method of padded tatting requires multiple threads and it is necessary to rotate the work towards and away from you as you alternate the use of the two threads which are wrapped as for a chain spaced a little apart on the working hand. If either of these two threads is on a shuttle, rings can also be thrown off the padded chain as it is tatted. The shuttle thread carries multiple threads and must be kept taut. The double stitches are made first with one ball thread and then the work rotates toward you while the double stitch is made with the second ball thread. The work then rotates away from you back to the normal position and the alternating double stitches continue. It is a tpe of pearl tatting in essence.
As Phyllis, Elgiva and Angeline would say, "This is very fiddly work."
Let us consider the padded tatting which is easiest to create as shown in this antique pattern from Needlecraft Mag 1929 page 10.
Notice here that the upper left shows the inner core of several threads around which a finer cord is wrapped. The traditional method to do this was to load shuttle with multiple threads, however, this is no longer necessary if you "wrap" the DS onto the padding in the manner of a split ring. The example uses a padding of 6 strands of perle coton. You can use more or less or any thread or cord of any size. It is recommended that you match the color to the tatting thread as closely as possible. If using the split ring wrapping method, the picots then will form on the right hand side of the padding so you may need to adjust the order of the HS in order to achieve the all right side up look.
I suggest making the shuttle thread's tail part of the padding. I would also double three strands to make the six needed for padding. I would place a space holder at the fold to create an inward facing picot so that the inner segment can be turned back on itself like a self-closing mock ring as it is coiled.


Related Articles
Editor's Picks Articles
Top Ten Articles
Previous Features
Site Map





Content copyright © 2022 by Georgia Seitz. All rights reserved.
This content was written by Georgia Seitz. If you wish to use this content in any manner, you need written permission. Contact Georgia Seitz for details.