Turning a Profit with Crochet at Handmade Shows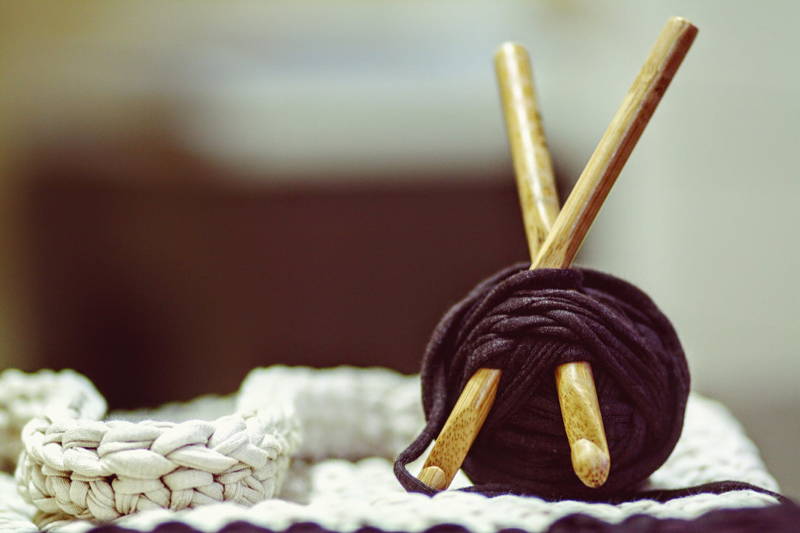 I remember the first time I signed up to have a table in my neighborhood art walk to sell my crocheted items. I was so incredibly nervous! Pricing, display, business cards—it felt like crocheting products was the least of my worries. I learned a lot from that day, and when a preteen girl who had wandered the whole art walk came back and spent every bit of her birthday money to buy a hat and slippers from me, I was hooked. The delight in her eyes as she showed her new prizes to her grandmother was infectious.

Beginner's luck aside, I've learned many important things at every trade show, and I'd love to share some of those things with you.

1. Find your product niche. This can morph over time, but pay attention to the things you enjoy making. Do you adore slippers? Does amigurumi make you feel accomplished? Does the perfect hat or scarf make you feel like a fashion designer? What do people ask you for on social media? Your product line needs to be an intersection of what you enjoy and your customers are looking for.

2. Decide the types of materials you will use. Do you love natural animal fibers? Or maybe you're vegan, and prefer synthetic and plant-based fibers. Do you prefer handspun yarn to mill spun? Do you want to order online from Turkey or China, or run down to the local craft store to buy, or order directly from artisan yarn producers? Find your own answers to these questions, based on your values and your products.

3. Find your price, and don't second-guess yourself. You need to do a bit of math here, and be unemotional about it. You'll get all kinds of advice on what should be in your math equation, and you'll have to settle on what works best for you. Personally, I believe my time is worth at least minimum wage, so my equation is: (hourly wage rate, calculated at 15 minute intervals for my crocheting time + materials cost) x 2 = wholesale price. You get to choose from there what percent you'd like to set as your suggested retail markup. Whatever you decide, that will determine your retail price at shows. Now, for me, this gives me confidence that I'll likely cover costs of having a table, transportation, and marketing materials out of the wholesale to retail markup. It also gives me the ability to give someone a discount if I so choose, without shortchanging myself. My time investment in the show itself can be covered in the wholesale price. This is why I double the cost of labor and materials to actually make the item to calculate my wholesale price. Far more time and effort goes into bringing your product to market than just what it took to make your item.

4. Determine who your client is. Once you know your product, materials and price, it'll be easier to determine who your target demographic will be. Does your ideal client hunt for bargains, or search for quality at a reasonable? Do they seek out status and luxury, or are they more concerned with savings? Do they look for timeless design, cute trends, shabby chic, or some other niche?

5. Find local shows that attract that ideal client. Don't be afraid to ask show organizers about the age ranges and income ranges of their attendees. Does the show cater to mothers, hipsters, men? And don't be afraid to look at shows that aren't necessarily craft shows, but attract your ideal client. Maybe you make amigurumi snakes and frogs, and you'll find your ideal client at the local reptile show. Or you make incredible baby things, and would meet your ideal client at a woman's show. The idea is to find your ideal client, wherever they might be.

6. Create an experience with your show setup. Go on Pinterest and learn about merchandising. Find examples of displays that are aesthetically pleasing to you, and figure out how to duplicate them. Print off business cards, and find a creative way to include care instructions, provide bags for customers, and be prepared with multiple methods of payment. Bring your crochet hooks along, and have a project going during down times. Customers like to see how artisans make the things they're buying. Be friendly and approachable, well dressed for the occasion, and be sure you have what you need to stay hydrated, fed and healthy. People buy from people they like, and looking and feeling your best will help you to be friendly and likable.

7. Continue to learn from every show you attend. Keep a journal, and even jot notes during shows if you have time, noting which products garnered attention and sales, whether this show is one you'd like to attend again in future, and what works and doesn't work in your display setup.

8. Don't expect consistent results at first. Doing live sales events can feel like a roller coaster. You'll find people who value your work, and people who have no qualms about telling you they would never pay what you're asking. You'll have shows where you watch people walk blindly past your beautiful display and products all day without a second glance. This is just part of the process. It doesn't always make sense: sometimes you'll succeed despite yourself, and other times you'll have the perfect setup and still fail.

9. Don't give up right out of the gates. Believe in yourself, reflect on what to do differently next time, and keep going. Your work is unique and valuable, because it's handmade by you. Find the tribe of people who believe that, and you'll meet with more and more success at shows.

Good luck!







Related Articles
Editor's Picks Articles
Top Ten Articles
Previous Features
Site Map





Content copyright © 2023 by Holly Messenger Aamot. All rights reserved.
This content was written by Holly Messenger Aamot. If you wish to use this content in any manner, you need written permission. Contact Holly Messenger Aamot for details.