Outdoor Living in the Desert Southwest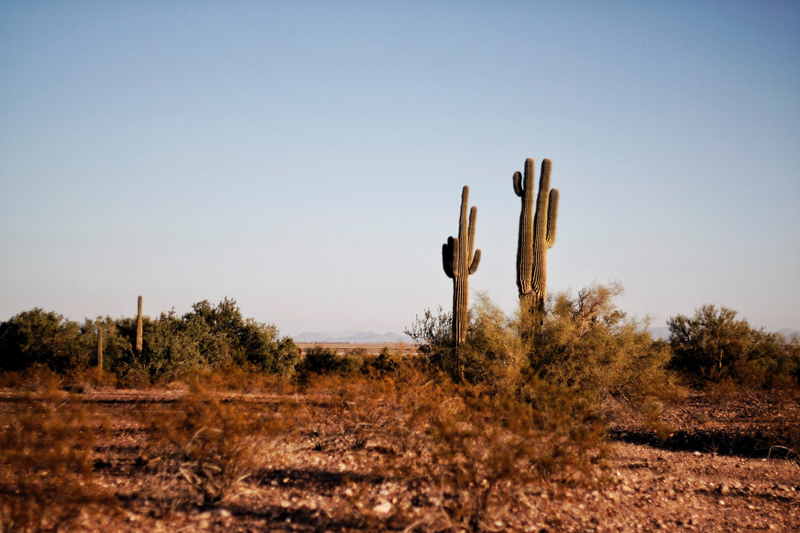 Swimming pools, shade trees, trellised patios and large canvas umbrellas are all desired and planned for in the desert southwest.
In this area, you will do anything to stay cool. If you must be outside in the summer, you better have water. Otherwise, learn to love your air- conditioner.
Once the temperature dips below 93 degree, you will see signs of life in the outdoor living areas of every southwest desert home. The barbeque gets fired up and the misting systems will be turned on high. Ceiling fans are installed on patios to keep the air moving and the mosquitoes at bay.
Desert Oasis: It's a Way of Life
When you think of the desert, the picture will be dry sand and cactus. The dry, sandy part is correct, but the area is also a tropical oasis. Never confuse our climate with Florida nor Death Valley. The reason we have plant life is not because we have rain. We have water and we use it wisely.
If you go into any great southwestern style backyard, you will find many little water nozzles peeking up next to each plant. It is a nightmare for gardeners to keep track of all the water systems and sprinkler heads.
The lower Arizona desert gardens can have palm trees, grape vines, citrus fruit as well as chili peppers and cantaloupe. This area has two seasons, warm (winter) and hot (summer) with a year around growing season.
In the winter, everyone lives in their yards. As soon as the sun goes down in the early evening it gets chilly. That's when we light the portable fireplace, chiminea and stargaze under the grapevine covered trellis.
Everyone who lives in this area knows someone with a citrus tree in their yard. Every office will have giveaway bags and boxes of oranges or grapefruit by the door. It is inevitable; if you plant citrus you will have a bountiful harvest. You will beg anyone within earshot to take a laundry basket full before it rots.
If you can grow a citrus tree, not everyone can, then you can also grow subtropical exotic fruits. These fruits include avocados, papaya and banana.
Outdoor Kitchens: Backyard Entertaining at its Best
Outdoor kitchens are a new concept to some, but have been around for hundreds of years. The homes found in the old Barrio areas of our towns have kitchens in a separate building. My grandmother still lives in her old home with a separate summer and winter kitchen. She makes tortillas on a wood burning stove in the summer kitchen. The winter kitchen smells like fresh baked bread, it is also the only heating for the house.
Modern outdoor kitchens are equipped with gas stoves, ovens, refrigerators, sinks, dishwashers and grills. A fireplace will often be coupled with an old fashioned pizza oven. One end of the kitchen area can be set up as a bar with glass storage, outlets for the blender and cabinets for the wine and margarita glasses. Shade might be a couple of canvas 8 foot umbrellas or a 50 year old mesquite tree.

Before designing or doing a redesign of any southwest garden or yard, visit a local garden center. I recommend that you visit one that is small and locally owned. Many of the area gardeners know that a plant that comes from out of the area is not acclimated to the local soil or weather. The best plants to use are grown locally.
The smaller the garden center, the better you will get to know the owner/grower. This is where you will get the best advice. Another great tip is to drive around your neighborhood to see what plants are thriving.
If you are unsure about what to try in your own yard, stop and ask someone whose yard you admire. Gardeners can be very open. If you admire their garden, they will share tips and experiences. These are the best kept secrets. If you don't see a certain type of plant growing in the gardens of your neighborhood, you can be sure it won't grow in your yard. Before you spend a small fortune, check out the neighborhood and learn from others mistakes.

The desert does truly blossom like a rose.
You Should Also Read:
Cacti and Succulent Information
Papago Park and the Phoenix Zoo


Related Articles
Editor's Picks Articles
Top Ten Articles
Previous Features
Site Map





Content copyright © 2022 by Debra Conrad. All rights reserved.
This content was written by Debra Conrad. If you wish to use this content in any manner, you need written permission. Contact BellaOnline Administration for details.