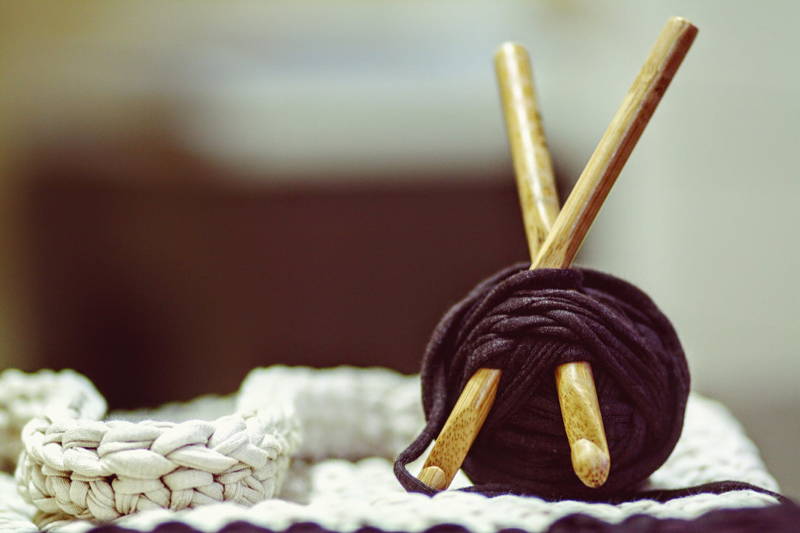 For many years past, it's become the rage to crochet (as well as other fiber arts) with wire. This is usually done with a 32 gauge wire; which is very bendable. The disadvantage of this is that it can be bent easily without intention. But, it can also be straightened back out, fairly easily, without it being obvious that it had been bent in the first spot.

I know a woman that crochets with wire to make jewelry. In fact, I believe this is the only crocheting that she does and she only uses a chain stitch. Her preferable hook size is an F. But, others use various sizes, depending on the desired finished look and what you want to accomplish with the wire you're working with. If you're beading with wire, you're definitely going to want to string your beads on the wire before you start working. Just use a round jewelers pliers to make a circle on one end so the beads won't fall off as you work.

Crocheting with wire can also be uncomfortable and somewhat unsafe. Crocheting with wire can very easily wear grooves, through their skin, from the constant friction of the wire against the fingers. For obvious reasons, one cannot wrap the wire around and through their fingers as with yarn or thread, but some control needs to be used to be mindful of the tension. Some wire-crocheters have developed tough skin, over the years, by holding the wire in the hand grasp, with the wire laying over top of the index or middle finger-all depending on their preference for holding the wire. But, for those who have no desire to have toughened fingers, or to wear grooves in the skin, there are some options. Below are some inexpensive ways to help protect fingers from the roughness of wire crocheting.

1. Throwers: Don't hold the wire over top of any finger. Just grasp it in the fist of whatever hand you'd hold your yarn. Using this method you can do what is known as "throwing" the wire. To throw the wire, the crochet hook is held stationary while the hand holding the wire literally lifts up and wraps the wire around the hook. Then, the wire stitches can be held while the hook completes the stitch.
2. Protect the finger that the wire lays over, by purchasing and cutting a PVC pipe for that finger, in a length that's comfortable. Eventually the PVC pipe will wear through, but it will last for quite a while.
3. If no place to purchase PVC, or an equivalent, cloth bandage tape will work for a while, especially if care is taken that the wire doesn't rub too snugly over the finger.
4. Wrap finger in cloth. Keep in mind that some cloths will wear faster than others, but if you have scraps this is a great way to use them up and protect your fingers as well.
5. Another way is to purchase a metal finger splint. These are used when a finger is broken or sprained. They can be cut to length so that they wrap from the underside of the finger, over the end, and back up on the top of the finger. These are generally taped in place by a cloth bandage tape. The tape contacts the skin, on the open sides, and is held in place. Personally, I feel that this will last the longest, but it will cost a bit when replacing the bandage tape.

If you have any other suggestions to add to the list, please email me and I'll add it.


Related Articles
Editor's Picks Articles
Top Ten Articles
Previous Features
Site Map





Content copyright © 2023 by Beverly Elrod. All rights reserved.
This content was written by Beverly Elrod. If you wish to use this content in any manner, you need written permission. Contact Holly Messenger Aamot for details.