Building a Tatting Library - Butterick's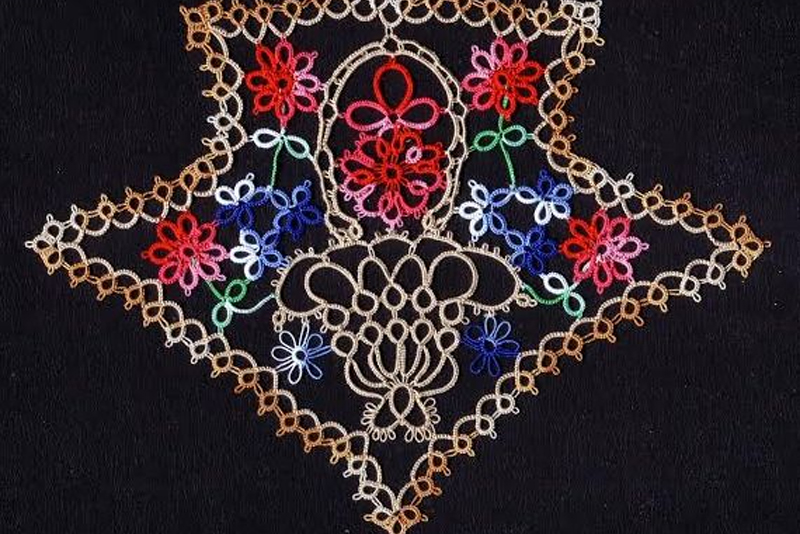 Butterick's 1896 "Tatting & Netting
This vintage needle work book contains 75 pages of glorious traditional tatting patterns. The second half of the book features full netting instructions and patterns plus a section on guipure or needle weaving. Timeless motifs, edgings, insertions and small bit and pieces will provide today's tatter with hours of tatting pleasure. However, these patterns do serve an important teaching function.
Traditional tatting patterns were created with many cuts of the thread which are unwanted and unnecessary by modern proficiency standards. A quick study of the lace construction will show several possibilities for producing the tatted lace without cutting the thread. There are three basic methods to climb from the center of the lace outward or from row to row. These include the split ring, the mock picot and the split chain used in various combinations.
Thanks to many repositories of vintage publications in the public domain, "Butterick's Tatting & Netting" 1896, is available free for tatters. There are a total of 150 pages. Each part has about 40 pages. These are very long downloads. Please copy and paste the links in your browser.
https://www.georgiaseitz.com/public/Tatting&Nettingpart1.pdf Part 1
https://www.georgiaseitz.com/public/Tatting&Nettingpart2.pdf Part 2
https://www.georgiaseitz.com/public/Tatting&Nettingpart3.pdf Part 3
https://www.georgiaseitz.com/public/Tatting&Nettingpart4.pdf Part 4
Let's explore this antique book of tatting patterns. This will involve a great deal of "thinking" ahead. This tatted points pattern will help us to improve our split ring technique and give us practice in finding our way through a split ring diagram.






Point in Split Ring

You can see that the tatter of yesterday had a whole lot of cutting and tying on this pattern. Each group of five rings would have been tatted, cut and tied. The ring section could be joined to the header as it is made or the header could be tatted last. (The header refers to the alternating ring and chain section of the tatting. The lace was attached to cloth by the header.)Note: as with many old patterns, there is no stitch count given. May I suggest choosing one number and sticking with it for the whole pattern, i.e., 6 double stitches between each picot or join. For the split rings then, sh1 = 6 / sh2 = 6.





One repeat done with split rings which are noted in shaded blue. Start at the top left and work through the rings following those blue split rings.





You can continue tatting each point for quite a distance when you are using the split ring technique.





Related Articles
Editor's Picks Articles
Top Ten Articles
Previous Features
Site Map





Content copyright © 2019 by Georgia Seitz. All rights reserved.
This content was written by Georgia Seitz. If you wish to use this content in any manner, you need written permission. Contact Georgia Seitz for details.