Changing Tatting Shuttle Styles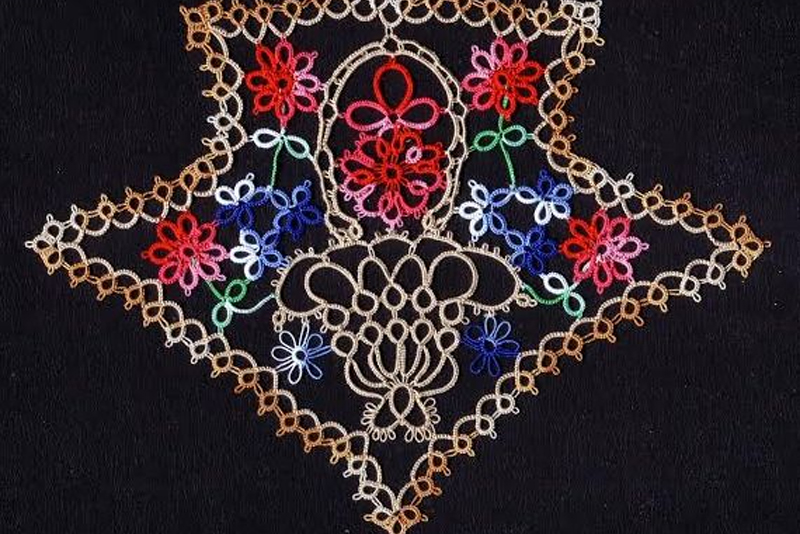 Tatting shuttles have been made from a variety of materials, i.e., wood, resin, polymer clay, acrylics, metals, bamboo, celluloid, shell, horn, bone, ivory and plastic. The very oldest tatting shuttles may have been simple tree twigs, pieces of animal bone or antler with minimal carving. Early tatters made do with the materials to hand.


These three flat modern shuttles use the most basic materials available, antler bone and wood. The two bottom shuttles are made in the shape known to tatters as the "Lady Hoare" shuttle. Lady Katherine Hoare was the author of "The Art of Tatting", 1910.






From the collection of Georgia Seitz







The Eleanor A. Buff "tatting needle" of 1914 was formed from one piece of wire. Notice the resemblance to the Lady Hoare style flat tatting shuttle.






Advances in the development of the tatting shuttles were not slow in coming. By the 1860's improvements in the style and the methods of working appeared. The 1868 Parker Shuttle shows a two-bladed shuttle made from bone but now in the more recognized "little boat" shape. The ends of the shuttle are closed and it has a removable brass round bobbin. Thread was attached to the bobbin and inserted. A hole in the top of the shuttle allowed a crank handle to be inserted and rotated to wind on the thread.






The 1868 Parker shuttle from the collection of Georgia Seitz








The 1868 Parker shuttle from the
collection of Georgia Seitz





Ladies of leisure in the mid to late 1800's were often seen tatting while entertaining visitors. It was a "respectable" art and pastime for women of all ages. Thus, tatting shuttles began to be an item of fashion as well as a staple tool in milady's etui.


The flying movements of the tatting shuttle highlight the hands and fingers. Soon the tatting shuttle became more embellished, bejeweled, enameled and intricately carved. Ivory tatting shuttles were made in the Orient.





From the collection of Joy McKenzie









From the collection of Joy McKenzie






Hallmarked sterling silver shuttles were common everywhere, especially in Europe. Silver shuttles with delicate flowers and Art Deco designs enameled on the front became popular in France.






From the collection of Mary McCarthy








From the collection of Jennifer Williams





The Victorian and Edwardian eras of the early 20th century saw a rise in the popularity of tatting in the United States also. Although delicate-looking, abalone shell is extremely strong and can be carved into many accessories including tatting shuttles. Sewing sets of Mother-of-pearl, shell, and abalone were also favored gift items.






From the collection of Georgia Seitz








From the collection of Georgia Seitz





The tatters listed above have all graciously granted permission to use their photos of tatting shuttles from their collections. Many thanks to them.




Related Articles
Editor's Picks Articles
Top Ten Articles
Previous Features
Site Map





Content copyright © 2021 by Georgia Seitz. All rights reserved.
This content was written by Georgia Seitz. If you wish to use this content in any manner, you need written permission. Contact Georgia Seitz for details.