Materials List
1/4 yard white fabric
strip of white eyelet 4 inches wide by 36 inches long
matching thread
1 snap
The pattern includes 1/4 inch seam allowance and is shown on a 1/2 inch grid. This pattern is free for your personal use but you may not use it commercially.
To start pin and sew the side seams and shoulder seams with right sides together.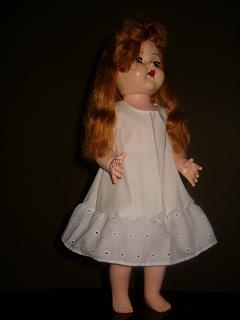 Turn under the arm and neck edges 1/8 inch and stitch down on the wrong side. Repeat this step.
Hem one long side of the eyelet trim by turning under 1/4 inch, twice; to the wrong side. Stitch in place. Using a long basting stitch, on the long side you did not hem, gather eyelet trim to fit the bottom of the slip.
Pin and sew the center back seam, from the bottom of the eyelet trim up to the mark below the neck edge, with right sides together. Turn the seam allowance for the top, above the mark, to the wrong side 1/8 inch, twice and stitch down.
Tack on the 2 halves of the snap to the neck edge at the center back corners.
This pattern and instructions can also be used with a different fabric to make a sleeveless sun dress for your doll or a nightgown. It is a very simple basic pattern which can be used in many different ways. Extend the length of the slip pattern and use satin or silk, maybe scraps from a fancy dress you made for yourself or your daughter, to make a formal dress. Add lace and ribbon to make it fancy. you are only limited by your imagination.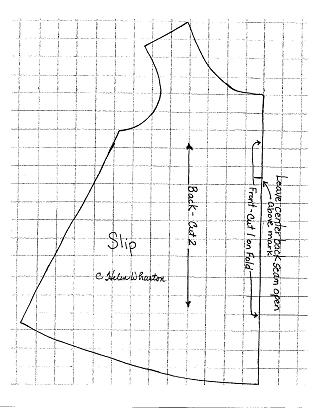 If your doll is not as tall as mine, the width of the eyelet trim can be made narrower, or it can be left off altogether and just hem the bottom of the slip, itself.
The white fabric that i used was from a recycled old white dress shirt that my husband was going to throw away. I was also able to make her bloomers from the same shirt, so you really do only need a small amount of fabric for either project. To see the bloomers
look here
.